PowerColor RX 6700 XT HellHound Graphics Card Review
---
---
---
Ben Enos / 3 years ago

With AMD's latest release of their RX 6XXX Series, a new player emerges. While PowerColor may be a fairly well-known brand, they have now released their HellHound range of GPUs. The HellHound range of GPUs is designed to sit below the top-tier Red Devil range and should offer some good bang for the buck! Anytime a company releases a new range it is always interesting to see if it performs as well as they had hoped and I think with HellHound, PowerColor has done a good job and dependant on price, it should hit the mark they were hoping for. The HellHound range should be the perfect match for something like the AMD RX 6700 XT GPU, offering both good performances for 1440P gamers at a price that hopefully won't break the bank.
PowerColor RX 6700 XT HellHound
Aimed at 1440P gamers, the 6700 XT is said to rival that of the NVIDIA GTX 3070 at this resolution. If this is the case, AMD will have a nice little addition to the arsenal of 6xxx GPUs and will only be missing a 1080P variant which one can only imagine will be coming soon. The 6700 XT comes with 12GB of GDDR6 and when compared to the 8GB that the 3070 comes with, this should help AMD close the gap in performance between the 2 cards.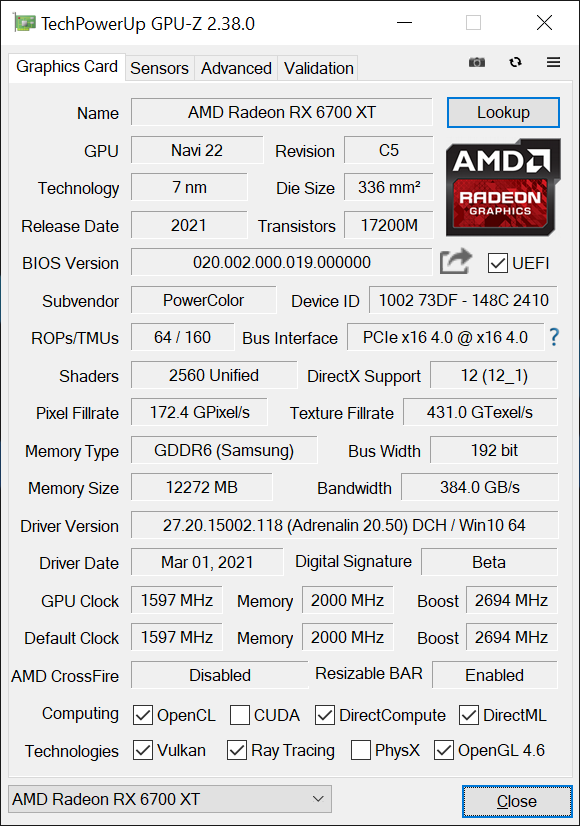 For in-depth features and specifications, please visit the official PowerColor RX 6700 XT HellHound product page here.
What Power Colour has to say about their HellHound Range
"HELLHOUND is born, sharp fangs with razor-like claws, covered with fur that is tough like armour. Its eyes burn in the darkness, allowing it to precisely track and stalk its prey. It used to be a battle hound kept by a warrior brave. Yet, its bravery did not go unnoticed by the Red Devil and saw a chance to make this hound the keeper of his gates of hell… This HELLHOUND is silent, not a sound it makes as it guards the gates ready to strike in the darkness with a killer grace… Once the prey is found, HELLHOUND will take it down, it strikes with stealth on a single stroke!"