QNAP Announces Linux Station Now Fully Integrated with Ubuntu 16.04 LTS
---
---
---
Bohs Hansen / 5 years ago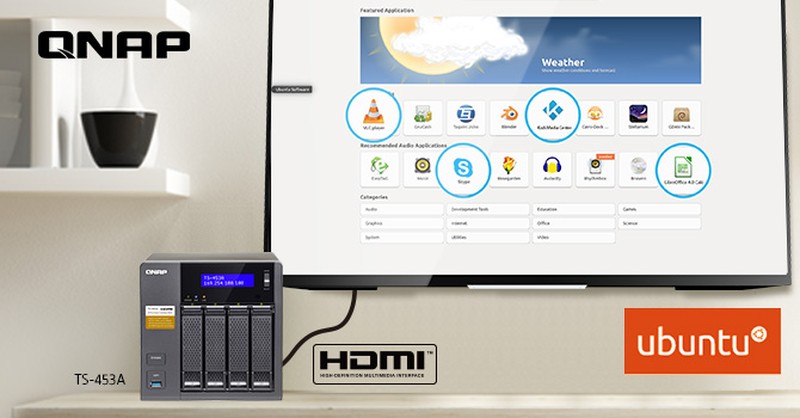 QNAP announced late last week that QNAP Linux Station now is fully integrated with Ubuntu 16.04 LTS to provide complete multimedia applications. QNAP NAS' with HDMI output go beyond being simple storage and provide a Home Theater PC solution for a complete home entertainment experience.
QNAP has focused a lot on the development of their virtual machine open-source platform and service integration since the launch of HD Station. Considering the rapid growth of multimedia software and application development, QNAP Linux Station is integrated with Ubuntu 16.04 LTS OS which allows users to download and install versatile apps from Ubuntu Software Center.
"QNAP is dedicated to keeping pace with software development trends and providing greater service integration. By using Linux Station with Ubuntu, our users can enjoy numerous ready-to-use apps for entertainment and productivity," said Marcus Yang, Product Manager of QNAP. "Users can download various multimedia apps from Ubuntu Software Center, including Plex Media Server, KMPlayer, LibreOffice, VLC, and more. With HDMI output, a QNAP NAS with Linux Station can be used as a PC for greater productivity and entertainment potential."
So, you can get even more out of your QNAP NAS now, assuming it is one of the models with support for Container Station v1.5.1343 or newer which naturally needs to be installed. It also requires your NAS to have at least 4GB RAM. The supported models include the TVS-x82, TVS-ECx80, TS-x79, TVS-x73, TVS-x71, TS-x70, TVS-x63+, TVS-x63, TS-x53A, TS-x53Pro, TBS-453A, TS-x51+, TS-x51A, and the TS-x51 series.
More information on Linux Station and Ubuntu can be found in the official QNAP tutorial section.