QNAP Introduces Stylish HS-453DX Multimedia NAS
---
---
---
Bohs Hansen / 4 years ago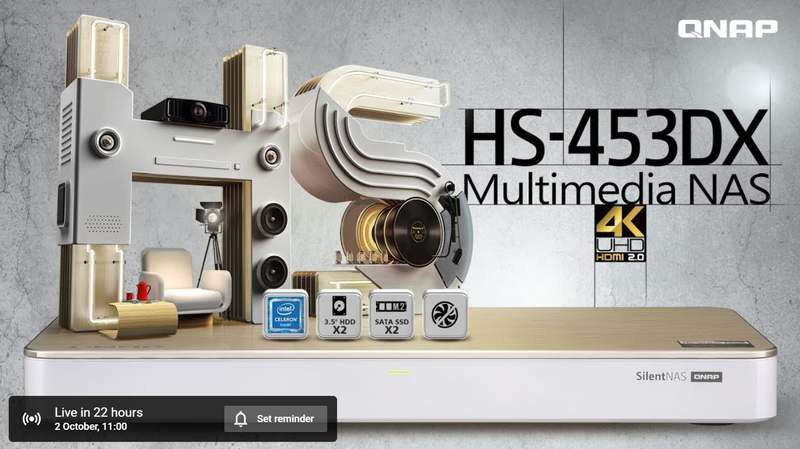 QNAP introduces a new member to their stylish HS-series, but we don't know a whole lot about it yet. QNAP teased the new device on their social media pages with a link to a soon-to-go-live video stream. The new NAS is called the HS-454DX and it's the successor to the HS-251+. You might remember it from our review of it a couple of years back.
QNAP HS-453DX Multimedia NAS
Even with the limited information released, we can spot quite a bit from the place-holding image. Just as its predecessor, the HS-453DX is powered by one of Intel's Celeron processors. That is a great choice for multiple reasons. First of all, the Celeron consumes little power and generates little heat. Both are features you'd want in a NAS. At the same time, it delivers a good performance – enough to drive 4K UHD content.
QNAP's HS-series is made up of passive cooled NAS' which is another great reason for the choice of processor. The enclosure is also made of aluminium which further helps with the heat dissipation from your hard drives and rest of the hardware.
Drive Setup
The HS-453DX is a 4-bay NAS, but you can only install two classic 3.5″ drives. Still, with modern 14TB drives, that's easily 28TB of raw capacity. On top of the two 3.5″ drives, you're also able to install two M.2 SATA SSDs. That is a combination which will allow the NAS to deliver an impressive drive pool performance.
Connection Options
There's only one confirmed connection option from the teaser: An HDMI 2.0 port. Besides that, you'll probably find dual Gigabit Ethernet and a couple of USB 3.0 ports. There might be some USB 2.0 ports too, mainly for peripherals. The NAS supports direct usage and screen output, so it's not an unlikely scenario to have a keyboard and mouse or media keyboard connected. We can also assume that it has a built-in IR port for QNAP's remote control.
Multimedia Center and Storage Solution in one
QNAP's HS-453DX could be the perfect addition to your multimedia setup. It is almost an entire multimedia centre in itself, with built-in large-capacity storage option and networking. The near silent operation, with only the HDDs making noise, makes it perfect for the living room. The direct usage also adds that you don't need any other devices or streaming solutions to play your media files.
Tune in for the live stream
At the time of this article, there are 22 hours to the live stream. It happens on October the 2nd at 10 AM GMT. The stream is going on youtube where you can set yourself a reminder. Or, you can come back and watch it here: