QNAP TS-251A 2-Bay SOHO NAS Review
---
---
---
Bohs Hansen / 6 years ago
Introduction
---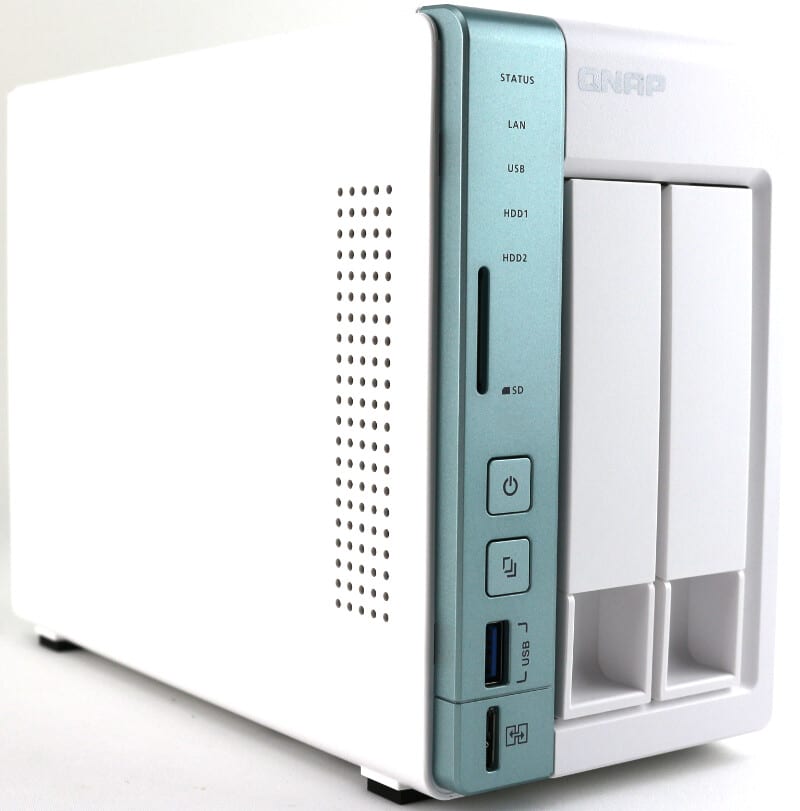 There are a lot of different NAS systems on the market and they each have their ups and downs, or rather the area where they excel – which is great as there is a good chance that there is just the right model out there for your specific needs. One thing has however been missing, at least in my opinion, and QNAP fixes that with their latest NAS, the TS-251A 2-bay NAS system with QuickAccess port. Today I'm taking a closer look at exactly this system and will show you what it can do. Should two bays be too few for you and you rather want four, then QNAP has that covered too with the TS-451A which is the same system, just with double the amount of drive bays.
Before we get into the features, let's talk a bit about the hardware that is powering this awesome little SOHO NAS. It is powered by Intel's 14nm Celeron N3060 dual-core CPU which has a clock speed of 1.66GHz and a boost speed of up to 2.48GHz. When it comes to the memory, there are two version available, one with 2GB and one with 4GB dual-channel DDR3L which can be upgraded to 8GB should you wish to do so. It also features a 4GB flash module for the QTS operating system, so it won't take away space from the installed HDDs for that.
Moving on from the inside to the outside where we find all the available connections, and there are quite a few of those on the TS-251A. It features three USB 3.0 ports for external storage, peripherals, printers, scanners, and other USB devices such as WiFi dongles and TV sticks – two on the back and one on the front for easy access coupled with a one-touch copy button. It also features dual Gigabit Ethernet connections that can be coupled with link aggregation. In this model, QNAP even included an SD card reader directly in the NAS, allowing you to easily unload all you camera content onto the NAS without the need for cable.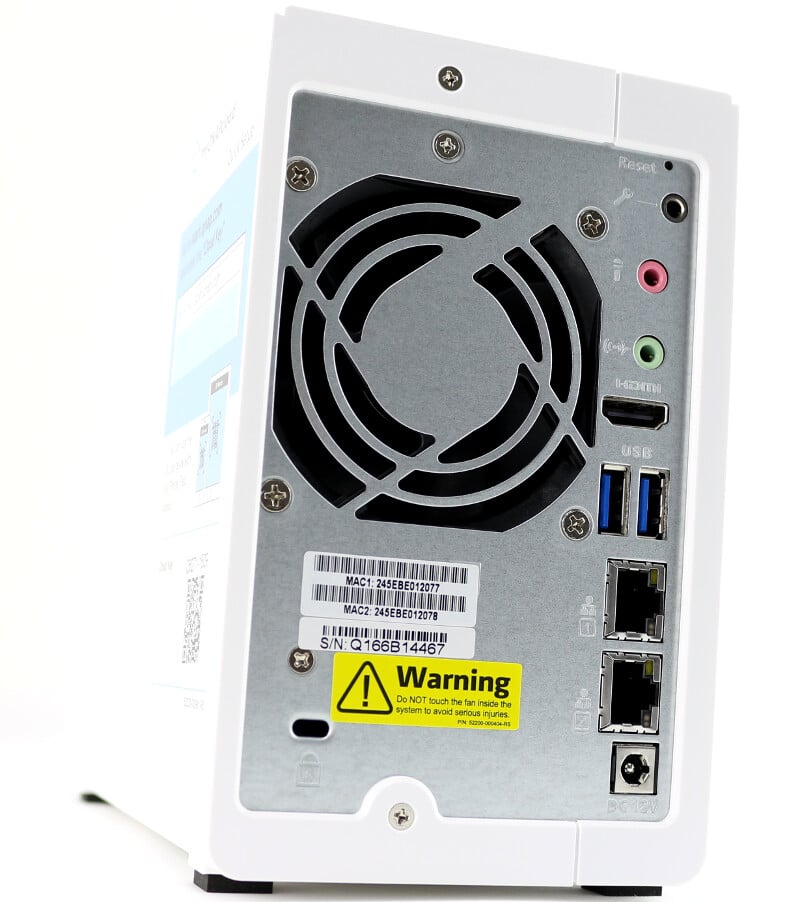 Media and audio concise people are also served well with the TS-251A as it comes with a built-in HDMI port for direct 4K/2K (30Hz) resolution output to a TV or monitor, a 3.5mm microphone input jack for dynamic microphones and a 3.5mm line-out jack for connection to your amplifier or speakers. Sweetening the deal even more, the TS-251A comes bundled with a remote control, allowing you to enjoy all your content from the comfort of the couch and without any extra purchases.
That's a pretty complete solution the includes almost everything, but it still gets better. The latest innovation from QNAP is the QuickAccess port which allows you to access the NAS without it having a network access. There can be many reasons for such a direct-attached-storage (DAS) function from accessing the files on systems that aren't hooked up to your network to situations where your network just isn't accessible. For example, your router could have broken down which would leave you without access to all your centrally stored files. With the QuickAccess port, that wouldn't be an issue. It features a USB 3.0 micro-B port on the front which you can connect to your PCs USB 3.0 port by use of a standard cable. We'll have a closer look at how that works later on in this review.
Such great hardware is capable of a great performance, despite the fact that the CPU features a low TDP of just 6 watts. Whether you run plain unencrypted drives or use the full AES 256-bit hardware-accelerated encryption, the QNAP TS-251A can deliver over 190MB/s read speeds and around 210MB/s write speeds in link aggregated setups. That's quite impressive for such a small device, especially the fact that the encryption barely has any effect on the performance at all. No need to make a decision whether you want security or speed – you can have both at the same time. Of course, performance will depend on your network setup and drives used, but that's always the case with any system.
Besides the native 4K video output via the built-in HDMI port, the TS-251A also features a powerful transcoding engine thanks to the 8th generation Intel HD graphics which comes with H.264 hardware decoding. As such, it can deliver superior real-time 4K and 1080p video transcoding of your videos to universal formats so the content easily can be played smoothly on PCs, mobile devices, and smart TVs. It also features offline transcoding, even when you can only connect using a low-speed Internet connection, you can still enjoy smooth video playback via File Station, Video Station, and the Qfile mobile app by selecting a pre-rendered lower resolution video. The TS-251A also allows you to set a dedicated folder for automatic video transcoding.
Overall, you can also use the TS-251A as a multi-zone multimedia system to fill every corner of your house with your choice of media. You can centrally manage and stream photos, music and videos stored on the TS-251A to HDMI, DLNA, Apple TV, Chromecast, Roku, Amazon Fire TV or to the devices connected to the TS-251A through Bluetooth & USB. With Plex Media Server, the TS-251A is also easily transformed into a powerful streaming machine.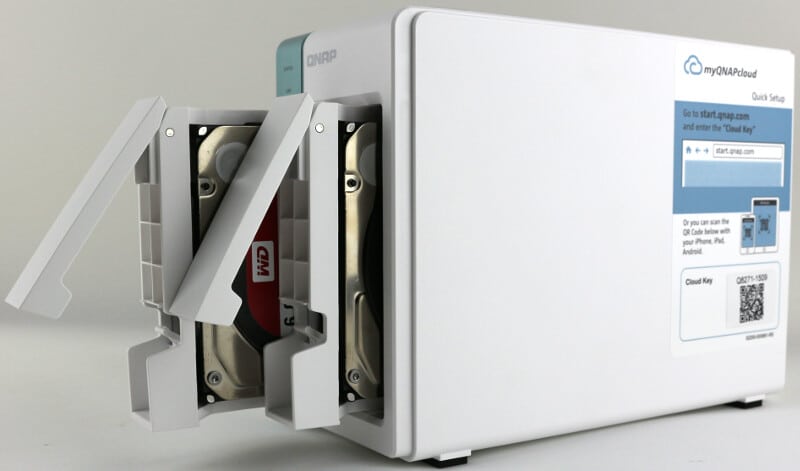 Feature Highlights
Dual-core Intel Celeron 1.6GHz processor (burst up to 2.48 GHz)
Dual-channel 2GB/4GB DDR3L-1600 RAM (upgradable to 8GB)
2x Gigabit RJ45 ports
1x USB 3.0 Micro-B QuickAccess port
1x HDMI-out port
1x 3.5 mm microphone jack (dynamic microphones only)
1x 3.5 mm Line-out audio jack (for use with an amplifier)
Package and Accessories
The QNAP TS-251 comes in a simple brown box with a sticker that reveals what's inside, including hardware specifications and feature highlights.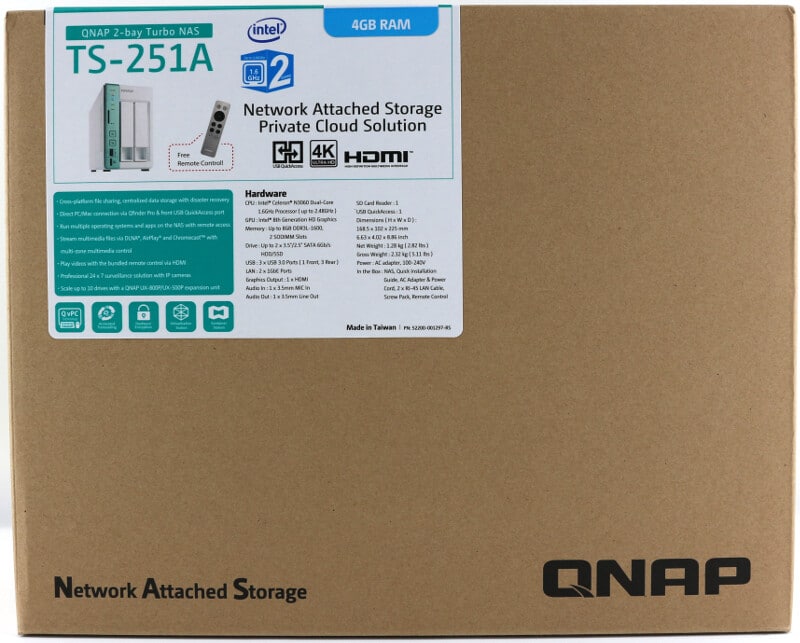 Inside the box are two LAN cables, a power supply and power cord fitting the region where you purchased it, screws for 3.5-inch and 2.5-inch drive mounting, a remote control, and an installation guide. The USB connection cable pictured is not normally included, but it's the one I'm going to use to test QuickAccess feature with.