QPAD 8K Pro Gaming Laser Mouse Review
---
---
---
Peter Donnell / 7 years ago
Introduction
---
Pro Gaming, eSports, LAN gaming or simply just playing your favourite games at home after a hard day at work, it doesn't matter how and when you game, having the right tools for the job can make it a far more enjoyable experience. A great gaming mouse might not necessarily make you a better gamer, but it can help you game at the best of your abilities. The QPAD 8K Pro Gaming Laser Mouse has been designed to offer premium performance, for those who want to ensure they have every edge when they go into their digital battlefield; but is it any good? That's what I hope to find out.
As you can see from the specifications below, the 8K is very well equipped, with a high-performance sensor for fast and accurate tracking, adjustable report rates, built-in memory, Omron switches, an ergonomic design and a few extras such as a braided cable and gold-plated connectors for good measure.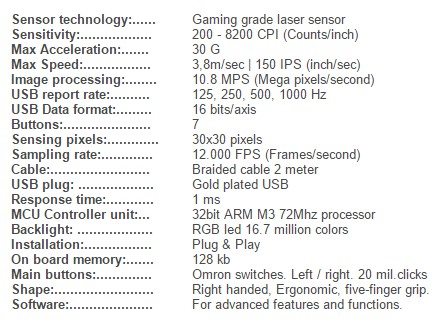 QPAD | 8K PRO GAMING LASER MOUSE
"In fact, your mouse is the most important link between you and the game you play. When bullets fly, and the difference between victory and defeat is measured by micro-millimeters and fractions of seconds, everything counts. Precision and accuracy are key factors that will impact the gaming experience greatly. Amongst professional gamers, QPAD is well known as a reliable provider of top-notch gaming gear with high quality and premium feel."
"QPAD 8K features the award winning five-finger grip, gaming-grade laser sensor with 8200 true CPI, advanced 32-bit ARM processor controller unit to optimize the tracking performance, pre-mounted QPAD Glidz mouse feet's, seven programmable buttons for profiles, sensitivity, shortcuts, keys and macro recordings. You can accurately move at speeds up to 3.8 meter per second without losing tracking abilities. The sensor pictures the surface with a shutter speed of 12.000 frames per second covering an area of 30×30 pixels per frame. This generates an image processing of 10.8 MB data per second. The QPAD 8K supports Plug & Play for easy installation, no drivers needed and carries 128kb on board memory that will store your personal profile settings. In addition to all this, the left and right buttons from Omron are built to last 20 million clicks with a distinctive feedback. Last but not least you can personalize your color settings. The QPAD 8K delivers where it matters: In feel and performance."
QPAD 8K MAIN FEATURES
• Right handed, Ergonomic, five-finger grip.
• Advanced Laser sensor for optimized tracking performance.
• High quality Omron main switches with a distinct mechanical feedback (Lifetime: 20 Million)
• Advanced 32bit ARM M3 72Mhz processor controller unit to optimize the tracking performance
• Highly intuitive software
• Seven programmable buttons
• 16.8 million possible color variations via RGB LED lights
QPAD 8K FEATURES
• Carry bag for transport
• Advanced macro recording
• Low, medium or high on the fly sensitivity switches
• Ruberized soft touch surface
• QPAD Glidz mouse feets are pre-mounted
• Plug & Play for easy installation
• 128kb on board memory to store your settings
• Gold plated USB connectors
• 2 meter braided cable
• Several color modes such as wave, puls, rainbow flow, constant.
• Energy saving mode
The mouse comes well packaged in protective foam and a little introduction message on the inside of the box.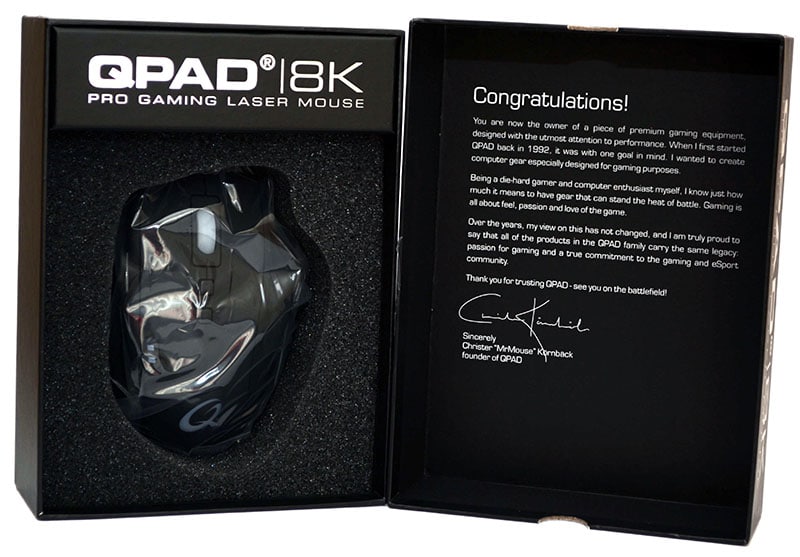 In the box, you'll find the mouse, which comes hard-wired with a 2 meter braided cable, as well as a soft protective carry pouch.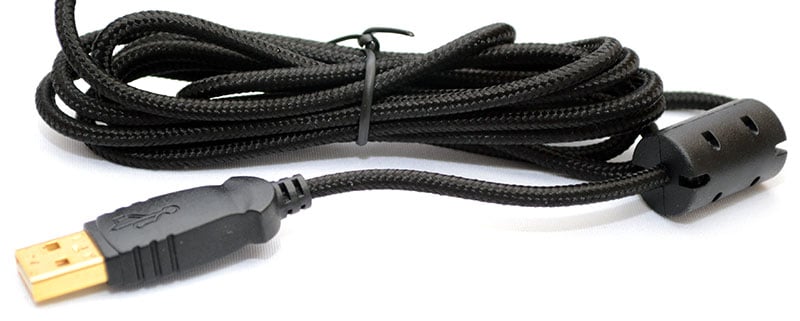 The 8K has a really nice soft touch finish to the whole mouse, making it very easy to get a grip on the mouse.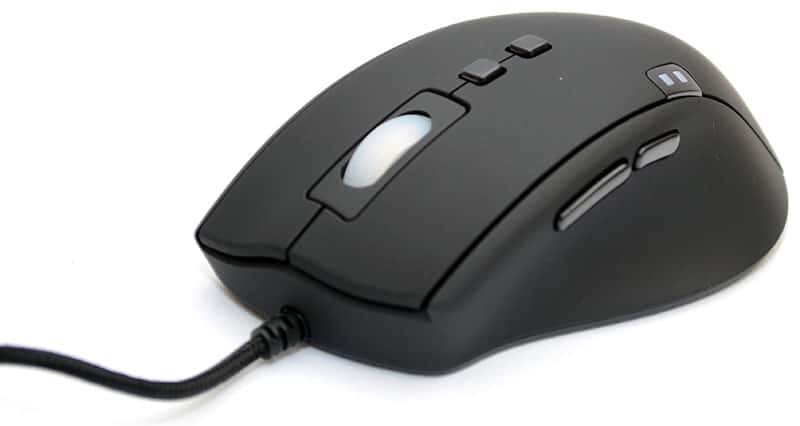 There's a nice curve on the left side that will provide your thumb with a good resting/grip area and there are two side buttons within easy reach. There's also two LED indicators, a blue and a red. These help you differentiate which of the three DPI profiles you have selected.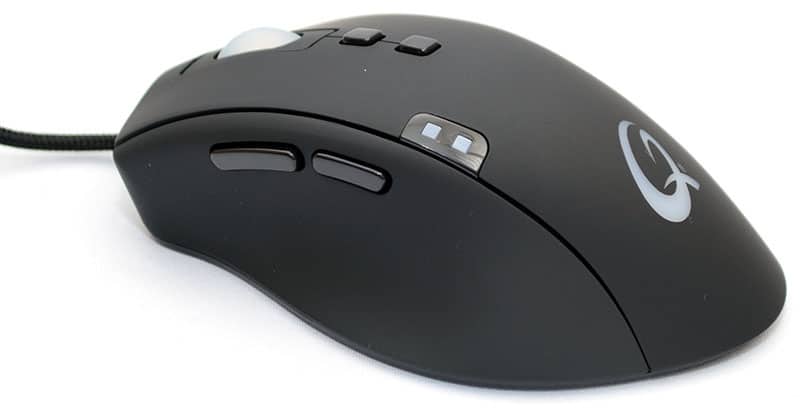 On the right, you'll find two ergonomic ridges that provide very comfortable finger resting positions. Obviously, this mouse is designed for right-hand users only and the shape is designed for a full palm rest grip style.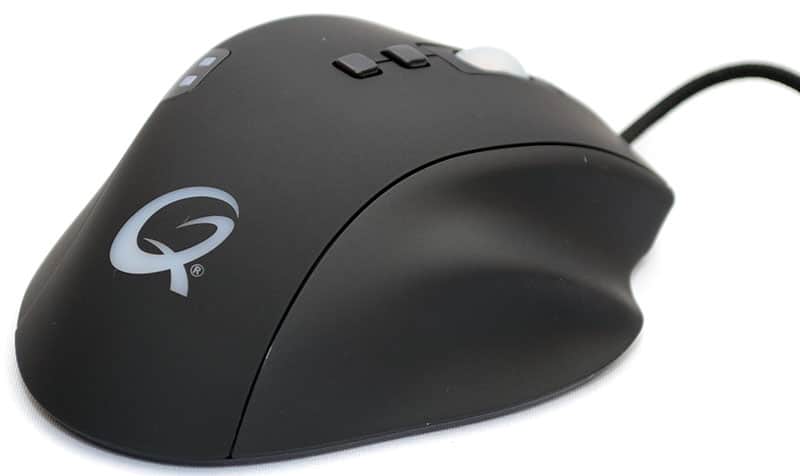 The centre of the 8k plays host to a pair of switches that can be used for the DPI toggle, as well as a rubberised high-quality scroll wheel.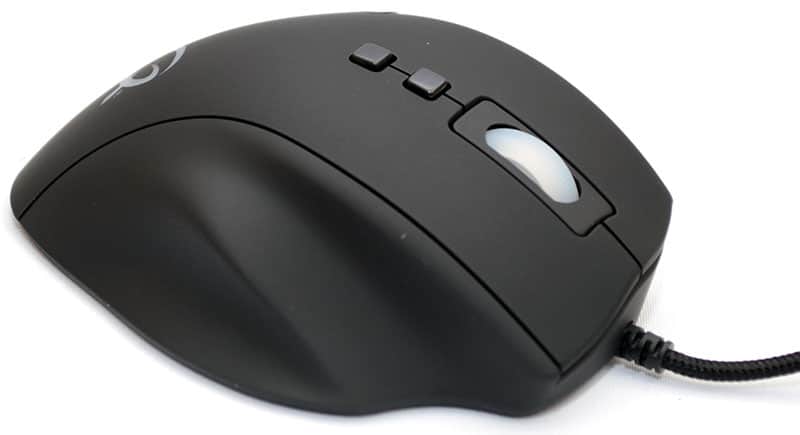 Here you can see how wide this mouse is, with a very curvy ergonomic shape that should help keep your hand comfortable, even after a long gaming session.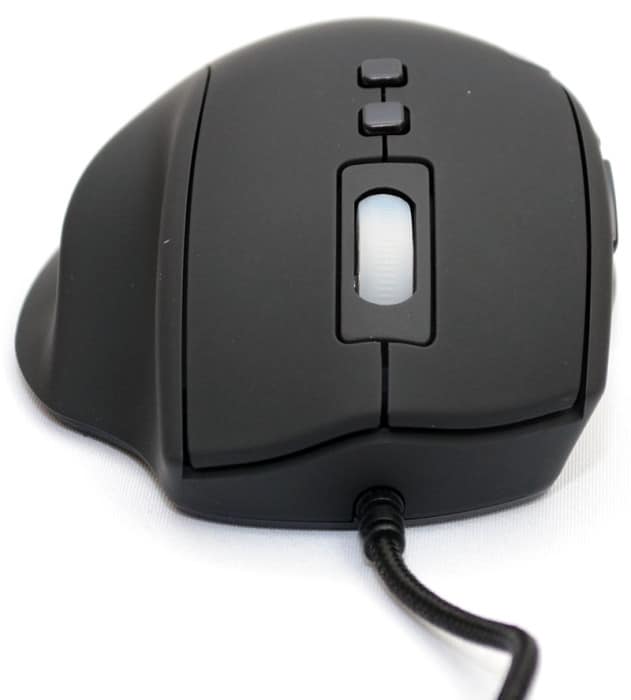 Around the back, there's a Q logo which is LED back lit. This logo and the scroll wheel can have the LED colour customised via the desktop software.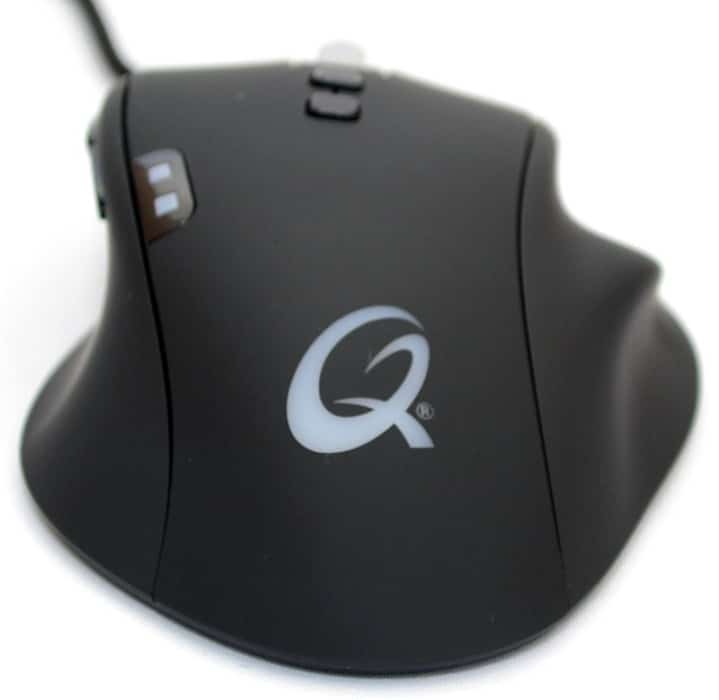 Four large slipmats on the base of the 8K should provide you with a fantastic amount of glide on virtually any surface.