Qualcomm Announces the Snapdragon 675 SoC
---
---
---
Ron Perillo / 5 years ago

Upper Mid-Range Upgrade
Qualcomm is announcing their latest Snapdragon 675 SoC, a direct successor to the Snapdragon 670 from last year. The Snapdragon 675 brings in some notable improvements and is the first to use the Kryo 460 CPU micro-architecture. It features 2x 2GHz Kryo 460 2.0GHz (CA76) and 6x  1.7GHz Kryo 460 1.8GHz (CA55) CPUs built on 11nm LPP process technology. It also features Qualcomm AI Engine, Spectra 250 ISP, and Adreno 612 GPU.
Overall performance improvements are around 20% with added optimizations for many mobile games. This includes Unity, Unreal, Messiah, and NeoX. Qualcomm also supports popular tools and APIs, including Vulkan, OpenGL 3.2, OpenCL, and Snapdragon profiler.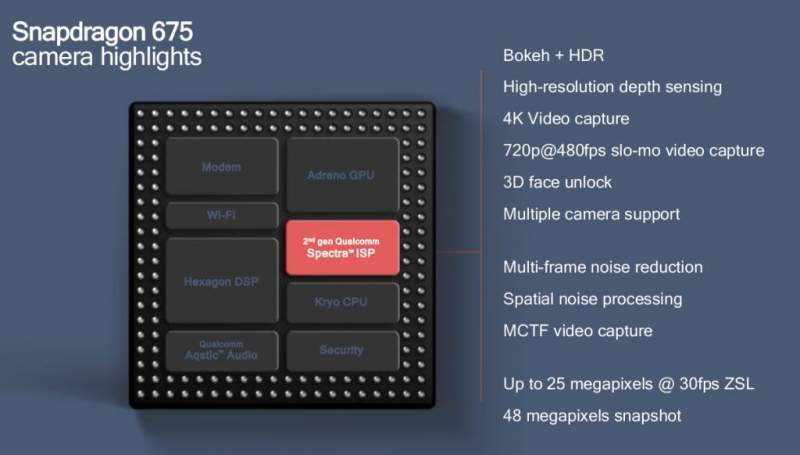 The camera also gets an upgrade. It now supports a triple camera configuration in the front or back. This can have features such as telephoto, wide angle, and super-wide image capture. Furthermore, the Snapdragon 675 provides limitless slow-motion. This means it is capable of recording extended slo-mo video clips in HD, not just limited to one second or shorter bursts.
When Can We See Snapdragon 675 Products in the Market?
According to Qualcomm, commercial devices are expected to arrive as early as Q1 2019. With the continuous growth of the mobile gaming market, the move to improve performance optimizations is a welcome change.
A new microarchitecture introduction on a mid-range product instead of a flagship one is also an interesting move. With it, the company promises a snappier experience with apps launching 15% to 30% faster. Oddly enough, this improvement also makes the Snapdragon 675 outperform against the Snapdragon 710. The latter being a higher-tiered product which is 200MHz faster (albeit with a previous gen architecture).
To read more about the improvements with the Snapdragon 675, you can read the press release on Qualcomm's website.