be quiet! Dark Base 700 Case Detailed—Launching Nov. 14
---
---
---
Ron Perillo / 5 years ago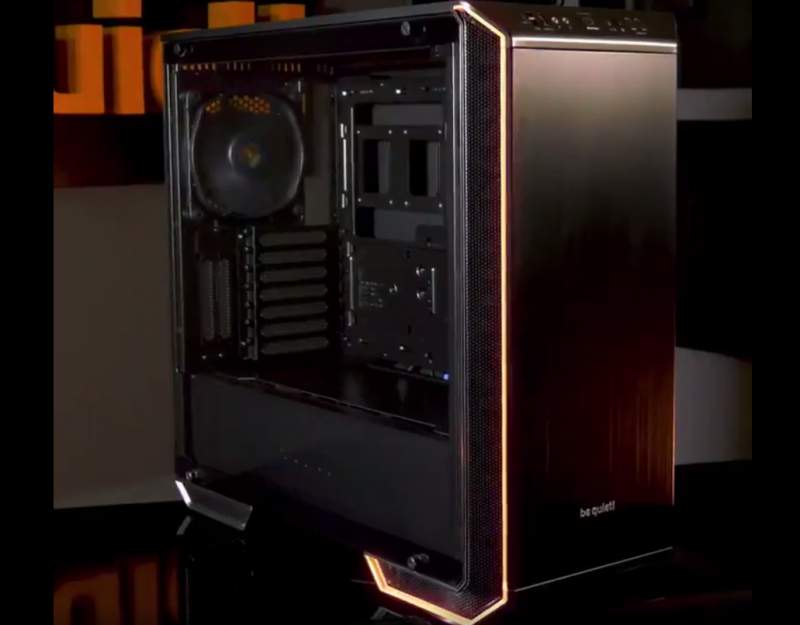 Case and cooling manufacturer be quiet! is teasing an upcoming new enclosure called the Dark Base 700. This case will be the second addition to their flagship Dark Base series, which so far only has the full-tower Dark Base 900 and its variants. The Dark Base 900 is a full-tower case with a "Pro" version that has additional features, as well as a limited edition white model.
What's New in the Dark Base 700?
The Dark Base 700 on the other hand is a mid-tower case, sporting a similar stylistic signature as the rest of the be quiet! enclosures. However, the the brief video preview tease that the company has put on social media, it will have new features that are not available on other existing be quiet! cases. Although be quiet! has not announced any information yet, one can surmise some features already just by analyzing a screenshot. It is obviously a mid-tower case for example, due to having the standard seven expansions lots. Full-tower cases tend to have eight or more.
be quiet! Adds PSU Shroud
Another most noticeable change is the new power supply shroud. be quiet! has resisted adding that feature for a while, but it is most likely demanded by fans due to its popularity. In terms of functionality, its not exactly the most helpful when it comes to airflow since it will block the lower fan from pushing air into the main chamber. By design, be quiet!'s cases are, well, quiet. So the airflow is restricted by design to begin with and adding a PSU shroud will limit that airflow further.
Dark Base 700. 14th November 2017. #bequiet pic.twitter.com/utuiKelZCK

— be quiet! (@bequietofficial) October 30, 2017
Drive Mounting Options
There are no external 5.25-inch drive bays visible, most likely because there is a front door covering it like in the Dark Base 900. However, there are also no 5.25-inch mounting bays visible from the side, so it is likely gone altogether. As for drive bay mounts, the 3.5-inch drives are most likely inside the PSU shroud, while the 2.5-inch drives are behind the motherboard tray. There are actually two 2.5-inch drive mounts visible from the backplate opening in the preview. There are two more 2.5-inch mounts below it, so there are at least four.
Tempered Glass and Vertical GPU Support
Looking at the edges of the sides, it is also obvious that this case comes with a full-view tempered glass side panel. Due to the new PSU shroud, there is also going to be vertical GPU support. The design for it is already obvious with dual-slot vertical rear IO and cable management openings along the bottom for PCIe cables.
Pricing Information and Availability
There is no pricing information yet, but the release date is on November 14.