be quiet System Power 8 600W PSU Review
---
---
---
Peter Donnell / 7 years ago
Introduction & Packaging
---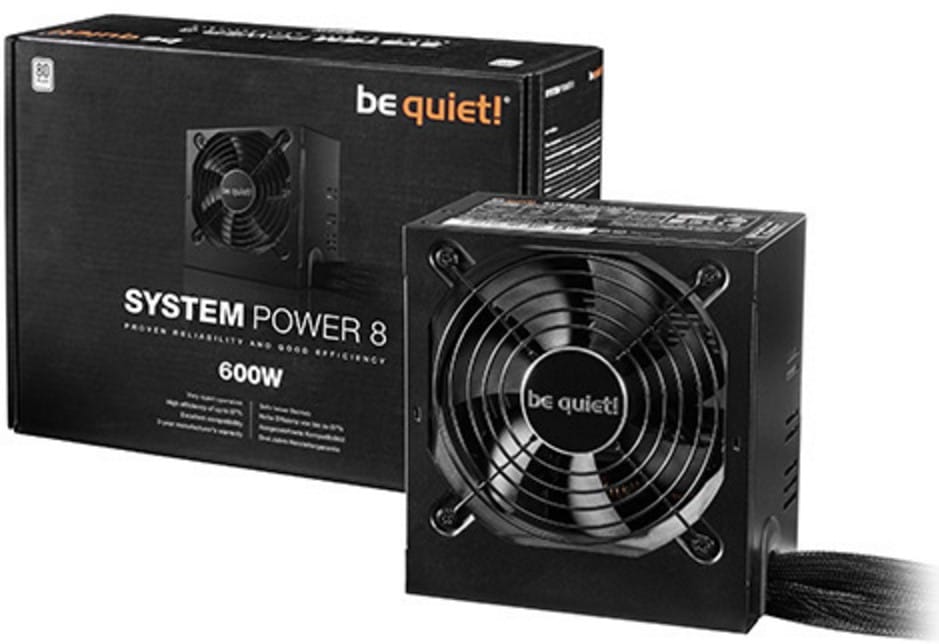 be quiet! are one of the biggest and best names in the PC component market, having created a huge range of award winning products over the years, such as their power supplies, coolers, and more recently, their chassis. Today, we'll be taking a look at one of their more affordable products, the be quiet! System Power 8, a modest PSU that can provide a cost effective solution for system builders and system integrators. We know that be quiet! can produce premium quality and premium priced products, but how well do they fare when things get a little more cost effective? That's what we aim to find out.
"Especially designed by be quiet! with the price-conscious PC builders in mind – the new be quiet! System Power 8 600W, featuring true be quiet! reliability with two 12V-rails and rock-solid voltages. The series is certified 80PLUS® efficient and able to support multiple GPUs with four PCIe connectors. System Power 8's combination of power, quietness for its class and efficiency is far beyond ordinary, letting you build cost-effective and reliable systems – a key differentiator in these days of identical commodities." – be quiet!
While this PSU is targeted heavily at retailers who build systems, it will be available to consumers too, so don't be put off by the business to business ideal behind it. If it does a great job at a great price, then be quiet! could be onto a winner here, so let's jump right in and take a closer look at what it has to offer.
Features
600W of continuous power and two 12V-rails ensure rock-solid voltage stability for powerful multi-GPU systems
80PLUS® certification and up to 87% power conversion efficiency
Quiet operation for its class achieved by an array of careful optimizations, including the use of a quiet 120mm fan
Attractively sleeved cables simplify component installation, increase airflow and improve cooling
Product conception, design and quality control in Germany
Engineering
Full suite of top safety protections defends against over-currents, over- and under-voltages, short circuits, overheating and overloads, thus safeguarding your valuable components
Two independent 12V-rails improve power signal stability
High-quality sleeved cables simplify component installation, increase airflow and improve cooling
Four PCI express connectors for multi-GPU system configurations
Compatible with 230V AC power mains
Energy Efficiency
80PLUS® certification means operating efficiency for its class of up to 87%
High efficiency means cost savings, reduced heat wastage and overall quieter operation
Standby drain of less than 0.13 watts
Meets Energy Star 6.0 guidelines
Fulfills ErP 2014 guidelines
Zero Load design supports Intel®'s Deep Power Down C6/C7 mode
Quiet Operation
High-quality 120mm fan is thermally controlled to strike the best balance between proper cooling and quietness
Efficient PSU design produces low operating temperatures
Outstanding Service and Support
3-years manufacturer's warranty
Quick support is available via our international hotline, Mondays to Fridays from 9:00am to 5:30pm CET: +49 (0) 40-736 76 86 – 98
The packaging is typical be quiet! with all black and a small image of the PSU on the front. As you can see, we have the 600W model today; more than enough for most mid-to-high end gaming and work systems.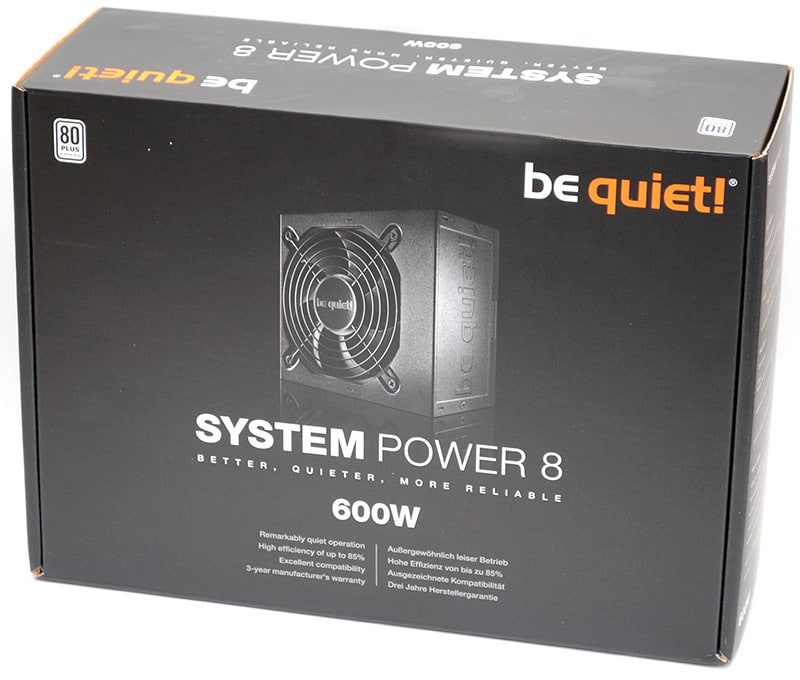 Around the back, a quick technical run-down, as well as a listing of all the available cables; we'll take a closer look at these shortly.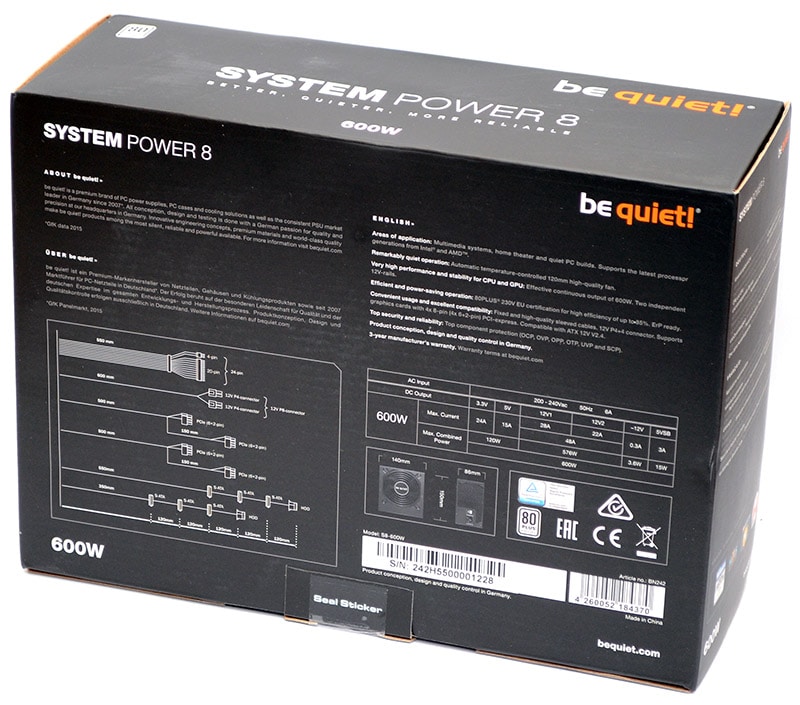 In the box, aside from the PSU, you'll also find a power cable, four fitting screws and a simple user manual.