R9 Fury Perfect for the Living Room? Possibly Not!
---
---
---
Samuel Wan / 8 years ago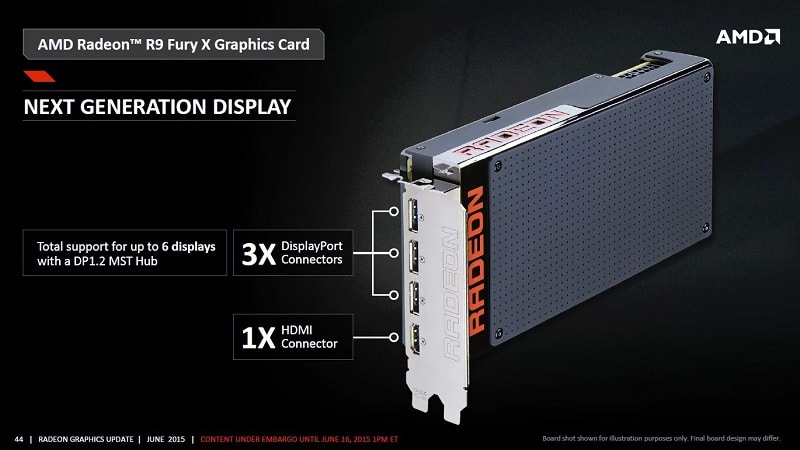 In a move that might snatch defeat from the jaws of victory, information has been revealed that the new R9 Fury GPU will not support HDMI 2.0 nor DP 1.3. This comes from a forum post on Overclockers.co.uk by what appears to be an AMD representative. Asked to confirm if the card would support HDMI 2.0, this was the answer given by AMDMatt: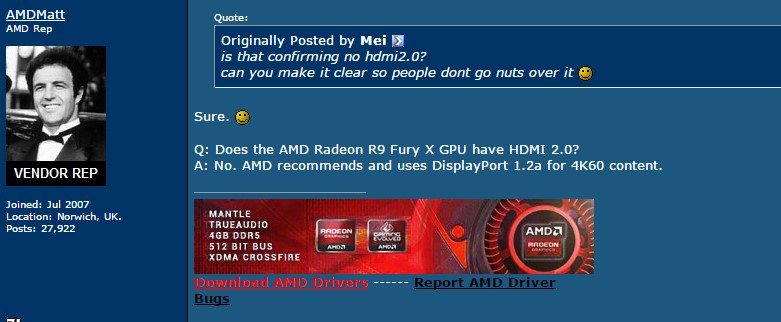 If this post is accurate, the Fury will not only not be supporting HDMI 2.0. HDMI 2.0 is critical as the industry moves to 4K, something AMD has been pushing heavily. HDMI 2.0 allows for 4K @60Hz, something currently impossible with HDMI 1.4. DisplayPort 1.3, also not supported enables 2 4K @60Hz screens to be driven or 5K and 8K in certain modes at 60Hz. Both are also required for HDCP 2.2 which allows BluRay 4K discs to play with copyright protection. While DisplayPort 1.2a does allow for 4K@60Hz, users with HDMI 4K TVs, which have become quite prevalent, will be left at a console level 30Hz. Fury Nano, if also similarly handicapped will have it's HTPC ambitions hurt as well.
For now, there is no need to get riled up just yet. This is just one post so far and AMDMatt might be misinformed. It will be best to save any pitchforks till official word comes out from AMD on their HDMI and DP support. The flexibility of DP also means that an active adapter can convert the DP 1.2a signal to HDMI 2.0, but HDCP 2.2 will be lost. If this report is true though, it makes AMD's other mistakes this time seem trivial. Missing one of HDMI 2.0 or DP 1.3 is serious enough I tend to believe that one of the two is supported until I get official confirmation from AMD. Either way, AMD best act fast before the internet rumour mill goes out of control.
If you were hoping for high frame rates on your new 4KTV for living room gaming, HDMI 2.0 is vital.