Raijintek Ophion M Evo Case Review
---
---
---
Peter Donnell / 2 years ago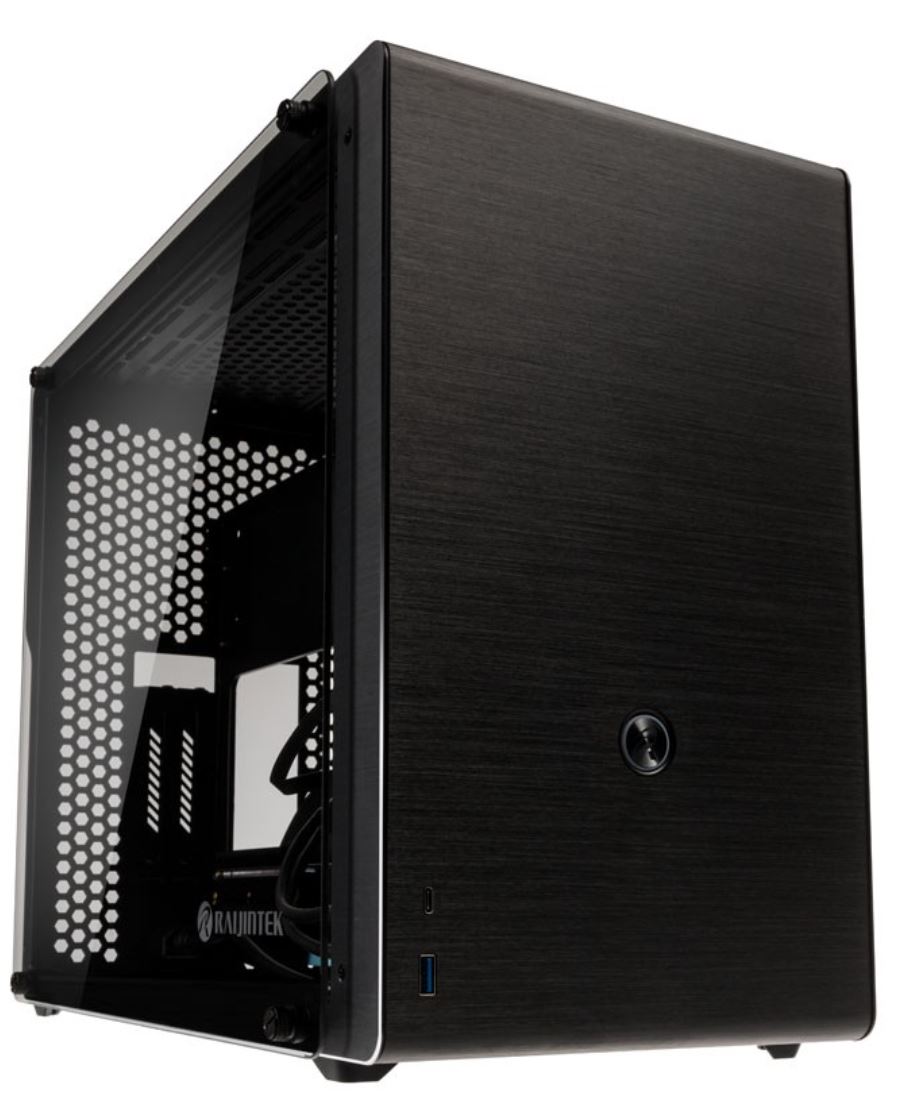 It seems there just aren't as many Micro-ATX cases on the market these days. The motherboards just don't seem to come in the numbers that they used to, with more focus going to ATX, and even mini-ITX boards are thinning out too. Alas, for those of you (like myself) who love mATX as a form factor, Raijintek has got us all covered, with an impressive range of small form factor cases. Today, I have the Raijintek Ophion M Evo, crafted lovingly from brushed aluminium on a solid iron frame, and 3 mm thick tempered glass side panels. Sure, it's a formula that's been done a thousand times before, but you won't hear me complaining about that.
Raijintek Ophion M Evo
It's certainly well-equipped, with support for a decent amount of liquid cooling should you need it. Of course, that means custom or AIO solutions, and there's room to mount a pump and tank too. Of course, it has good fan support, and room for a pretty large air cooler, large graphics cards, and much more, so fitting a decently powerful gaming or work system in the Ophion M Evo shouldn't be too much trouble. It comes with dust filters, tool-free fittings and best of all, a GPU riser cable for vertical mounting! Oh yeah.
Features
Support Micro-ATX / Mini ITX
2 mm aluminium & 0.8 mm SPCC solid iron
Matte full black coating
3.0 mm tempered glass side panel
Water radiator support up to 120/240/280/360, 28 mm thick water radiator
Super air flow, support up to 3×200 mm fans in total (2×200 fans at top, 1×200 fan in bottom)
Support up to 410 mm full-length graphic cad
Maximum CPU cooler height up to 82 mm
Capable of install motor/water tank to achieve real /DIY water loop system
Magnetic dust filter for both top & bottom
What Raijintek Had to Say
"Design Art in its best by RAIJINTEK – New SFF chassis of OPHION series. The OPHION series case is designed to fulfil a smallest case built with max. Possibility high-end, gaming and standard components, such as Intel i9/i7, AMD AM4/TR4 CPU, and especially powerful full –length VGA card, RTX2080. OPHION M EVO case supports up to M-ATX motherboard, Amazing compatibility of maximum three fans including 212025 or 214025 or 220030 fans on top, 112015 fan or 114025 or 120030 fans at bottom. Not only cooling from fans, it also support DIY component such as 120/140/240/280/360 28mm thickness radiator and also enough space for pump and reservoir as well. OPHION M EVO Superior features includes elegant Alu. Hair-silk front panel, 3.5"3 HDD or 2.5"5 HDD/SSD, full-length VGA card compatibility, tool-free for the easy installation, ATX / EPS PSU compatibility. Looking for a best of best? OPHION M EVO is the one for Gamers and SFF DIY water cooling enthusiasts." – Raijintek