Rainbow Six Siege Free Weekend Runs From May 17 to 20
---
---
---
Ron Perillo / 3 years ago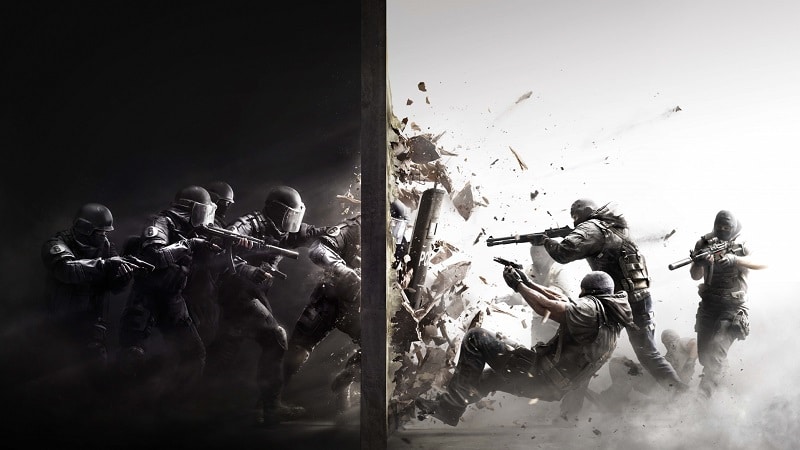 Free Weekend on PS4, Xbox One and PC
Ubisoft is offering another free-to-play weekend event for Tom Clancy's Rainbow Six Siege starting May 17. It will run from Thursday to Sunday or Monday, depending on your region. It is actually shorter than the last free weekend back in February. The free weekend start times differ as well, depending on your region and platform. This is the full game with access to all of the maps, modes, and Operators present in the full version.
When Can Users Play the Free Weekend Event?
For the European and Middle East (EMEA) region on the PC, the event goes live on May 17th 7PM CEST and will run until May 20th, 10PM CEST. For those on the Xbox One, the start time is at May 17th, 9AM CEST and will run all the way until May 21st, 9AM CEST. PlayStation 4 users have a bit of a late start at May 17th 3PM CEST. However, it will also wrap up later for them at May 21st, 3PM CEST.
For US players on the PC, the event starts on May 17th 10AM PDT and will run until May 20th, 1PM PDT. PS4 players start the earliest at May 17th, 6AM PDT with the closing period at May 21st, 6AM PDT. Xbox One players start at 12AM PDT on May 17th, and wraps up on May 21st 12AM PDT.
For the rest of the other areas around the world, check the map below: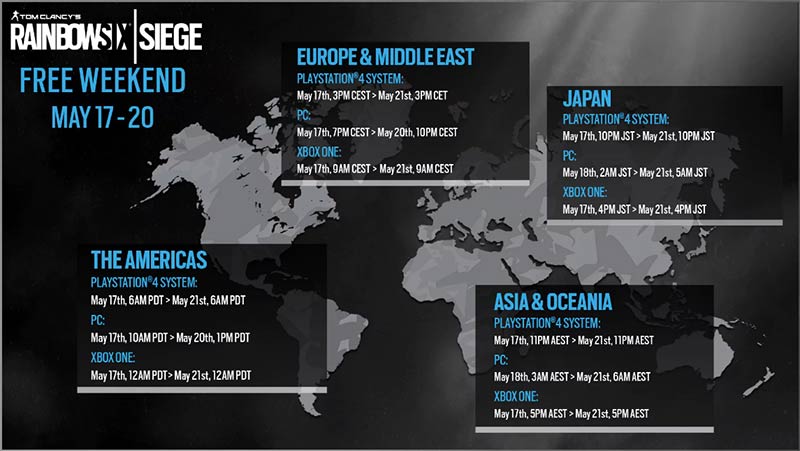 How Can Players Access the Free Weekend Event?
PLAYSTATION 4: Join the Free Weekend on your PlayStation 4 by visiting the Rainbow Six Siege product page on the PlayStation Network. PlayStation Plus membership is required to play online.
PC: Go to your Uplay PC Launcher.
XBOX ONE: The Free Weekend will be available to both Xbox Live Gold and Xbox Live Silver users for the first time! To join in on your Xbox One, visit the Rainbow Six Siege product page on the Xbox Store.
Pre-load is available for PS4 and PC users starting May 15th. Xbox One users will only be able to load the game at the start of the Free Weekend event.
Ubisoft is also offering the full game for up to 50% off starting May 17. As usual, purchasing the full game will allow users to continue their progress from the free weekend event.