Razer CEO Warns of Fake Nabu eBay offerings
---
---
---
Chris Smith / 9 years ago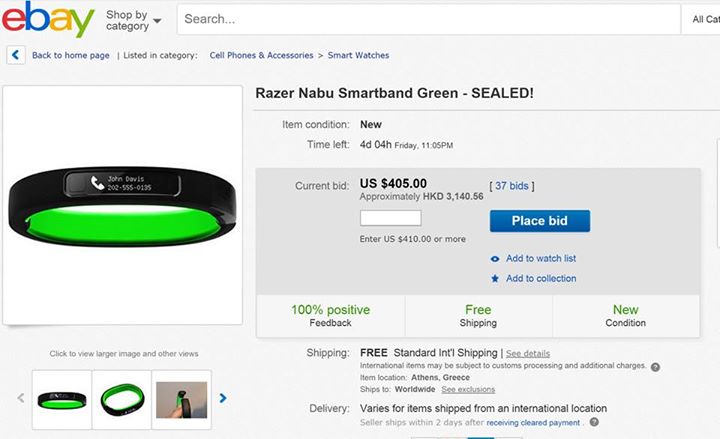 As announced on his Public Facebook page yesterday, Razer CEO Min-Liang Tan warns of fake Razer Nabu smart bands becoming available on eBay.
His official statement reads:
I've been informed that there have been eBay, Craigslist, etc listings of the Razer Nabu and some of the prices listed have the Nabu for over US$400 or more with many customers already pre-ordering the unit at that price.

We have NOT shipped any Nabus to third parties at this time and that we strongly advise against purchasing at any unauthorized third party resellers.

Further – the retail price at the start will be under US$100 – and although you will definitely find scalpers that will resell the launch units for much higher prices (as with any Razer product that we launch) – we highly discourage you from purchasing from them. We know of companies that specialize in buying up Razer products at to resell them for a huge profit at launch and we're doing everything we can to ensure this doesn't happen at the detriment of our customers.

The launch units will be exclusively for our Insider members with mass availability to follow after.

If you're keen to be the first few to get your hands on the Nabu, do check out Insider here at: http://insider.razerzone.com/

PS: Do share this if you can – I'd hate to have anyone scammed because they want to get a Nabu. As with all Razer products – demand always far outstrips the supply but we'll do whatever we can to keep up with the production for demand.
Please feel free to share this article or click the link above to directly share this status to your friends and family. Although, if you're going to fall for a triple-priced pre-release offering – maybe you deserve it? We've been reporting on Razer's Nabu offering for a while now, waiting for a release with baited breath. We've seen Android app updates be released alongside copious amounts of product information, so please Razer if you're reading this, stop teasing and give it to us already!
Image courtesy of Facebook