Razer Raiju PS4 Controller Costs £149.99 and is a GAME Exclusive
---
---
---
John Williamson / 6 years ago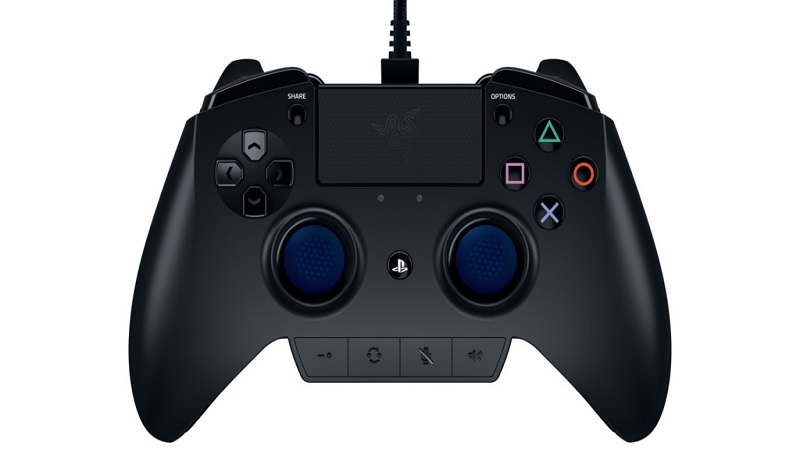 Despite not officially releasing a premium controller for the PlayStation 4, Sony decided to license a number of luxury options from respected manufacturers with a great deal of experience in this field. One of the licensed controllers is the Razer Raiju, designed for eSport players which should complement the PS4 Pro. The pricing for the controller has just been revealed and it's going to set you back a large sum of money. The Razer Raiju has a pre-order price of £149.99 and can be only be acquired from the retailer, GAME. As a result, you won't be able to hunt around for a better deal or try to find a misprice. Of course, the Xbox Elite controller is expensive and often hovers around the £100 mark. Also, Scuf pads are really expensive which puts the pricing into perspective. Here we can see more details about the controller:
Four additional fully-programmable buttons for personalised control layouts
The Razer Raiju features a total of four Multi-Function Buttons—two bumpers at the shoulders and two removable triggers on the underside, all of which can be individually remapped to any other controller actions, so you have absolute freedom to dominate with your winning configuration.
Ergonomic shape and weight developed together with top esports athletes
To ensure undisputable gaming comfort, extensive research was done, and multiple iterations have been rigorously tested by prominent esports athletes. As a result, the chassis of the Razer Raiju not only perfectly accommodates the touchpad, but stays comfortable for use even in the most intense of battles.
Quick Control Panel for easy profile and audio customization
From toggling between profiles to adjusting both game volume and mic mute, the Quick Control Panel gives you easy access to a whole range of functions. Conveniently located between the grips, you can simply switch your preferences in-game without taking your hands off the controller.
Reinforced materials for unrivaled reliability
Forged with aircraft grade aluminum Multi-Function Triggers and high carbon steel analog stick necks, the Razer Raiju is unmatched in durability, making this formidable controller perfect for every playstyle, regardless of how extreme it is.
Trigger-stop switches and hair trigger mode for ultra-fast responses
The Razer Raiju features trigger stop switches, made to reduce the travel distance of each trigger from 18 degrees to a mere 5 degrees — an incredible decrease of over 70%. Together with hair trigger mode which increases the sensitivity of the trigger, you can effortlessly execute your actions in rapid succession.
3.5 mm combined port for stereo audio and microphone
The Razer Raiju comes equipped with a 3.5 mm port that allows you to plug your headset in for both stereo audio as well as communicating with your team mates.
Tech Specs:
–    2 shoulder Hyperesponse Multi-Function Bumpers
–    2 removable Hyperesponse Multi-Function Triggers
–    4 Hyperesponse mechanical action buttons
–    4 button Quick Control Panel
–    Optional trigger stop switches for rapid-fire
–    Optional hair trigger mode for ultra-fast responses
–    3.5 mm audio port for stereo audio output and microphone input
–    In-mold rubber grips
–    2 optional analog stick rubber grip caps
–    Carrying case
–    Detachable 3 m / 10 ft lightweight braided cable with Micro-USB connector*
–    Approximate size : 168 mm / 6.62" (Length) x 105 mm / 4.14" (Width) x 65 mm / 2.56" (Height)
–    Approximate weight (With cable): 350 g / 0.77 lb