Razer Release The New Blackwidow V4 PRO
---
---
---
Jakob Aylesbury / 4 months ago
Razer, the leading global lifestyle brand for gamers, today announced the new Razer BlackWidow V4 Pro, a full-blown battle station keyboard packed with features for gamers and PC enthusiasts to perfect their gaming set-up.
Razer BlackWidow V4 Pro
This Latest V4 Iteration of the award-winning Razer BlackWidow line of keyboards has a host of features suiting every gamer, primarily the new "Command Dial" which gives new advanced controls and shortcuts for desktop apps and in games. In Addition to the command dial the keyboard boasts 8 dedicated macro keys on the left side for complex actions to be completed in just a single button press.
Features
The BlackWidow V4 comes with Doubleshot ABS keycaps paired with the latest generation of Razer's mechanical switches with two available switch variants; Green clicky switches for tactile feedback or yellow linear switches for smooth and silent action. Both variants of these switches have undergone extensive testing and are rated for up to 100 million keystrokes! To make these switches sound even better Razer have also included 2 layers of sound dampening foam as well as factory lubricated stabilisers.
Other notable features include:
USB 2.0 Passthrough
Detachable Type C connections
Durable 5052 aluminium alloy top case
Dual-angle kickstandds
up to 8000 Hz polling rate
Magnetic plush leatherette wrist rest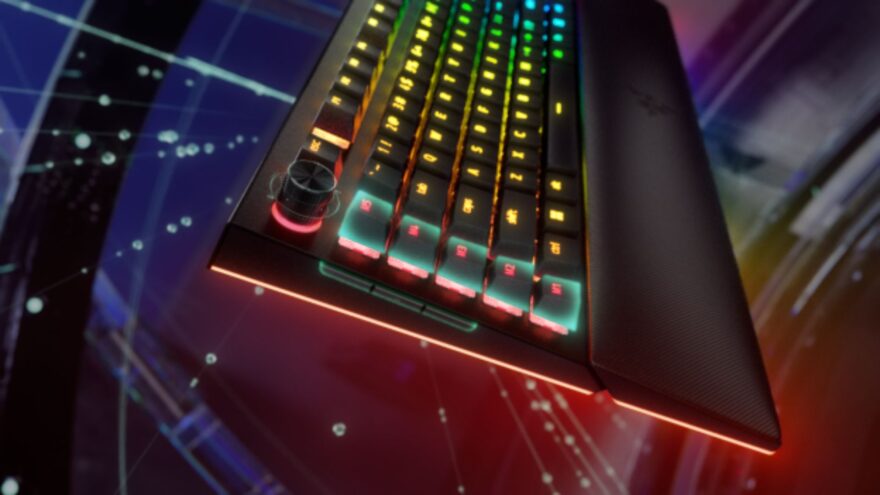 Customisation
Boasting Per-key Razer Chroma RGB lighting as well as multi-zone under glow lighting allows for near limitless customisation using the Razer Synapse app. Not only can the RGB be customised in Razer Synapse, the newly included command dial is also controlled in Razer Synapse. The dial comes preset with 8 default modes from window zooming to browser tab switching. All of these modes can all be changed within the Razer Synapse app with up to 100 custom modes available. Each mode is colour coded by the backlight of the dial and modes can be toggled by clicking the Command Dial.
Where Can I Learn More?
The Razer BlackWidow Pro V4 is available Now from February 16th. BlackWidow Pro V4 Prices: £229.99 GBP / $229.99 USD / 269.99€ MSRP
If you would like to learn more you can view the official product page here!