Real Virtuality Explores Multiplayer VR
---
---
---
Rikki Wright / 6 years ago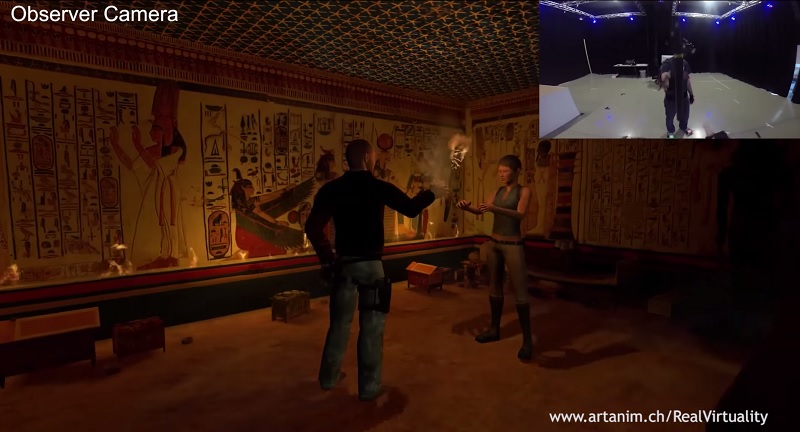 Virtual Reality (VR) isn't even a consumer product, we've only seen demos of a single player using the device; yet the Real Virtuality game engine has taken the next step and combined experiences of two or possibly more users.
Up until now, the experience has been relatively static, you sit in a chair or stand up and twist your body; the visual aspect is there, but what about physical? Real Virtuality has created a small studio that completely transforms once a user puts on the VR headset. The skin is overlayed onto the objects in the room and some objects are interactive, like the baton which mimics a lit torch.
In the video, two researchers are exploring a tomb which is extremely dim, yet the two participants have a virtual torch to light the way. By manipulating the torch, the light reveals hidden treasures. The two then pass the torch back and forth for no apparent reason other than to show how well the program works.
If this step in VR is taken soon we could have warehouses transformed into huge multiplayer events. Imagine a Battlefield map recreated like this, running around a baron industrial site while shooting at each other; This could really improve army training if foreign places could be mapped through surveys and satellites.
I personally can't wait for this step in VR, I've tried various versions of the Oculus Rift and while the concept is very good, you always want to stand up and walk in another direction.
Thank you to engadget for providing us with this information.