Recycle For Rewards With Snazzy Special New Vending Machine From Envirobank
---
---
---
Michael Hatamoto / 9 years ago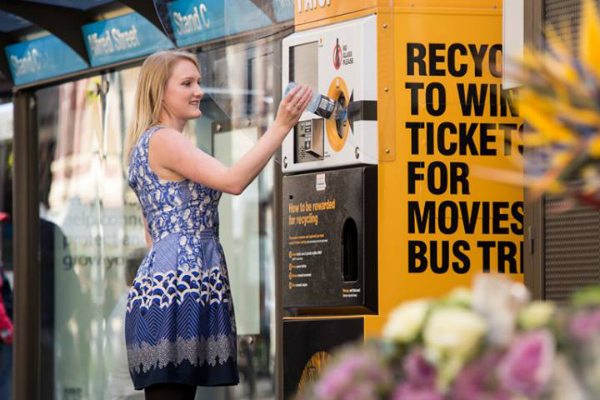 The City of Sydney is dabbling with a new vending machine from Envirobank, with the unit described as a "reverse vending machine," providing rewards when visitors recycle plastic and glass bottles, or cans.
Visitors can receive two-for-one food truck vouchers, donate 10 cents per container to a non-profit group, or enter a drawing to win two tickets to a New Year's Eve Festival.  Each machine can hold around 2,000 recyclables before needing to be emptied.
The vending machines are currently being tested in Sydney, Australia, and three of the machines filled up with 6,000 recyclables before being publicly introduced.  There were 10,000 bottles and cans collected at two separate vending machines in just three days, according to city officials, promoting their effectiveness.
Here is what Sydney Lord Mayor Clover Moore said regarding the new vending machines:
"Container deposit schemes significantly increase recycling, reduce waste and protect wildlife and the environment from plastic pollution.  We're taking what action we can to reduce the amount of waste going to landfill, but will continue to lobby state and federal governments for reform on this issue."
These types of recycle machines have found success in select EU nations, as governments try to boost green initiatives – and help clean up the community.
Thank you to Science Alert for providing us with this information
image courtesy of the City of Sydney