Reddit User Receives A Big Bundle From "Secret Santa" EA Employee
---
---
---
Gabriel Roşu / 10 years ago

A Reddit user who was participating in a secret Santa received an amazing gaming bundle when paired with an EA Games worker. The Reddit user, Sinister-meow, had asked for a new game in the gift exchange, and by pure coincidence and sheer luck was paired with a worker at EA Games, who sent a huge bundle including 29 PS3 titles.
In a letter from 'Santa', the EA worker explained that he, his co-workers at EA, and his 'friends at PlayStation' had put together a collection of games and merchandise for the Reddit user, and put their fortunate pairing down to the 'Internet spirits'. This is quite a wonderful gift and a real example of the Christmas spirit. And who would have known that so many people from a variety of companies would reunite in the 'Christmas Spirit' to give such a generous gift!
'I assumed it was a marketing move and I could appreciate that, they gave me a lot of stuff, so I figured it was on me to post it and give EA credit where its due,' Sinister-meow explained. Rather than the work of 'Internet spirits', the Reddit user said the whole thing was 'Just good luck I guess'.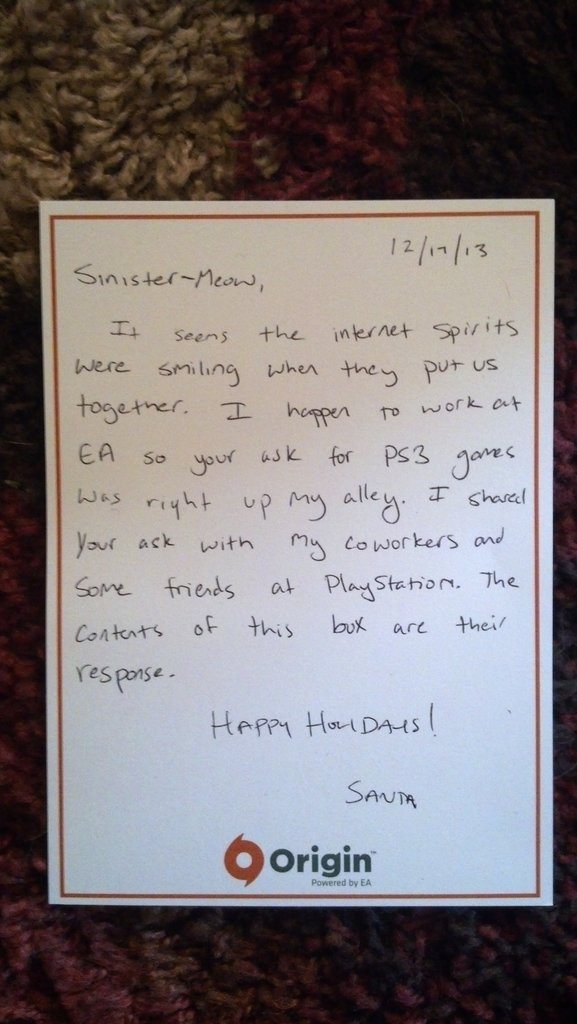 Thank you VR-Zone for providing us with this information
Images courtesy of VR-Zone