Reeven Arcziel 12 (RC-1203) CPU Cooler Review
---
---
---
Ryan Martin / 9 years ago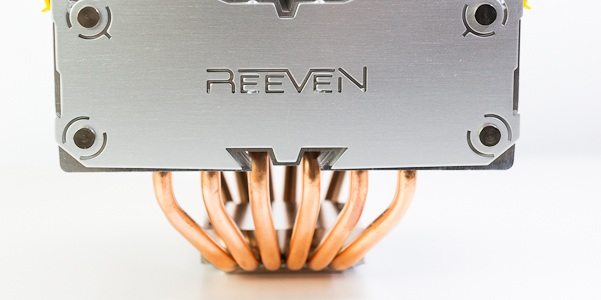 New companies are few and far between these days. When we tend to see a "new company" in a particular market it tends to be an existing company expanding its portfolio, like when EVGA moved into the CPU cooler market.
However, we've started working with a company who genuinely are new to the scene. Reeven are an Asian based cooling company who make CPU coolers, fan controllers and fans. Until recently we had never heard of them and currently find their products are very hard to buy as very few western retailers actually stock them. After finding Reeven products listed on the Scythe Japan website, I believe that Reeven are in some way affiliated to Scythe – but I am not quite sure how.
From what we have seen and read so far about Reeven their products may not be top-of-the-line but they offer promising value for money.Today we will be kicking things off with Reeven's best CPU cooler, the Arcziel 12, with the 12 denoting the 12cm fan that is used and Arcziel being the name of the series of CPU cooler.
Reeven's slogan "don't think it, feel it" would suggest that they are confident about offering products that actually deliver. One thing that strikes me with Reeven products so far is that they seem to be attaching themselves to the colour yellow. Much like Noctua have their trademark brown fans, Reeven are using a bright yellow colour scheme which gives them a really distinct look and once their brand recognition picks up a bit you'll instantly recognise them. I personally think yellow is a bit brave, but with the growth of MSI's Lightning series I think many people could find these coolers and fans a perfect match – if they deliver on performance that is.
Whilst unpacking the various products Reeven sent me, it also struck me that their attention to detail was exemplary. I don't think I've ever seen products with such high quality packaging, accessories and overall attention to detail. I really can't wait to show you around these new products from Reeven, give them the heat treatment and see if they are worth your money.
The Arcziel 12 (RC-1203) CPU cooler has the following specifications:
Socket compatibility: LGA 2011/1366/1156/1155/775 and AM2/AM2+/AM3/AM3+/FM1
Dimensions: 140.5x 126x 131 mm (Width X Height X Depth)
Six 6mm copper heat pipes with Aluminium heatsink array
Fan Dimensions: 120 x 120 x 25mm (Width X Height X Depth)
Fan Speed: 500-1900RPM (+- 10%)
Air Flow: 27.61 to 101.33 CFM
Noise: 4.3 to 35.5 dBA
Weight: 557g (heatsink only)