Reeven ColdWing 12 Fan Series Review
---
---
---
Ryan Martin / 11 years ago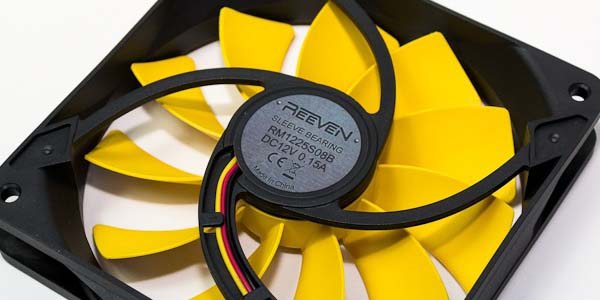 Reeven are an emerging company who makes CPU coolers, fan controllers and fans. So far we've taken a look at their CPU coolers, the Kelveros and Arcziel 12, and now we are going to take a brief look at a key component of all Reeven CPU coolers – the 120mm fans they are supplied with.
Reeven uses its own fans with its products but it also sells them separately for competitive prices. Currently Reeven has just one series of fan, the ColdWing 12 series. However, within that series Reeven offers four types of fans with the main difference between them being the fact they come with different operating RPMs which obviously changes airflow and noise output across all the models.
The first fan they offer is an 800 RPM silent fan. Given the fact this fan has a fixed RPM of 800, it includes a 3 pin connector as it doesn't need PWM controls.
The second fan Reeven offer is the Silent Performance PWM fan. Being a PWM fan this comes with a 4 pin connector and has a variable RPM of 500 to 1500.
Their third fan is the Performance PWM fan. This fan features 4 pin PWM controls and a variable RPM of between 500 and 2000 RPM. It also features an integrated switch which when at high offers 500-2000 RPM and when at low offers 500-1300 RPM.
The final fan is the performance fan. It is a 3 pin connecting fan so has a fixed speed of 2000 RPM with no PWM controls.
Specifications
Dimensions: 120 x 120 x 25mm
Rated Voltage: 12V
Rated Current: 0.15A (Silent), 0.52A (Performance), 0.42A (Silent Performance PWM) and 0.52A (Performance PWM)
Bearing Type: Sleeve Bearing
Mean Time Before Failure: 30000 Hours
Weight: 152-167g
Rated Noise: 14.5 dBA (Silent), 36.6 dBA (Performance), 4.3 – 29.8 dBA (Silent Performance PWM) and 4.3 – 36.6 dBA [4.3 – 25.6 dBA with low switch] (Performance PWM)
Rated Airflow: 43 CFM (Silent), 107 CFM (Performance), 27 – 82 CFM (Silent Performance PWM) and 27 – 107 CFM [27 – 69 CFM with low switch] (Performance PWM)
———————–
Each of the boxes for the fans list the appropriate model name, number, RPM, airflow and show that molex adaptors are included.
The first fan we have here is the Silent Performance PWM fan. This fan costs £8.50 from Quiet PC.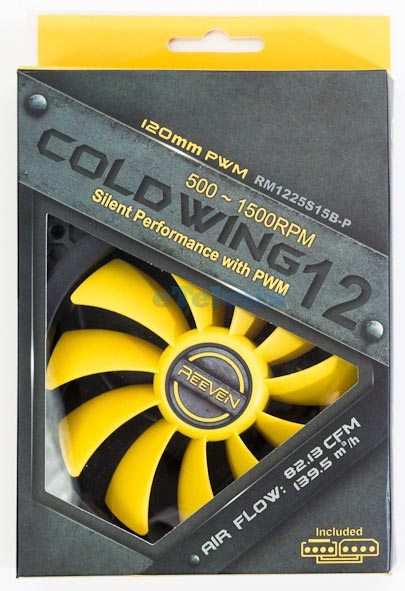 Next is the Performance PWM which includes a high/low switch, interesting activating the low switch makes this fan quieter than the Silent Performance PWM fan. This fan costs £10 – reasonably considering the included accessories and fan switch.
The backs list some key specifications which you can read if you are interested. We think its worth taking note that these fans have a 1 year warranty, that's always good to see even with something as cheap as a fan.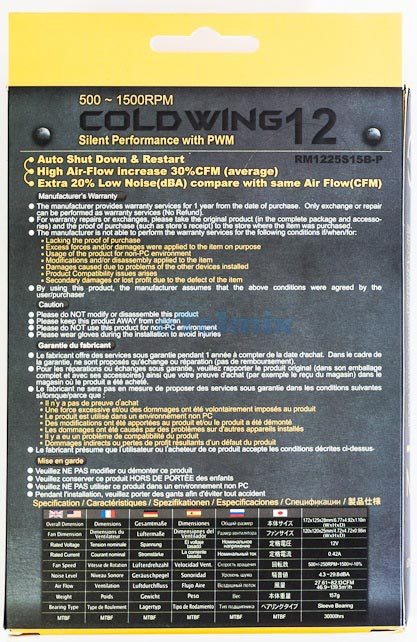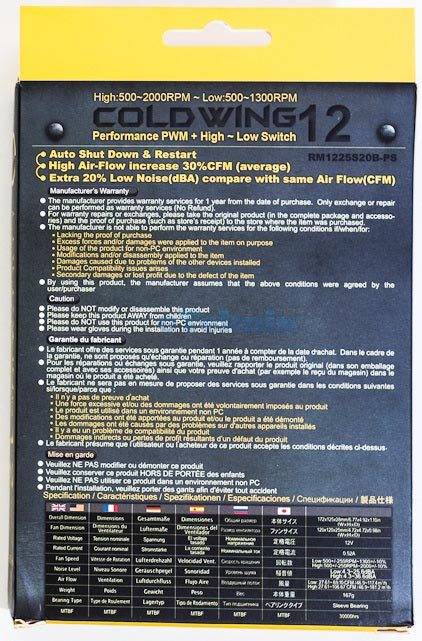 The Silent 3 pin version is the cheapest ColdWing 12 fan available, it costs just £6.79.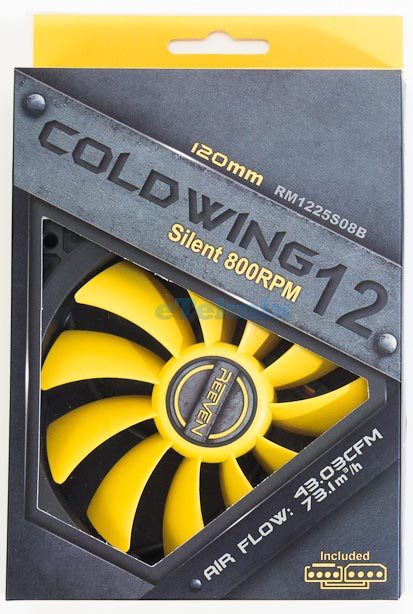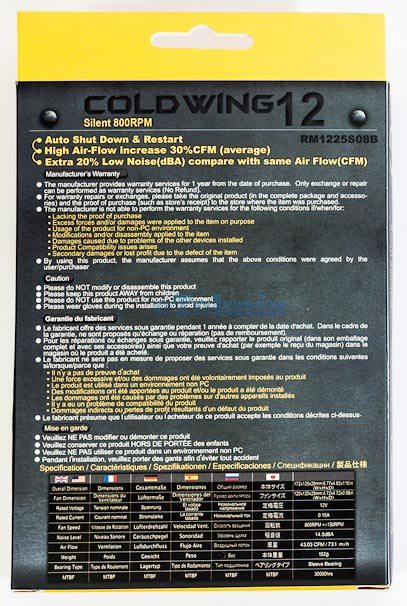 The Performance 3 pin fan is also cheap but costs slightly more than the Silent 3 pin fan, at £7.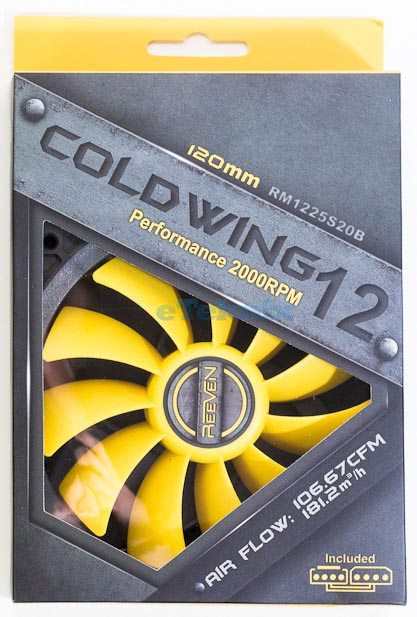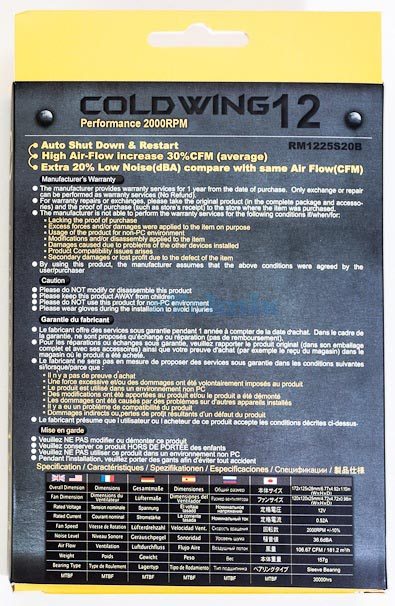 ———————–
For such low priced fans, it is surprising that Reeven include 3 pin to molex adaptors. The sticker is a nice touch too, although I would like to have seen black screws. This what both the Silent 800 RPM fan and Performance 2000 RPM fan will look like once you un-box them.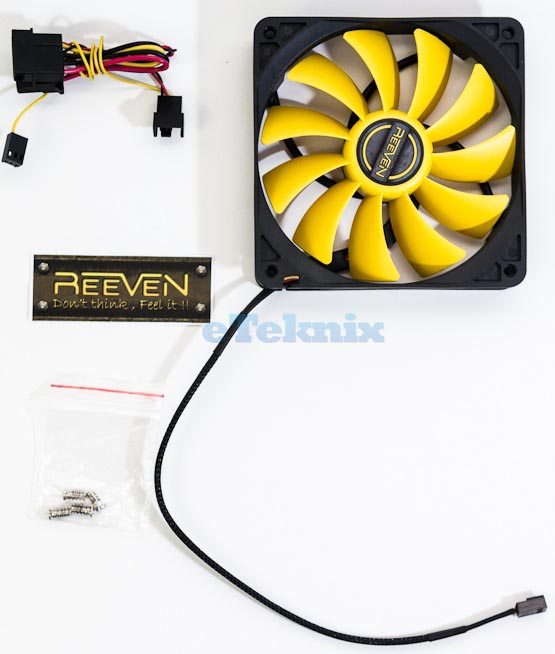 A 3 pin connector is included with box the Silent and Performance fans. Remember 3 pin connectors will work in 4 pin headers and 4 pin connectors will work in 3 pin headers. The only difference is 4 pin connectors in 3 pin headers won't give PWM controls.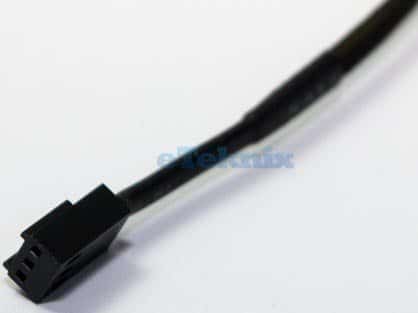 All the Reeven fans will look like this from the top, you can see the fan blades are dense and optimised for airflow not pressure – these won't be ideal for high fin radiators.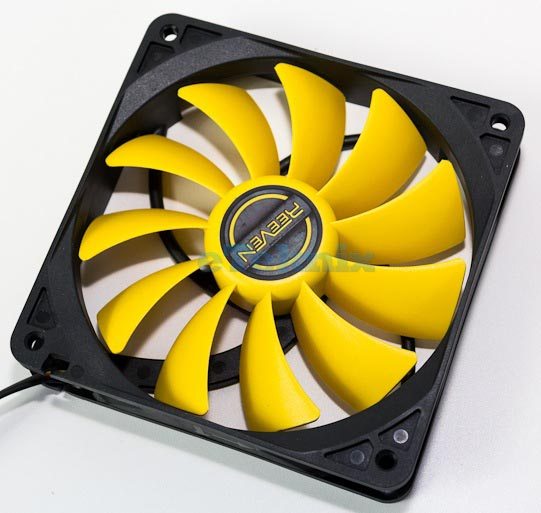 The back of all the Reeven fans will have a different sticker on it to mark out the correct details. The cable is multicoloured, it would of been nice to see all black or all yellow for a better aesthetic but again with such low prices you can't complain too much.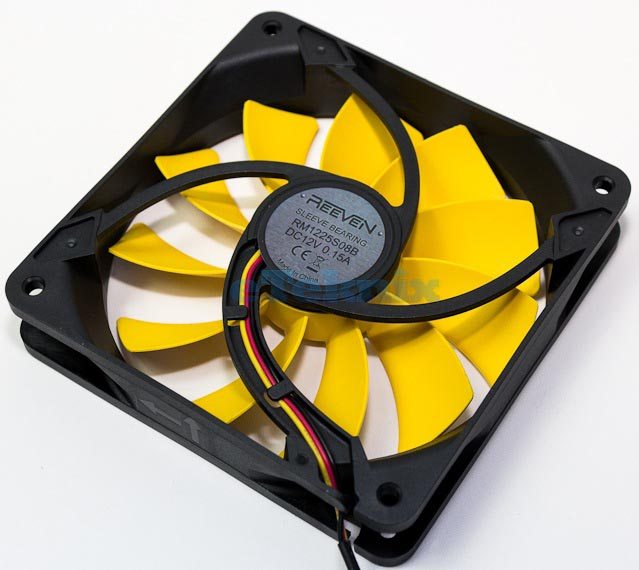 All the ColdWing 12 fans are 25mm thick.

The only difference with the 4 pin PWM fans versus the 3 pin fans is the change in fan connector and addition of the low-high switch for the Performance PWM fan. As the cable isn't that long this fan would need to be a rear chassis fan or CPU cooler fan.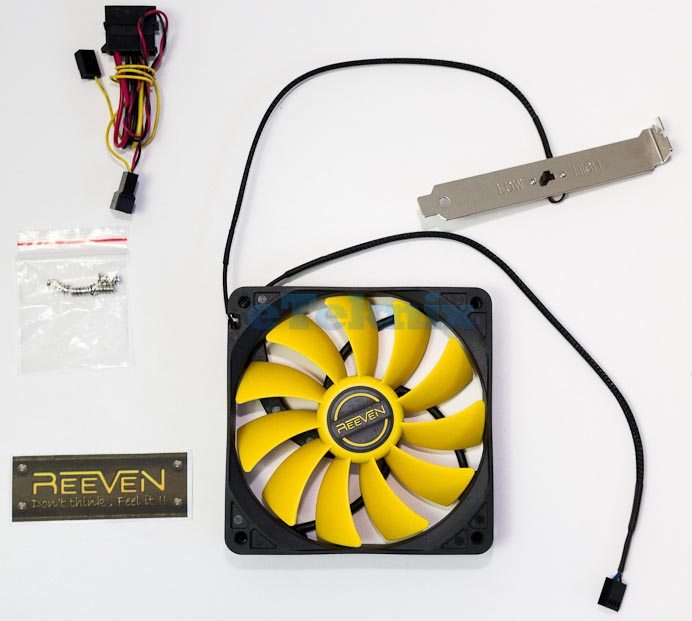 The 4 pin cables and 3 pin cables are nicely braided for the vast majority of the cable – good job Reeven.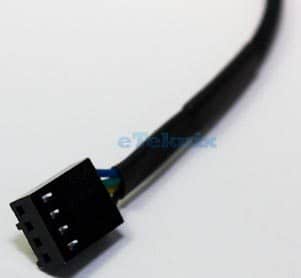 The wiring on the back of the fan switch looks a bit fragile but once installed in your case you won't notice and it looks pretty neutral at the back of most cases which is good for everyone.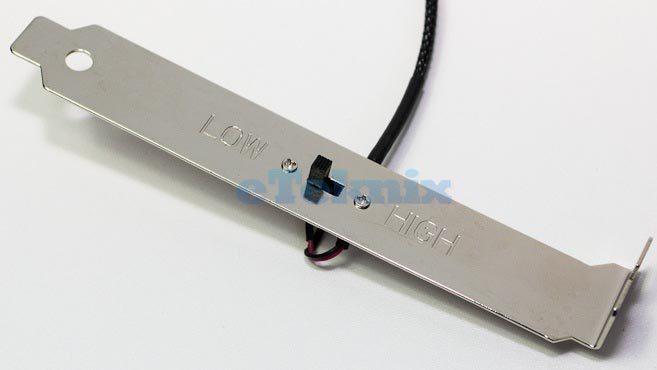 ———————–
We tested the acoustic performance of these Reeven fans precisely 10cm away from the fan, facing the direction of the airflow. The results were recorded with our decibel meter which has a 1 decibel margin of error. The fans were pulled as far from the main test system as possible using their cables to minimise background noise. We used Delta Noise levels (Recorded noise level minus ambient noise level), the background noise level was 37 dBA and this was as low as we could get it without turning the system off which would obviously make testing impossible.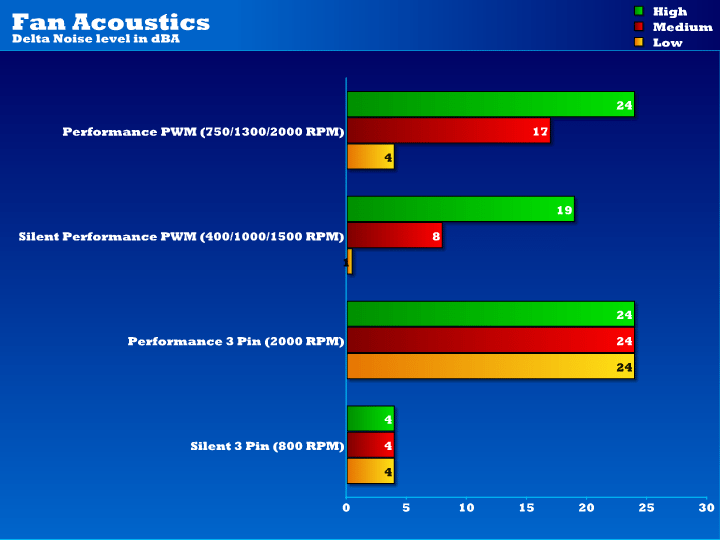 The results are good but obviously its hard to make too many judgements because we don't have any fans to compare these to.
Firstly, the Silent 3 pin fan in my opinion makes an ideal case fan as it shifts a decent amount of air but remains very quiet indeed – totally inaudible if you put these in your case under your desk.
The two PWM fans are interesting because the Silent Performance PWM fan is essentially the same as the Performance PWM fan with the low switch enabled.
With the Performance 3 pin and Performance PWM fans at 2000 RPM, they aren't quiet by any stretch of the imagination. However, they produce immense amounts of air which is precisely what they have been designed for – in fact one of them fell over on my desk from producing so much air!
From our particular testing scenario, less than 10 Delta dBA was inaudible, less than 17 Delta dBA would be mostly inaudible inside a case and 18 to 24 dBA is noticeable even in a chassis.
The reason we have not done any temperature testing is because the results vary too much based on the type heat sink or radiator you are using and the type of hardware you are trying to cool. Every user will have drastically different results depending on their configurations so it is sensible to think whether these fans would be relevant to your particular needs.
———————–
These Reeven fans are scorching value for money considering you are getting stylish (in my opinion) 120mm fans for £10 or under across the board. The prices are as follows:
All these fans serve different purposes. The Silent 3 pin fans are ideal for anyone who wants some cheap case fans that will shift decent amounts of air but be inaudible.
The Silent Performance PWM fan is ideal for someone looking for a quiet fan for their CPU cooler that has the ability to offer more cooling performance when needed but still remain mainly silent during all usage scenarios.
The Performance PWM fan offers you a lot more flexibility for the extra cost, you can have the same performance of the Silent Performance PWM fan with the low switch activated but then by selecting the high switch you can ramp up to 2000 RPM and get even more cooling performance if you need it – with extra noise though. This is ideal for someone who only needs high performance cooling on rare occasions.
The Performance 3 pin fan is an intriguing fan. It offers massive amounts of airflow and isn't horrendously noisy like you'd expect. I'm not saying you won't hear these fans because you will and they are loud, but inside a case the audible impact will definitely be muffled a lot more. If you do a lot of testing and sometimes you just need extra airflow over a multi-GPU configuration or you need some serious airflow for a radiator in a high performance liquid cooling loop – then these are probably for you.
The 3 Pin fans are ideal for constant use, so if you need constant silence then the Silent 3 pin is ideal, if you need constant performance but are willing to tolerate noise then the Performance 3 pin is ideal. The PWM fans bring a lot more flexibility to the table, they are more ideal for CPU coolers but if you want more airflow than an 800 RPM fan you could get the Silent Performance PWM and use fan tweaking software – such as ASUS Fan Xpert 2 – and set the RPM to 1000/1100/1200 RPM.
My only negatives with these fans is that they don't abide to their listed RPMs very well, the specification lists a variance of 10% at each end but we found the 500-1500 RPM Silent Performance PWM fan actually wouldn't go any lower than 750 RPM and by my maths that is not 10% higher than 500! All the other fans were more or less within 5-15% of their listed speeds so maybe Reeven should change the specifications to account for the larger variance we discovered.
On the positive side these fans are incredibly well priced, constructed to a high quality, have good aesthetics with the unique yellow design, offer a good accessory package and the ColdWing 12 series offers a solution to almost every usage scenario.
That said we can happily award the Reeven ColdWing 12 fan series with the eTeknix Bang For Buck award.