Retailer Lists MSI Radeon RX 6600 XT for $1100
---
---
---
Mike Sanders / 12 months ago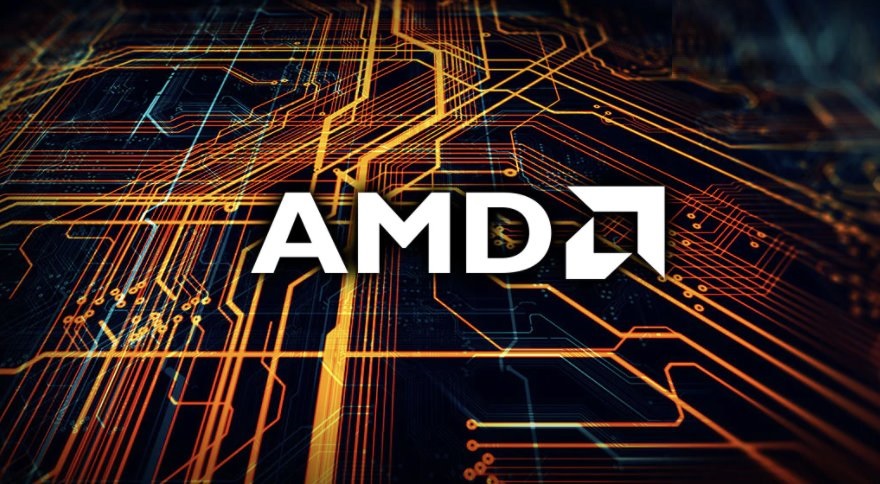 With the AMD Radeon RX 6600 XT set to be officially released on August 11th, there may well be more than a few of you who are eying this up as your next potential graphics card upgrade. While we do have an official MSRP of $379, however, given the current climate, we already know that the chances of finding one of these new GPUs at anything close to that are already looking pretty grim with more realistic prices of $400-$500 already being suggested. – Following a report via Videocardz, however, despite that aforementioned release date, it would appear that one major retailer has seemingly decided to break the embargo by listing an MSI Radeon RX 6600 XT Gaming X graphics card as available for sale. In terms of the price though, all we can hope is that this isn't indicative of what we can expect!
MSI Radeon RX 6600 XT Gaming X
As part of the report, it has been confirmed that NewEgg briefly listed an MSI Radeon RX 6600 XT Gaming X as available for sale. Now, the key point raised here is that it is very unusual for a major retailer such as this to break release embargos. In that specific regard, however, it does appear that this is quite a deep rabbit hole.
The graphics card appears to originate from within China and, as such, our best guess is that this is an early sample that has somehow escaped into the wild. Based on the listing, we should clarify that although this was being sold on NewEgg, this was actually more of a private sale akin to what Amazon does with their partners. However, the fact that NewEgg allowed to this be listed at all will undoubtedly be raising more than a few eyebrows at both MSI and AMD headquarters.
Then we get onto the price… At $1,099, this is around 3 times higher than the actual official MSRP of the 6600 XT and it does, therefore, lead to one of two conclusions. Either this is a seller being exceptionally greedy in the hope that someone would like to attempt to snag this GPU as quickly as possible (which is doubtful in itself as the shipping suggests a 7-32 day wait – Why buy this when they're officially released in just 2 days time?). Or worse, that this is the kind of initial scalping prices consumers might be able to expect for the 6600 XT.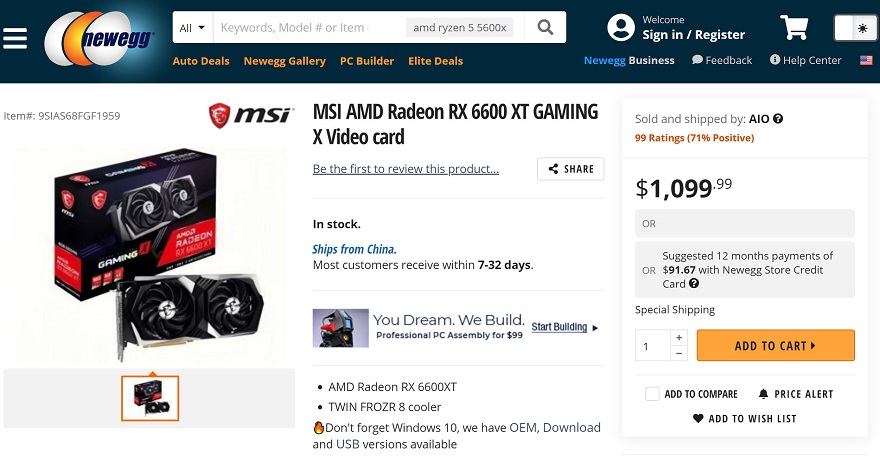 What Do We Think?
Although we do not expect the 6600 XT to initially retail at anything close to the official MSRP, at the same time, we're not expecting even the most ambitious of scalpers to look to grab $1,000+ for this graphics card. The 6600 XT is, after all, a mid-tier GPU and, by that proxy alone, it simply can't command a scalping overhead figure as ridiculous as seen in GPUs such as the 3080 or 6900 XT.
We, therefore, suspect that this was just a seller trying to get lucky. Albeit, with it no longer available on the website, it does seem that someone was stupid enough to pay this price. – More than anything though, it's honestly surprising that NewEgg allowed this to be listed in the first place. Not just for breaking the embargo, but reinforcing the evidence (or at least opinion) that in terms of official retail sellers, they have no qualms about allowing prices on their platform that go hand in hand with what scalpers are trying to get!
What do you think? Are you looking forward to the upcoming release of the AMD Radeon RX 6600 XT? If so, what price/s are you hoping (or expecting) to see it available for? – Let us know in the comments!