Rick and Morty Co-Creator Hints at Elon Musk Cameo and Discusses Toxic Fans
---
---
---
Mike Sanders / 6 years ago
Dan Harmon speaks at Comic-Con
Rick and Morty has been one of the most major and significant break-out animation successes in recent years. It is difficult to find someone who doesn't like it, even if it's just the occasional smirk. With such success does come some problems.
Season 3 has clearly been a massive success for the show. Adult Swim has even officially declared it their most successful show ever. There are, however, a few good points and bad points which have emerged from the series.
Dan Harmon, the co-creator of the series has been speaking at Comic-Con and has discussed, via Polygon, some plans for the future as well as some current concerns over the fan base.
Firstly, speaking about Rick and specifically science. Dan Harmon has said that he is more than happy for Elon Musk to have a cameo appearance in the series. I would be quite amusing to see what Rick thought about him. Presumably, whatever it would be, it's not likely to be overly positive.
The founder of Tesla is clearly a fan of the show as this feed shows: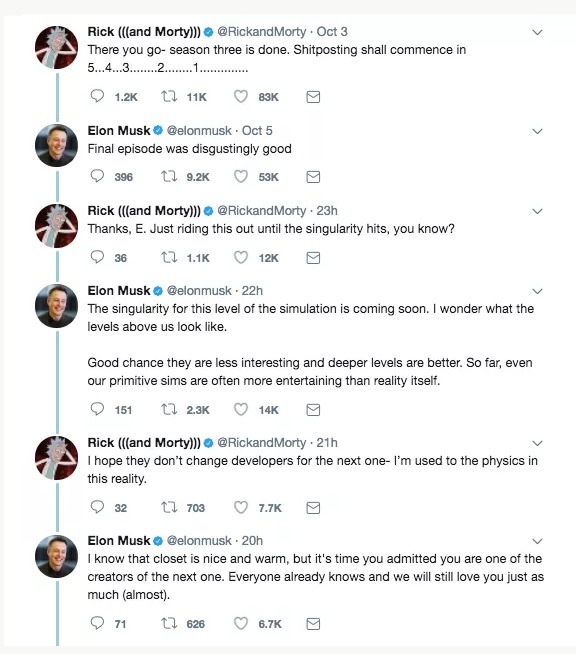 What's the problem with the fan base?
In what seems to be a semi-regular occurrence, someone is complaining about a toxic portion of the fans. Although in fairness that has been more about Blizzard and Overwatch. If you were not aware
If you were not aware, season 3 has been rather divisive amongst the fans. Many of the complaints have stemmed from a comment that seems to trend, particularly on reddit – 'Rick and Morty is for smart people'. Agree with this or not, the point that this part of the community is making is that they feel that the show has 'dumbed down' throughout season 3.
I honestly don't see this myself, but Dan Harmon has simply said that: "I know there's toxicity among the fan base because it's a popular show and people obsess about it. We try to outdo each season. If it was dumber, it was an accident. Maybe I got dumber! You can't argue with somebody who says they like this season, but not that season. It's not the same show season to season."
Whatever that portion of the community might think Dan, we at eTeknix love your show!
Did you like season 3 or were you disappointed? Let us know in the comments!