Robot Art Exhibition Looks To Use Body Language
---
---
---
Mike Sanders / 4 years ago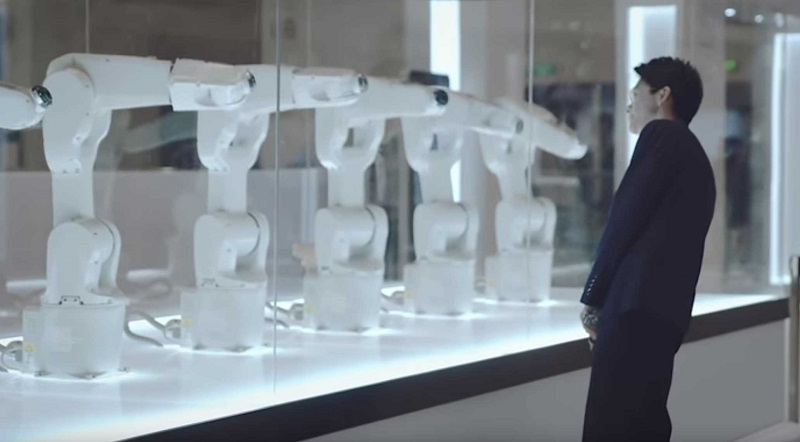 Robot Art Exhibition Looks To Use Body Language
There's a growing consensus amongst various celebrities (and those people who likely wear tin foil hats) that when the human race is finally wiped off the face of the Earth, robots will have probably have had a hand in the decision. If you are one of those people you may want to look away now. You have been warned!
Artist and coder Madeline Gannon has just released a brand new art exhibit. In it, you walk down a passage surrounded by robots. All of which watch you and attempt to react to your body language by having a body language of their own. While the robots are a clear part of the display, it's really the human factor where it gets interesting. Specifically, how people react to being watched. No one likes being watched intently, so how would that translate to a bunch of robots?
That Is… Creepy
Her piece, entitled 'Manus' has looked to attempt to create a 'pack mentality' with robots. With each of which reacting to your behaviour by reacting as a group and, of course, how humans behave with them.
In a report via the Verge, Madeline Gannon has said: "This work, Manus, is the third in a series of projects trying to understand body language as a means of communicating with robots. One of my earlier projects was a large-scale installation in the Design Museum in London. A giant industrial robot arm engaged with crowds of people. It was called Mimus. And was a point of contact for people entering the museum, helping them to understand what industrial automation can and can't do. Being an ocean away, I was compelled to see how people were reacting to Mimus on Instagram and Twitter. And to see the range of emotions people would project onto the robots; how much personality they could render from playfulness and friendliness to curiosity and creepiness."
What Do You Think?
In truth, we must admit to being rather impressed with this. While there are some who simply suggest the robots have been programmed to mimic human behaviour, the real point of the exhibition, at least as far as we see it, is the human reaction. I mean, it is a little creepy having a bank of robots watching you.
For more details on the project, you can visit the official website on the link here!
What do you think? Are you impressed with the exhibition? In addition, how would you feel about it? – Let us know in the comments!