Roccat Kave XTD True 5.1 PC Gaming Headset Review
---
---
---
Peter Donnell / 9 years ago
Introduction
---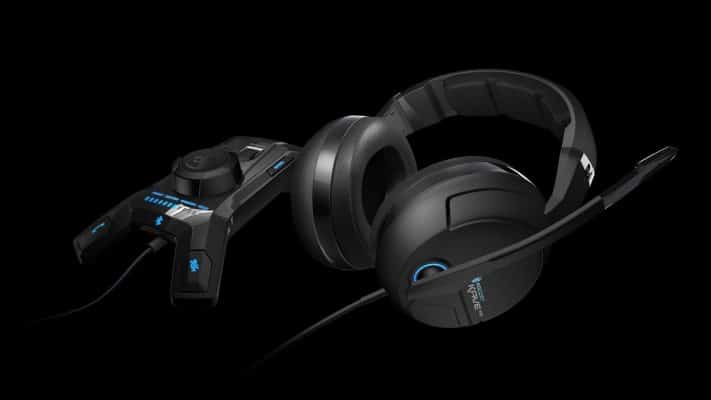 The Roccat Kave XTD has been one of my most anticipated headset ever. Not only was the original Kave 5.1 headset was nothing short of incredible, but the new one promises to improve on many aspects of the previous model. I first got hands on with this headset at CES 2014 last January, and I've been wanting to really put it through its paces ever since. With Roccat having a rock solid reputation for making some of the best performing, feature packed and stylish gaming products the PC market has ever seen, I have very high expectations of the Kave XTD.
The Kave XTD 5.1 headset really stands out from the crowd, mostly because it is a true surround headset in a sea of headsets that offer virtual surround technology. There are barely a few great headsets out there that can do an above average job of virtual surround. To my ears, virtual surround is a tacked on software gimmick to what is still just a stereo headset. The difference between a true surround headset and a virtual one can be profound and it will be great to hear if Roccat has gotten it right with their 5.1 configuration. This is achieved by having three drivers in each ear cup, that's two 40mm drivers and a 30mm vibrational driver. That last part is the most exciting, and well get to why very soon.
"Nobody does it like ROCCAT. With two 40mm driver units and one 30mm vibration unit per ear cup, a fully immersive, genuine surround sound experience with pitch-perfect crisp and clear audio is ensured. The Kave XTD 5.1 Digital's three high-end driver units are aligned precisely at a 12° angle, matching the natural form of your ear. This alignment provides a real – not virtual – 5.1 surround environment in which you can pinpoint enemy locations easily, giving you the edge over your opponents." read the Roccat website.
Roccat is well-known for their extensive feature sets and the Kave XTD is no exception. Aside from real 5.1 audio, the XTD also features a high quality multi-channel sound card, USB connection, Bluetooth smartphone pairing, a desktop remote and a noise cancelling microphone. Aside from the extra features, the core hardware is pretty robust too, with powerful drivers, a very good quality microphone and a lightweight 335gr design.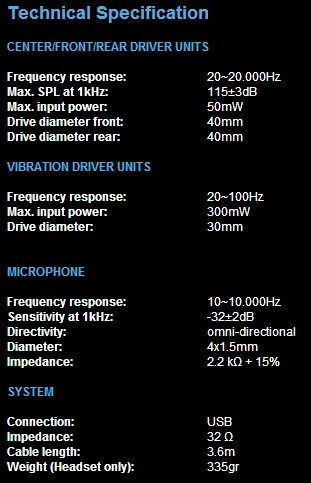 The packaging is really nicely designed, there is a side window that gives you a sneaky peak at the headsets design and there are a few details of the features scattered around the box.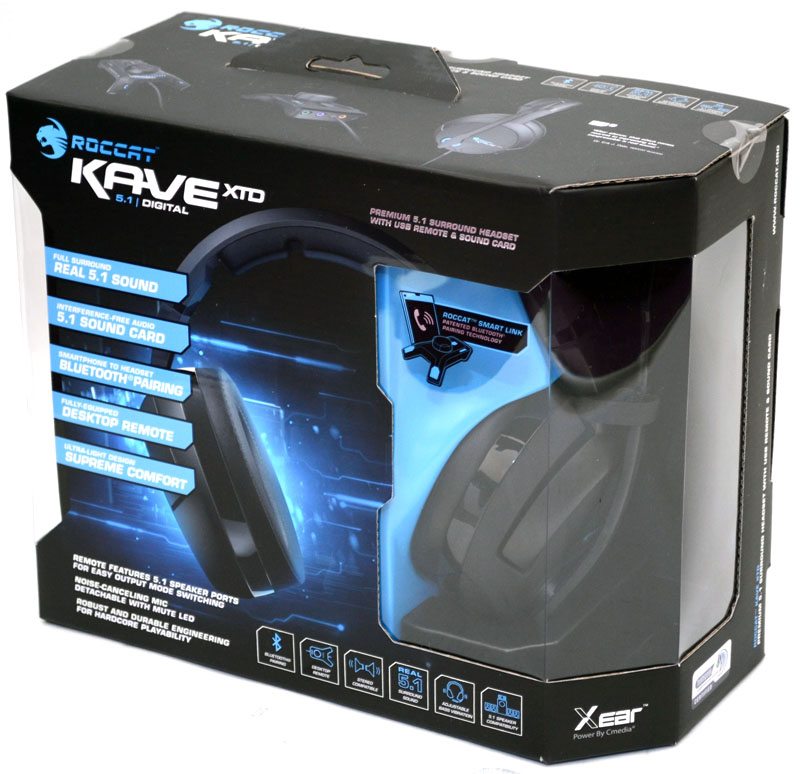 Around the back we have a more detailed run down of the extra features, as well as another side window on the box, giving you a view of the desktop remote / sound card unit.