Roccat Tyon Multi-Button White Gaming Mouse Review
---
---
---
Peter Donnell / 3 years ago
---

Tyon White
The Roccat Tyon has long been one of my favourite gaming mice. I've actually had one on my desk for quite some time now. However, I have the dull old black and grey one. Now, the Roccat Tyon is back and it's got its formal suit on thanks to a new white top. But Peter, it's just a new colour, who cares? Well, a hell of a lot of people do. Aesthetics have become as big a part of the PC gaming market as performance for many. When it comes to creating a unique and stylish gaming system, matching the aesthetics of your hardware is a lot of fun. Of course, that's not for everyone. However, there's something nice about sitting at your desk, and everything looking just the way you want it. Of course, if the performance is amazing too, you're winning both battles in one move.
Features
The Tyon comes equipped with a high-performance sensor, a plethora of onboard controls, full RGB lighting, onboard processing and storage, and more. This makes it one of the most feature-packed gaming mice on the market today. It's capable of tackling everything from FPS to MMORPG games with the complexity of a Swiss Army Knife but the simplicity of a Machete.

8200 dpi Pro-Aim (R3) laser sensor for precision

X-Celerator thumb paddle for unrivalled command capabilities

Dorsal fin-switch for rapid and instinctive control

Roccat Easy-Shift[+] on-the-fly button duplicator

16.8 m multi-colour illumination – customisable two-level light system

Tracking and distance control unit – less pick-up flight for precise gaming

16 mouse buttons + programmable + solid 2D mouse wheel

32-bit processor + 576 kB memory for rapid macro storage and execution

Ergonomic – natural form-fitting design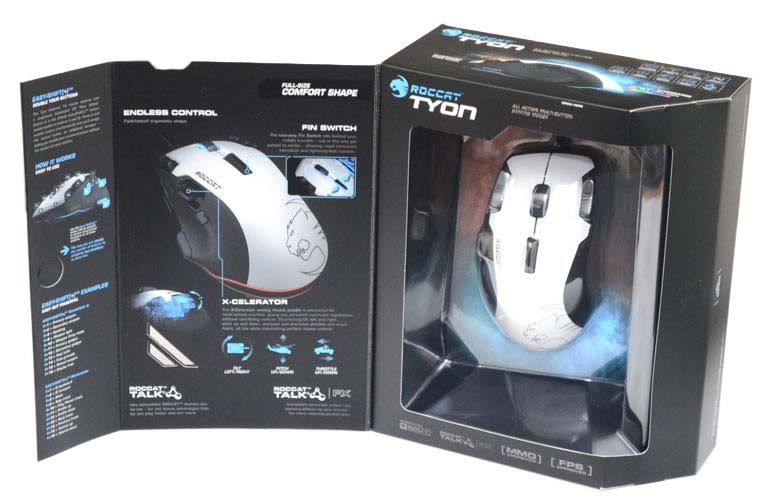 What Roccat Had to Say
"Gaming has changed. The modern battlefield is an especially hostile place, with threats from the air, sea and land. How do you react to these extra dimensions of gameplay? Enter the ROCCAT Tyon, the all action multi-button gaming mouse that's the result countless hours of design from the industry's greatest minds, specifically tailored for modern, multi-vehicle warfare." – Patriot
Specifications
Pro-Aim Laser Sensor R3 with up to 8200dpi
1000Hz polling rate
1ms response time
12000fps
10.8megapixel
30G acceleration
3,8m/s (150ips)
16-bit data channel
1-5mm Lift off distance
Tracking & Distance Control Unit
72MHz Turbo Core V2 32-bit Arm based MCU
576kB onboard memory
Zero angle snapping/prediction
1.8m braided USB cable
What's in the Box
The Tyon comes boxed with the hard-wired mouse and a quick-start guide. Nothing more, nothing less. Of course, that's all you need, so let's move on!