Rocket League Announce Batmobile DLC
---
---
---
Mike Sanders / 3 years ago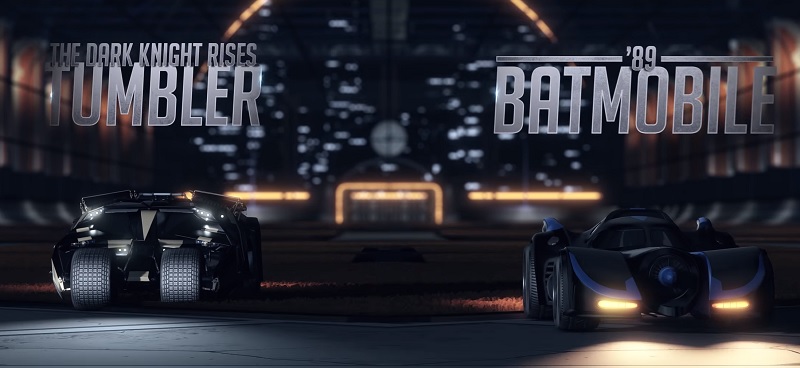 Rocket League
Despite Rocket League being a few years old now, the game is showing no signs of losing its mass popularity. The popular hybrid game of football and driving has a massive fan base and as often is the case with popular titles, regular DLC content is never too far away.
In the latest DLC, however, Rocket League has finally confirmed something fans had expected for a long time. The new DLC will include Batmobiles from the Batman films new and old.
Na-na-na-na-na-na-na-nahhhh BATMOBILE!!!
The DLC revealed, will include 2 Batmobiles. Fans of the Dark Knight Trilogy will instantly recognize the 'Tumbler' Batmobile, however, those of us a little older will also recognize the Batmobile from the original Michael Keaton Batman films.
While this might not be as many iterations of the Batmobile as fans might have liked, they are pretty cool none-the-less. Personally, I'm a little let down the original Adam West Batmobile isn't included, but you can't have it all.
Other DC inclusions
The DLC, which goes on sale on March 5th, will also include a plethora of DC-themed car add-ons. In a report via PCGamesN, Aquaman, Cyborg, Green Arrow, Green Lantern, Superman, Flash, and Wonder Woman all have their own little unique decals for the cars and even the boost will have a 'Flash' feature. Well, you couldn't have picked anyone else really.
When it is released and how much?
The DC Super Heroes DLC will launch on PC and console March 5th. Retailing for around $3.99 this is about the same price as most other DLC packs the game has seen.
The age old question to answer, for fans who are unaware of the series, are the DLC cars better than the standard? The short answer is no. All vehicles in the game are largely created to a set mass scale. As far as I understand it, no car is 'bigger' than another and as such, as a whole, reflect an even balance of sorts.
What do you think? Are you a fan of Rocket League? What about DC? Plan on getting this DLC pack? – Let us know in the comments!
Support eTeknix.com
By supporting eTeknix, you help us grow. And continue to bring you the latest news, reviews, and competitions. Follow us on Facebook and Twitter to keep up with the latest technology. Share your favourite articles, chat with the team and more. Also check out eTeknix YouTube, where you'll find our latest video reviews, event coverage and features in 4K!
Check out our Latest Video