Rumours Suggest 27-Inch iMac with 5K Retina Display
---
---
---
Bohs Hansen / 7 years ago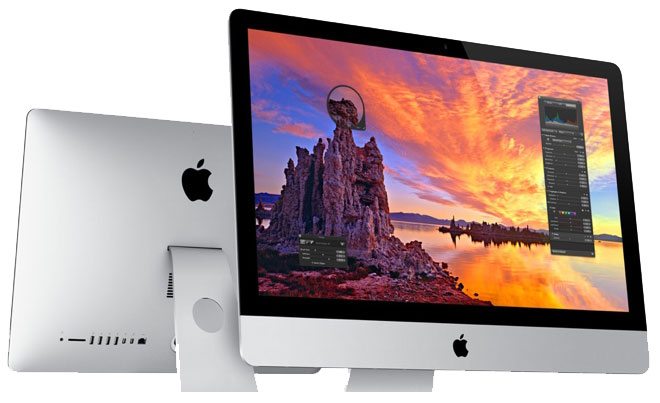 Most people believed that Apple would present a new iPad during their next press event in October, while other people leaned more towards a new Retina iMac; the latter won that argument according to the latest rumours, though one doesn't necessarily exclude the other.
Citing an unnamed source familiar with Apple's plans, Jack March confirms the rumour. According to his source, Apple are planning to launch a single Retina iMac at the next press event. The new 27″ iMac will use a 5K Retina panel with a resolution of 5120 x 2880. The resolution figures were previously leaked in the OS X Yosemite code a couple of weeks ago. The new 27″ model boasts double the resolution compared to the current, so it's quite an upgrade.
The rest of the design is said to stay the same, and it won't have the new USB Type-C port either: That's not planned until the new 12″ Macbook Air. The only real difference between the new and the old model will the processor; besides the display of course. The new top iMac's will sport the Intel i7-4790K that has a clock speed of 4 GHz and a Turbo up to 4.4 GHz.
The Broadwell CPU's will likely be added in an update next year, but with their delay Apple has to stick with Haswell for now. The source also said the new product will include AMD graphics like the Late 2013 Mac Pro, the current iMacs use Nvidia GPU's. What model it might be is pure speculation, maybe a Radeon R9 285?
The 21.5-inch model will sadly not get a Retina display and will stay at a 1920×1080 resolution. Just like the 27″ model it will keep its current design too. The source said that it was likely that the smaller model would get the Retina upgrade at the same time as the version with Broadwell processors start shipping.
Thank you JackMarch for proving us with these information
Images courtesy of Apple