Samsung 960 PRO and 960 EVO Officially Announced
---
---
---
Bohs Hansen / 7 years ago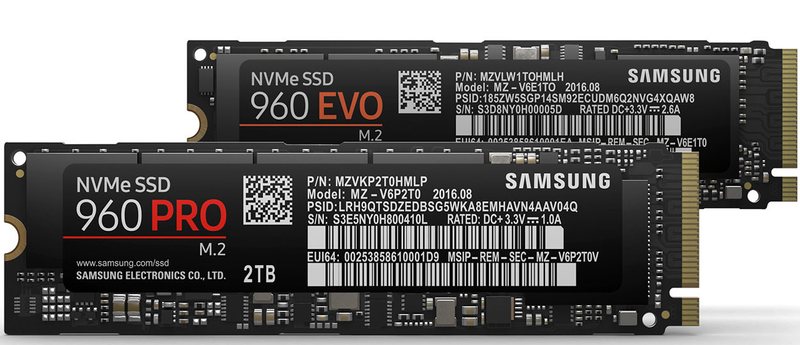 We've heard rumours and whispers for a while now and now Samsung officially unveiled their two latest NVMe M.2 drives which look quite impressive in their specifications: The Samsung 960 PRO and Samsung 960 EVO drives.
Let's dig right into the specifications, because I'm sure that's why you clicked on this article. The 960 PRO will offer capacities all the way up to 2TB which is quite impressive for such a tiny drive. Gone are the times where you needed a "large" 2.5-inch or bigger drive to get this kind of capacity. The 960 PRO will however also be available in smaller 512GB and 1TB capacities. The drive can deliver sequential reads up to 3500 MB/s and writes up to 2100 MB/s adn random read and write IOPS of up to 440,000 and 360,000. They are backed by a 5-year warranty and feature a TBW warranty up to 1.2 Petabytes (for the 2TB model)
The Samsung 960 EVO can't perform as great as the PRO, but it still delivers impressive specifications. The drive can deliver a sequential read and write performance up to 3200 MB/s and 1900 MB/s while the random performance goes up to 380K IOPS on reads and up to 360K on writes. The 960 EVO will be available with up to 1TB capacity but it will also be available as 250GB and 500GB version. The largest of the three, the 1TB model, features a three-year warranty and a 400TB TBW rating.
The 960 PRO and 960 EVO SSDs will be available worldwide starting October 2016 and the come with a manufacturer's suggested retail prices starting at $329.99 and $129.99 USD respectively – but no mention of a price on the largest version of the drives which is what most would want to know.
They sure look like some awesome drives, but it is only time that will tell whether they live up to the paper specifications.