Samsung Hails Award-Winning 16Gbps GDDR6 Memory
---
---
---
Ashley Allen / 5 years ago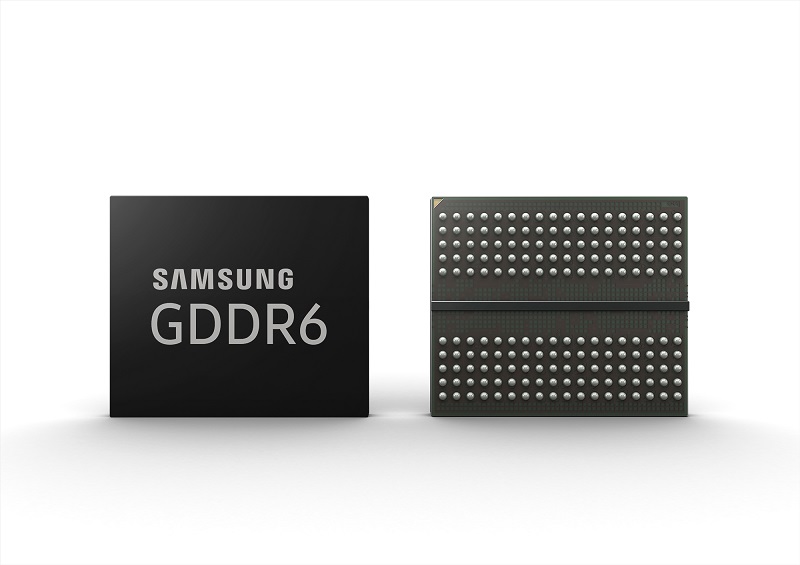 Ahead of its launch next year, Samsung reveals that its forthcoming GDDR6 memory is already an award-winner. The technology, which can reach up to 16Gbps, receives the CES 2018 Innovation Award. Of course, CES 2018 will see the official reveal of Samsung's DRAM, which will feature in NVIDIA's new Volta graphics cards next year.
Samsung's Award-Winning 16Gbps GDDR6 Memory
No wonder Samsung's GDDR6 memory is winning awards already: at 16Gbps, it's significantly faster than anyone expected. For comparison, GDDR5 tops out at 10Gbps – though often runs at 8Gbps – while GDDR5X hits around 11Gbps. In fact, when Samsung first unveiled its GDDR6 memory last year, executive Jin Kim expected 14Gbps. So, we've seen a boost of 2Gbps after a year's extra development. In addition, GDDR6 uses less power, so it's both faster and more efficient. The first Samsung GDDR6 units are listed as 16GB capacity.
Samsung Says
"Samsung 16Gb GDDR6 Memory – The fastest and lowest-power DRAM for next generation, graphics-intensive applications. It processes images and video at 16Gbps with 64GB/s data I/O bandwidth, which is equivalent to transferring approximately 12 full-HD DVDs (5GB equivalent) per second. The new DRAM can operate at 1.35 volts, offering further advantages over today's graphics memory that uses 1.5V at only 8Gbps."
Regarding the CES Innovation Award, Tim Baxter, President and CEO, Samsung Electronics North America, said:
"Innovation is in our DNA, as is our commitment to delivering transformational products that create meaningful experiences for our consumers. To be recognized by our industry peers, year over year, for our relentless pursuit of innovative design and engineering is truly an honor."