Samsung Launches 970 PRO and 970 EVO M.2 NVMe SSDs
---
---
---
Ron Perillo / 3 years ago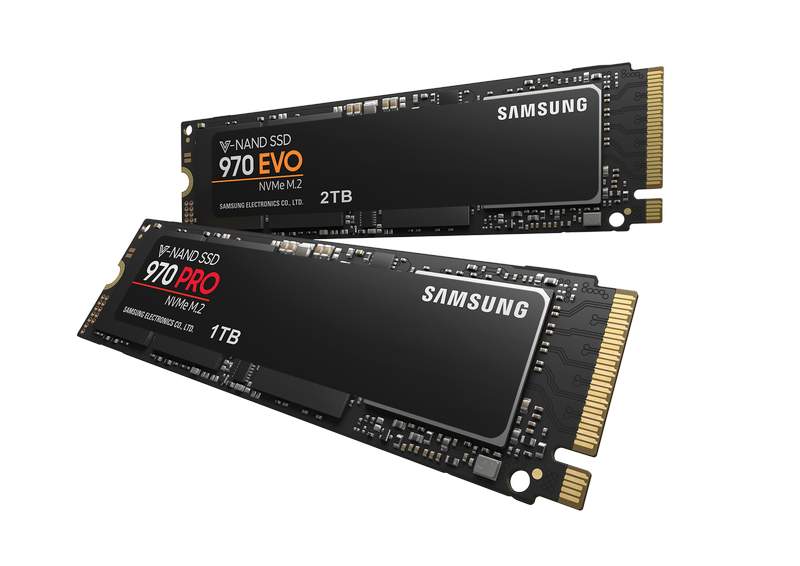 New NVMe Performance Standard for Samsung
Samsung is introducing the 970 PRO and EVO SSDs, the two new NVMe 1.3 M.2 drives using their Phoenix controller. Both also make use of Samsung's 64L V-NAND MLC, however the 970 PRO uses the 2-bit variant while the 970 EVO uses the 3-bit version.
"Samsung has led the NVMe SSD industry since its inception, and the company continues to define the latest standards of consumer storage with unprecedented performance of the 970 PRO and EVO SSDs," said Un-Soo Kim, senior vice president of Brand Product Marketing, Memory Business at Samsung Electronics. "The 970 series sets a new bar in all aspects for the NVMe SSD market with groundbreaking performance, superior reliability and best-in-class capacity."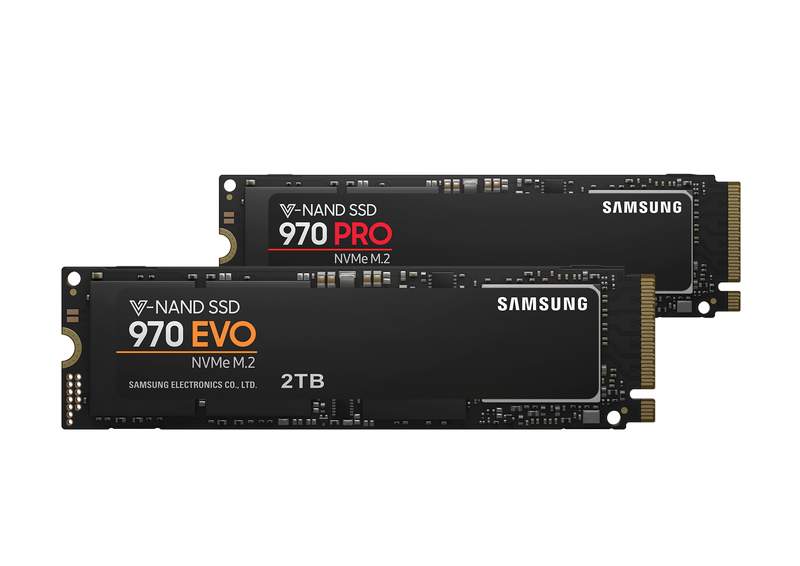 How Fast is the Samsung 970 PRO/970 EVO?
Leveraging the PCIe 3.0 x4 NVMe 1.3 interface, the 970 PRO reaches sequential read speeds of up to 3,500 MB/s and write speeds of up to 2,700MB/s. In terms of Random read/write, it reaches up to 500,000 IOPS. The 970 EVO is slightly lower with up to 3,500 MB/s sequential read and 2,500MB/s sequential write. It also does up to 500,000 IOPS on random read but does 480,000 IOPS on random write.
In comparison, the 960 PRO has a max sequential read/write of 3,500/2,100 MB/s, while the 960 EVO reaches up to 3,200/1,900 MB/s sequential read/write.
What Capacities Options Are Available For the 970 PRO and 970 EVO?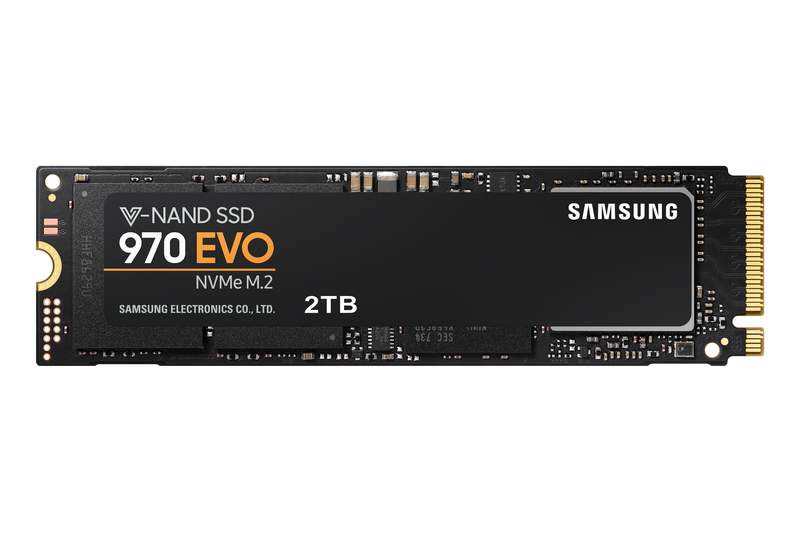 The 960 PRO is available in 512GB with 512MB LPDDR4 DRAM cache, as well as in 1TB with 1GB LPDDR4 DRAM cache options.
On the other hand, the 970 EVO has more to choose from starting with a 250GB model up to 2TB. In terms of cache, the 250GB and 500GB capacity uses a 512MB LPDDR4 DRAM. The 1TB model uses 1GB LPDDR4, while the 2TB model uses 2GB LPDDR4.
In terms of Total bytes Written (TBW), the 1TB 970 PRO has up to 1,200 TB TBW, while the 512GB has a 600TB TBW rating. The 2TB 970 EVO has a similar 1,200 TB TBW as the 1TB 970 PRO. While the 1TB 970 EVO matches the 600TB of the 512GB 970 PRO.
How Much Are These Samsung SSDs?
UK Pricing is as follows (all prices are in GBP):
512GB 970 PRO: 275.79
1TB 970 PRO: 526.79
250GB 970 EVO: 100.79
500GB 970 EVO: 193.79
1TB 970 EVO: 375.79
2TB 970 EVO : 709.99