Samsung Predicts DDR4 Memory to Reach 6.4 GHz by 2020
---
---
---
John Williamson / 6 years ago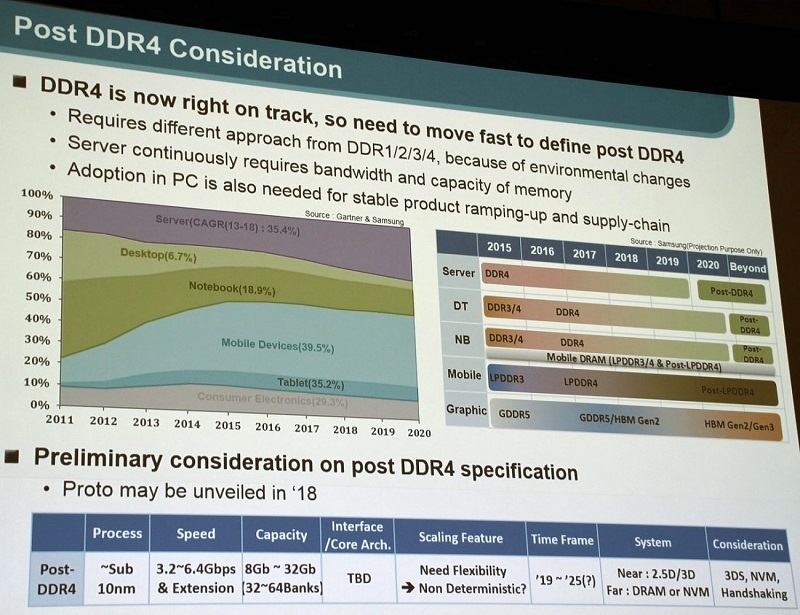 The uptake of DDR4 RAM has progressed at a pedestrian pace due to the extremely high cost of Intel's X99 chipset and lack of compatibility on mainstream sockets. Thankfully, Skylake's Z170 architecture is catapulting DDR4 into the realms of affordability and retailers are already offering surprisingly cheap memory kits. The pricing of DDR4 is almost identical to DDR3 but it will take some time for people to upgrade from their older motherboards. Samsung outlined their vision of DDR4 during IDF 2015, and predicted DDR4 memory speeds to increase to 6.4 GHz by 2020 featuring an effective bandwidth rate of 51.2 GB/s.
This is remarkable considering high-end DDR3 DIMMs usually operate between 1600 MHz and 3000 MHZ. The slides during Samsung's presentation indicate the memory will opt for a sub 10nm process with production samples coming in 2018-2019. Also, the adoption chart shows the growth of mobile devices and how small the Desktop sector is. Although, mass PC adoption helps with the supply chain and perfecting the manufacturing process.
It seems almost unbelievable that DDR4 RAM can perform at double the stock clocks of many CPUs from a few years ago. Once again, this illustrates how quickly technology moves and the rate of innovation. However, RAM speed increases haven't made huge performance gains in consumer tasks, so there's no immediate need to upgrade for some time yet.
What memory speed do you currently use?
Thank you Tweaktown for providing us with this information.