Samsung Reveals Upcoming Exynos SoCs, Exynos 5244 To Be 34 Percent Faster
---
---
---
Gabriel Roşu / 10 years ago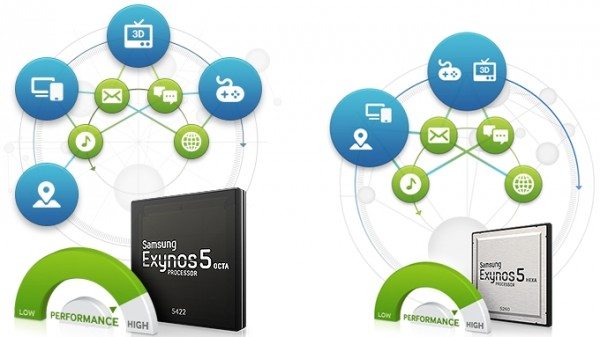 Samsung has been silent about its upcoming Exynos SoCs in the past, mainly due to the fact that the technology is going to be behind the 2nd generation of Samsung Galaxy S5 handest. Now with MWC and companies showing off their 'best of the best' gadgets and technology, Samsung has officially released some details about the two upcoming Exynos, the 5422 and 5260.
The Exynos 5422 SoC is said to be an Octa-Core having the first Cortex A15 cores clocked at 2.1 GHz and the remaining Cortex A7 cores clocked at 1.5 GHz, while having the ability to use all eight cores at the same time. The chip supports samsung's big.LITTLE Heterogeneous Multi Processing and is stated to be up to 34 percent faster than its predecessor, the Exynos 5 Octa.
The Exynos 5260, also known as the Exynos 5 Hexa announced in the upcoming Galaxy Note 3 Neo, which features six cores composed of two high-performance Cortex A15 cores clocked at 1.7 GHz and four Cortex A7 cores clocked at 1.3 GHz.
It is said that both the Exynos 5422 and 5260 support high-resolution displays including Quad HD 2560×1440 and the QWXGA 2560×1600 while Exynos 5422 also supports 4K video recording. In terms of availability, the Exynos 5 Hexa 5260 is said to be already in production having the Exynos 5422 at the point of entering it this quarter.
Thank you Ocaholic for providing us with this information
Image courtesy of Ocaholic