Sapphire Nitro+ RX 470 OC Graphics Card Review
---
---
---
John Williamson / 7 years ago
Introduction
---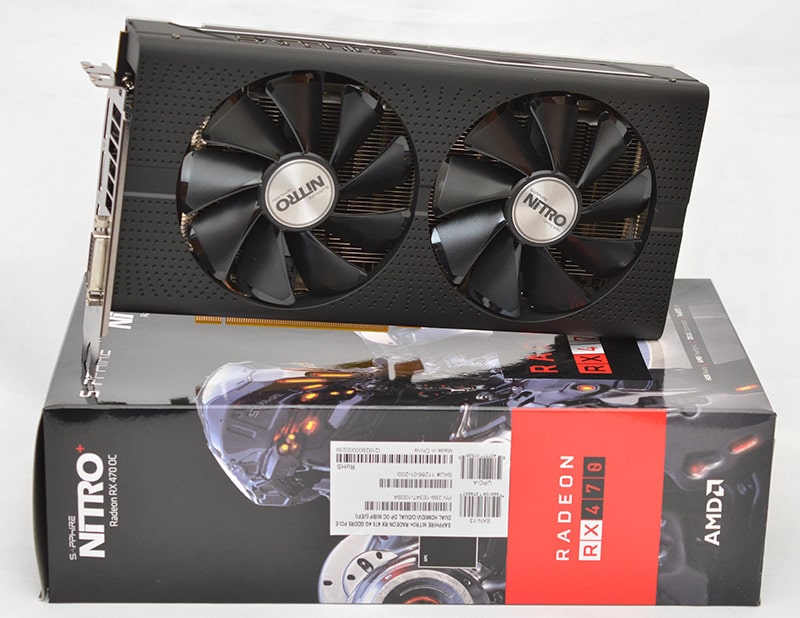 Not so long ago, Sapphire unveiled the Nitro+ RX 480 OC graphics card which allowed AMD's flagship Polaris 10 core to perform to its maximum potential. This is due to the company's exceptional cooling solution which managed to tame the GPU's thermal loads and in turn, ensured the boost clock didn't plummet in a wide range of demanding games. Unfortunately, AMD's relatively simplistic reference cooling design doesn't contain any heat-pipes and relies on a single aluminium heatsink with a copper base. This was inadequate for overclocking and after speaking to AMD, they acknowledged it could have been engineered better. While the RX 480 offers outstanding value for money and targets the mainstream demographic, the price point might still be too high for certain consumers on a tight budget or those considering PC gaming for the first time. Thankfully, the RX 470 can dispel those concerns and is a slightly scaled back version of the RX 480. This particular configuration is capable of up to 4.9 TFLOP/s peak performance, has 32 compute units, 2048 stream processors all within a very respectable 150-watt TDP on models sporting an 8-pin connector.
As you might expect, the Sapphire Nitro+ RX 470 OC utilises the same cooling apparatus as its bigger brother and contains a BIOS switch to cycle between two modes. The silent mode features a 1206MHz boost clock and the memory runs at 1750MHz. If you require extra performance, then the Boost mode is a suitable choice given the higher 1260MHz clock speed. Evidently, this is a significant step up from Sapphire's other RX 470 which is based on the reference model. Therefore, I expect to see some pretty significant frame-rate improvements as from my own experience, the boost clock is very stable and doesn't fluctuate. Is the Nitro+ RX 470 OC worth the premium compared to more basic solutions? Let's find out!
Specifications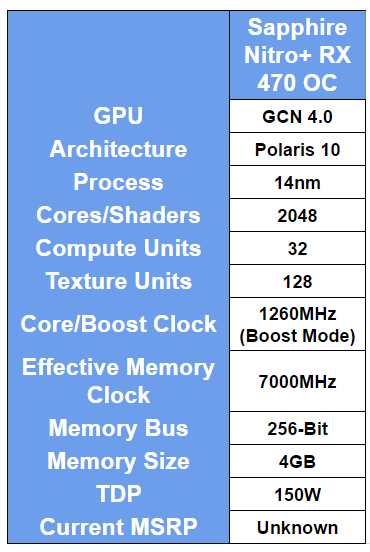 Packing and Accessories
Sapphire's vertical RX 470 box leaves a striking impression due to the menacing robot cover which stands out beautifully on the black background. Also, the packaging informs the end-user about the GPU's DirectX 12 support, VRAM size and a number of innovative AMD technologies.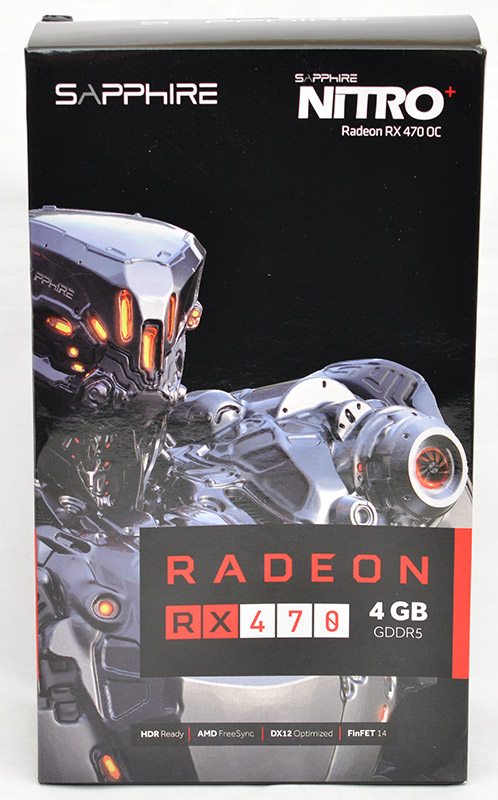 The packaging contains a description of the product's 14nm FinFET manufacturing process alongside a whole host of other interesting information. Additionally, a feature list provides a great insight into the graphics card's wonderful functionality. Rather surprisingly, the Crossfire support appears to be restricted to two GPUs and this is something I'd like to test for myself rather soon.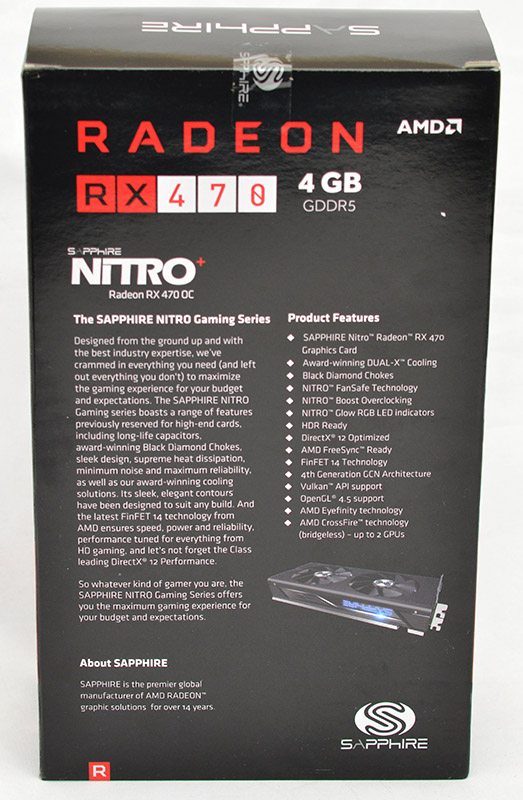 The graphics card comes with a driver disk, quick installation guide, contact information and warranty registration leaflet.