Scan UK Unveil Big Deals on Thermaltake Cases With Models Including Free PSUs
---
---
---
Mike Sanders / 2 years ago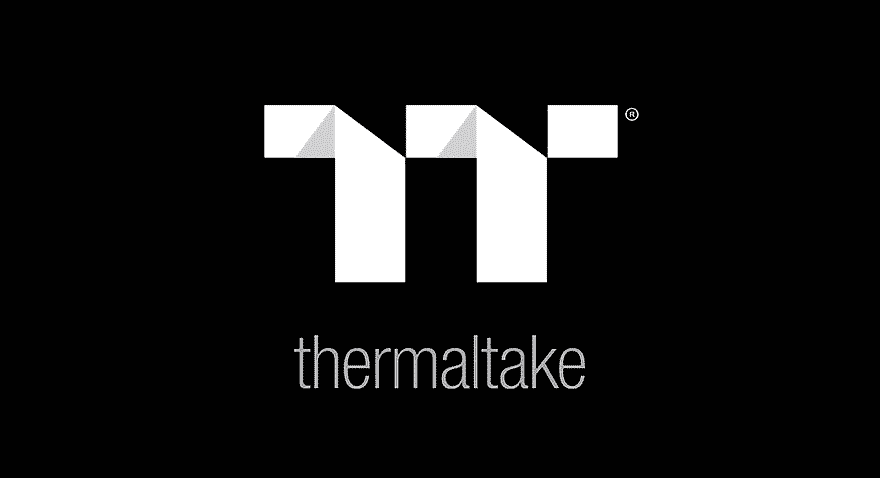 Scan UK, one of the biggest and most trusted online retailers for computer hardware and peripherals has announced a new deal on Thermaltake chassis products. – While Thermaltake has long represented an excellent option for PC case designs with a wide range of choices on offer, following this latest promotion Scan UK has significantly sweetened the deal by not only offering you a great price on the chassis, but they're also throwing in a free Thermaltake power supply to give your next system build a big step in the right direction!
Although there are over 20 different case designs on offer here, with an inclusive power supply (which varies depending on your selection), there are options to suit all needs, requirements, and budgets here. Just to give you an idea of what you can expect, however, we've picked out a few selections below.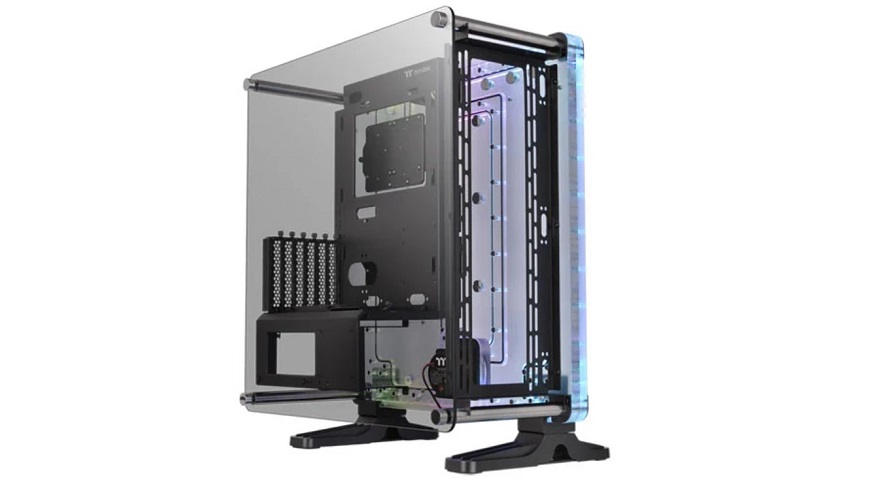 Thermaltake DistroCase 350P
The Thermaltake DistroCase™ 350P Mid-tower chassis is the ultimate powerhouse for those looking for such a unique-looking build with an abundance of immersive RGB lighting and cooling options. This chassis has a stunning 5mm thick tempered glass panel with side panel accent lighting, that you can control through NeonMaker Light Editing Software. With outstanding cooling and mounting options, the DistroCase™ 350P ensures an efficient performance and more space to expand for additional hardware support. The DistroCase™ 350P enables users to freely build the system they desire from the ground up with given modular panels, racks, brackets, and pre-design mounting arrays.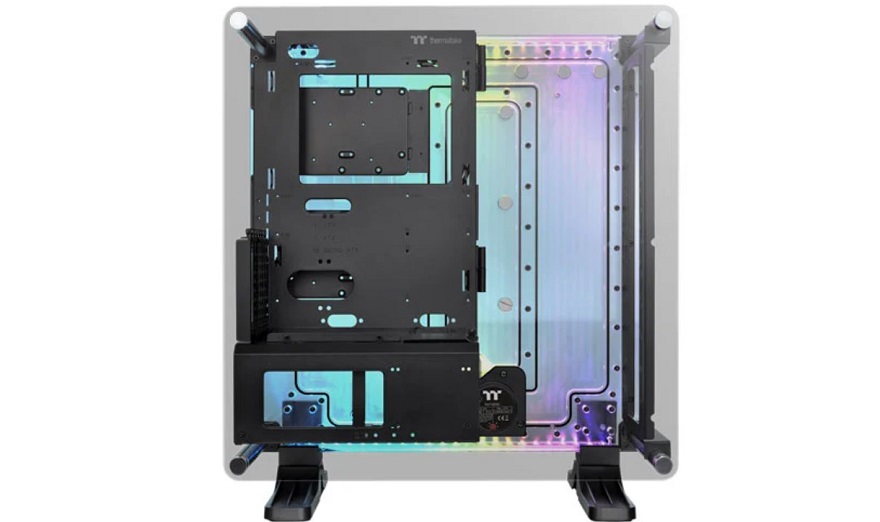 Thermaltake Core V1 Snow Edition Mini-ITX Cube Case
The Core V1 Snow from Thermaltake is a small and space-efficient ITX based chassis with a 200mm fan housed the front panel. It utilises smart interchangeable side panels which allow you to flip the case accordingly to show off either your cooling solution or airflow. Easily create your own personalized setup even in this tiny case. You have the power to build a super-powerful mini system whilst housing various hardware and cooling solutions to keep it running just as well as a standard sized PC.
Thermaltake Core V1 Snow Edition Mini-ITX Cube Case – £67.99 – Includes Free 500W Thermaltake Smart RGB – Click here for more info!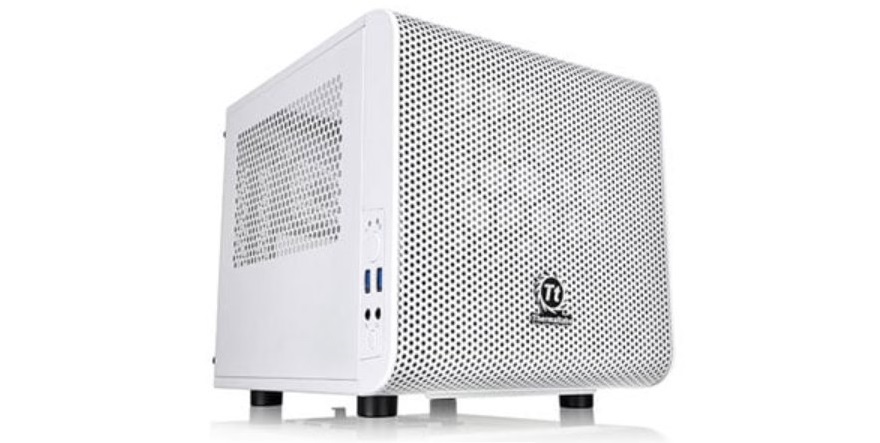 Thermaltake Divider 300 TG White
Thermaltake designed a brand-new case series that contains a mixture of open frame style elements and customizable options blending all the functionalities into the Divider Series. The most exceptional feature of the Divider 300 TG Mid Tower Chassis is the two symmetrical triangular pieces comprised of a steel panel and tempered glass window. These panels are tool-free and easy to remove, offering a clear view of the components inside. The Divider 300 TG Snow Mid Tower Chassis is the next-gen gaming PC case for regular users, enthusiasts, and gamers, giving them unprecedented satisfaction.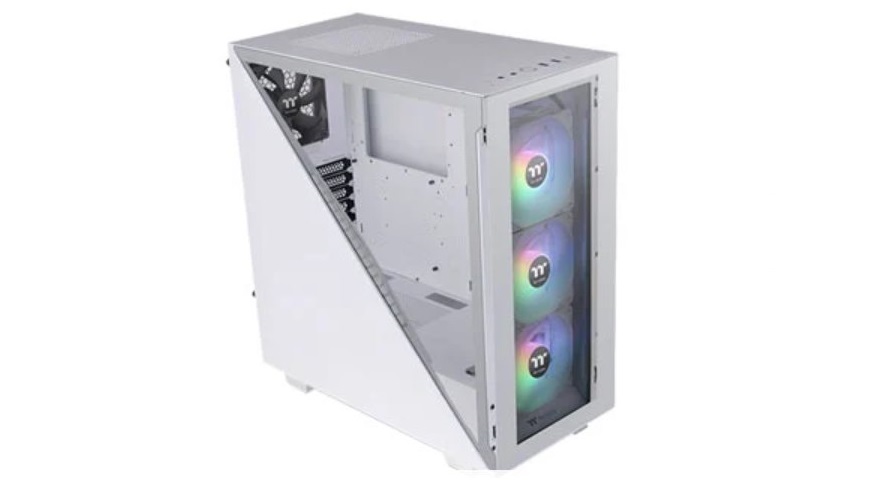 Thermaltake AH T200 Black
Introducing the AH T200 Black Mini Tower chassis from Thermaltake – inspired by the unique AH T600 helicopter design featuring 5mm thick tempered glass windows on either side, the AH T200 Micro-ITX/MicroATX case shows off your components in the most stunning way imaginable. AH T200 Micro chassis is the small version of Thermaltake's iconic air-force styled architecture, while offering outstanding system ventilation and supports the latest PC hardware and all high-end GPU solutions, this case guarantees unparalleled expandability for high-end configurations and AIO cooling systems.
Thermaltake AH T200 Black – £139.99 – Includes Free 550W Thermaltake Smart BM2 – Click here for more info!
The Tower 900
The Tower 900 from Thermaltake is an impressive and unique vertical super tower case that will allow you to build in a whole new way. Made in collaboration with Watermod France, this versatile chassis represents Thermaltake's passion for innovation, the spirit of Watermod France, and their vision to expand case design for enthusiasts to build into a new era of eSports modding culture. The Tower 900 is the perfect choice from TT Thermaltake and supports a vertical mounting design, uses high quality 5mm thick tempered glass panels, and offers unrivalled expansion capabilities for impressive custom liquid cooling systems.
Where Can I Learn More?
As noted above, this is just a very small sample of the masses of deals Scan UK is currently offering on Thermaltake chassis products. – If you do, therefore, want a more in-depth look at some of the deals to be had here, you can check out all of the promotions via the link here!
What do you think? Which do you think is the best value deal on offer here? – Let us know in the comments!