Scythe SCNJ-5000 Ninja 5 CPU Cooler Review
---
---
---
Mike Sanders / 5 years ago
Introduction
---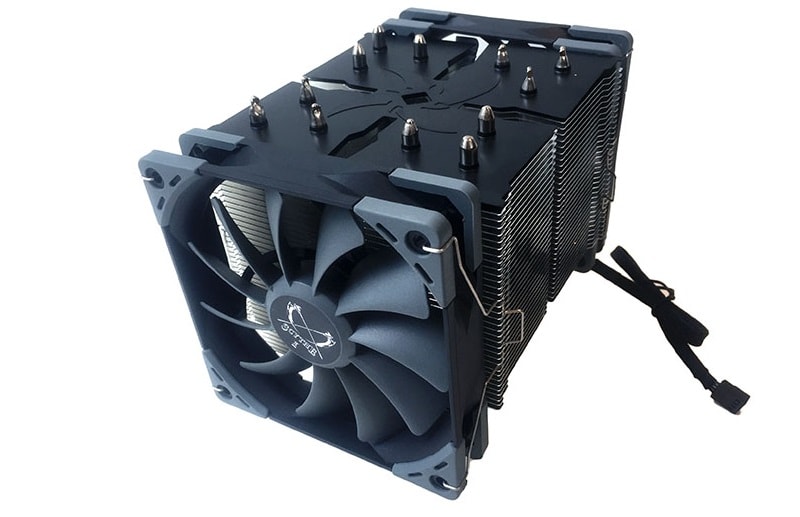 Scythe SCNJ-5000 Ninja 5
Scythe is perhaps not very well known in terms of CPU cooling brands. They have, however, over recent years started to build an exceptionally strong product range. Offering unique designs and strong performance, they are slowly but surely starting to carve themselves a little slice of what is quite a varied market in terms of what's on offer to meet your needs!
In this instance, we take a look at the Scythe SCNJ-5000 Ninja 5. The latest update to their highly-popular Ninja series of CPU coolers. Offering a huge (but stylish) heatsink and dual fans, this certainly falls within the remit of what you would term a 'high-performance' air cooler. With a seemingly reasonable price though, this is certainly going to be tempting for many users.
Perhaps the most notable feature of the cooler is it's impressive (and somewhat unique) design. Let us, therefore, take a closer look and see this performs as impressively as it looks.
Oh, and just for simplicity, henceforth we will refer to this cooler as the Scythe Ninja 5. Just so we don't have to keep typing that SCNJ-5000.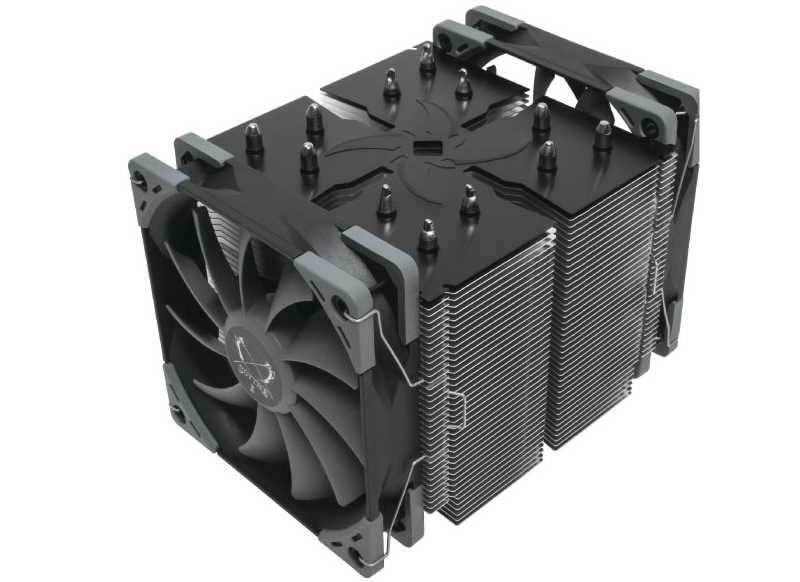 Features
With a rather impressive design comes a number of impressive features. These include;
Easy installation thanks to H.P.M.S. III
High Memory Compatibility
Dual Fan Design with Push/Pull Setup
2-year Manufacturers Warranty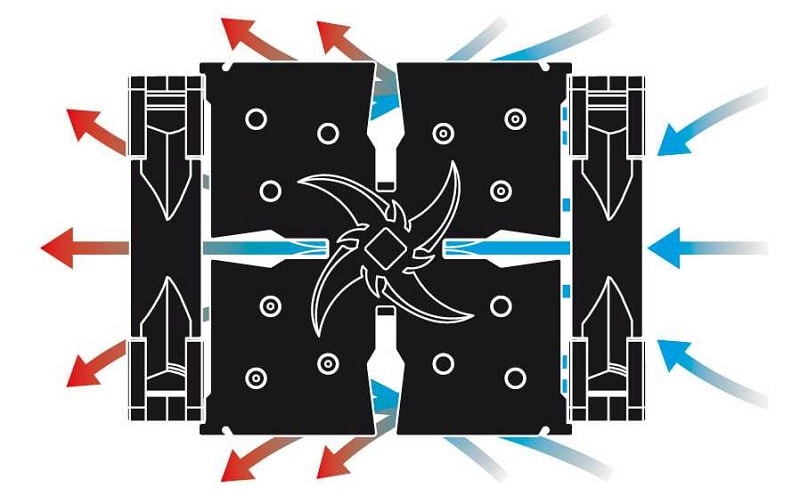 What Scythe Had To Say
"The 5th generation of the Ninja CPU Cooler series offers some interesting new features. The Ninja 5 includes two Kaze Flex 120 PWM fans which are significantly more silent solution without compromising the high performance that users expect from the Ninja Series. This goal has been achieved by mounting the two fans using the Push/Push principle and setting the fan rotation limit to only 800 rpm. The award-winning Kaze Flex fans use Sealed Precision Fluid Dynamic Bearings for a long lifespan of 120,000 hours (MTTF).

The heatsink is designed for high compatibility, supporting even LGA 2066 motherboards with eight RAM slots. Six nickel-plated 6-millimetre copper heat pipes, a nickel-plated copper base-plate and the black anodized top-plate underline the high-quality workmanship. In addition, the third version of the Hyper Precision Mounting System (H.P.M.S.) is used, which significantly simplifies assembly and offers compatibility with a variety of sockets of the processor manufacturers AMD ™ and Intel ™." – Scythe
Technical Information
For more in-depth technical specification, please visit the official product page in the link here!
Exterior Packaging
The front of the packaging carries some rather stark branding along with a nice large picture of the cooler. In the image, they have put particular highlights on the silver aspects of the heatsink and fans which off-set it nicely against the black background and overall cooler design. The packaging also clearly indicates the wide variety of sockets the cooler is compatible with.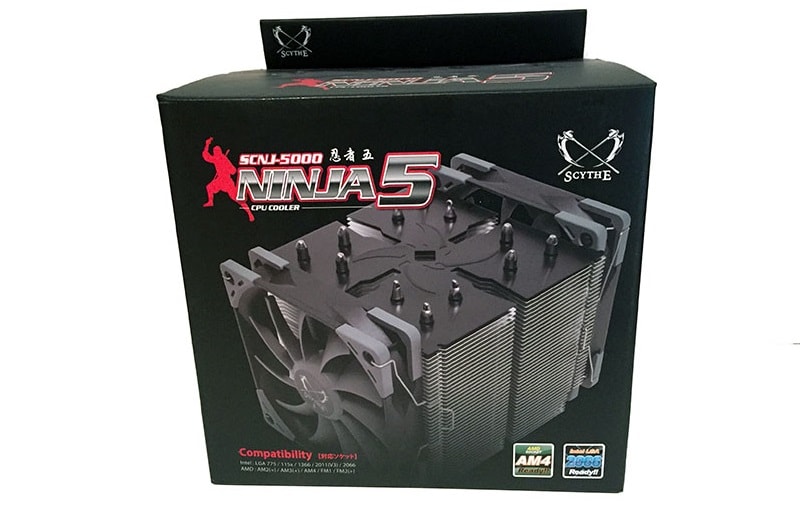 The side of the packaging gives an excellent level of information and in a very detailed manner. Not only are you given the full product specification, but you also get a detailed diagram of the cooler itself. A factor which, given its size, it a highly important thing to know before you buy!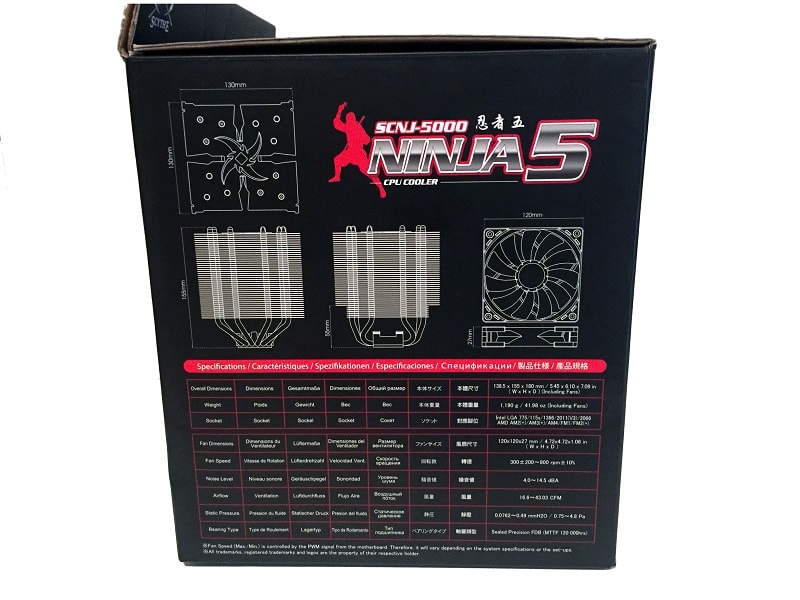 In terms of exterior presentation, while it might have a somewhat eyebrow-raising name, the Scythe Ninja 5 is remarkably well designed and certainly grabs your attention.