Scythe Shuriken 2 Low-Profile CPU Cooler Review
---
---
---
Mike Sanders / 3 years ago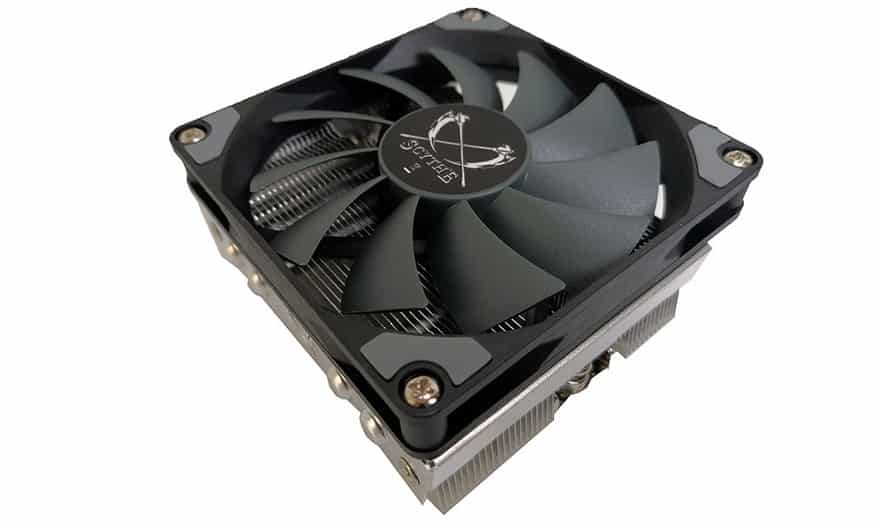 We didn't really start reviewing Scythe products until a couple of years ago, but even we'll admit, it was a huge surprise to see just how popular their products have been our community. As such, whenever something new is coming from Scythe, you can rest assured we're badgering them as much as possible to get it so we can bring you the latest review!
So, what do we have this time? Well, in announcing a new low-profile air cooler, the Shuriken 2 looks to provide a lot of bang for a very reasonable amount of buck!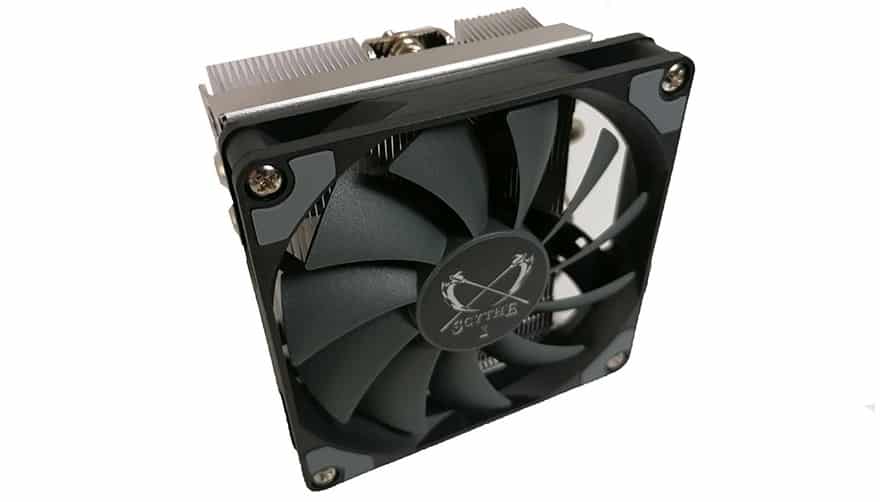 Scythe Shuriken 2
Admittedly, the naming of this product does create some confusion as there is a slightly larger variant known as the 'Big Shuriken 2' as well as a prior 'Shuriken'. For the sake of clarity though, the specific product name associated with this model is the "SCSK-2000".
So, essentially we're looking at a semi-refresh/new product launch with the Shuriken 2. For what purpose though? Well, this new design effectively looks to bridge the gap between those two aforementioned coolers by offering improved levels of cooling performance while still being a more than effective low-profile option.

Features
Compact Dimensions – The Shuriken 2 is a low-profile CPU cooler with a height of only 58 mm (including fan). The compact dimensions make it ideal for ITX systems. The total weight is only 350g although the Shuriken has four heat pipes.
Kaze Flex 92 Slim fan with 16mm height – In order to keep the cooler as compact as possible, a 92 mm fan with a height of only 16 mm is used on the Shuriken 2. Despite the small dimensions, the fan is equipped with a Fluid Dynamic Bearing (FDB), which features smooth operation and an average lifespan of 100,000 hours. The cooler comes with an optional set of screws to install a regular fan with a height of 25 mm.
H.P.M.S. III Mounting System – The Shuriken 2 uses a proven and user-friendly H.P.M.S III Mounting System. A preassembled mounting bar with spring-loaded screws ensures a balanced pressure distribution. This makes the installation process quick and easy. The sophisticated system offers outstanding compatibility with all common Intel ™ and AMD ™ sockets.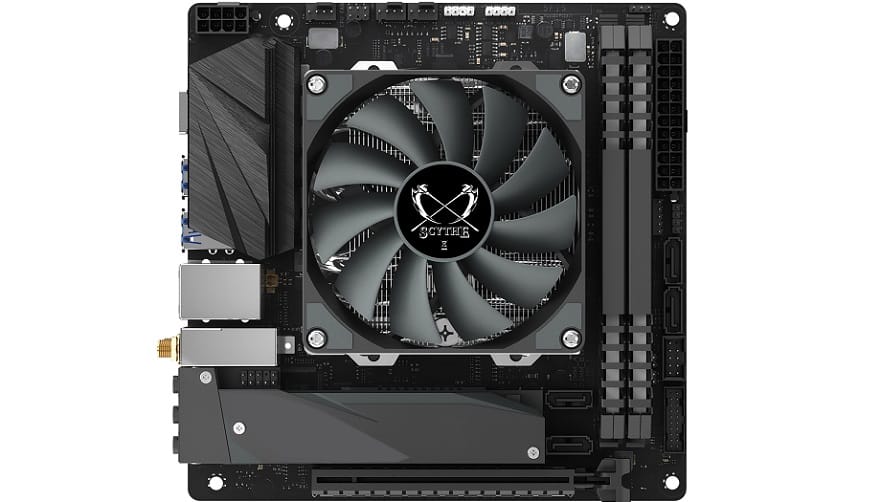 Technical Information
For more in-depth specifications, please visit the official product page via the link here!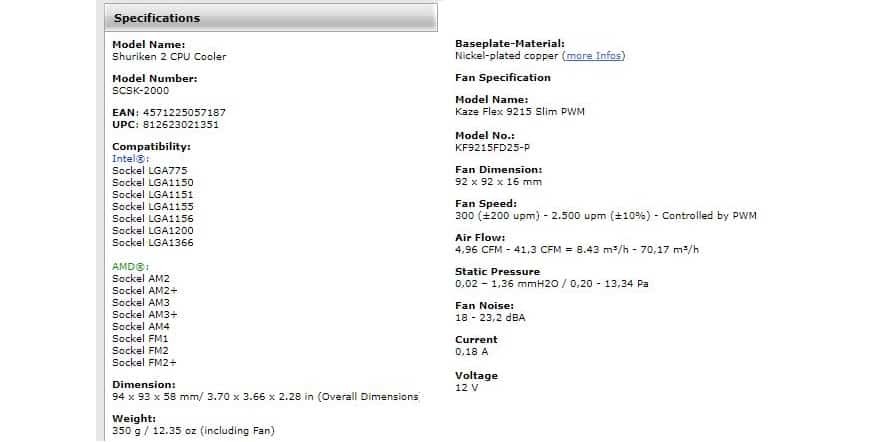 Dimensions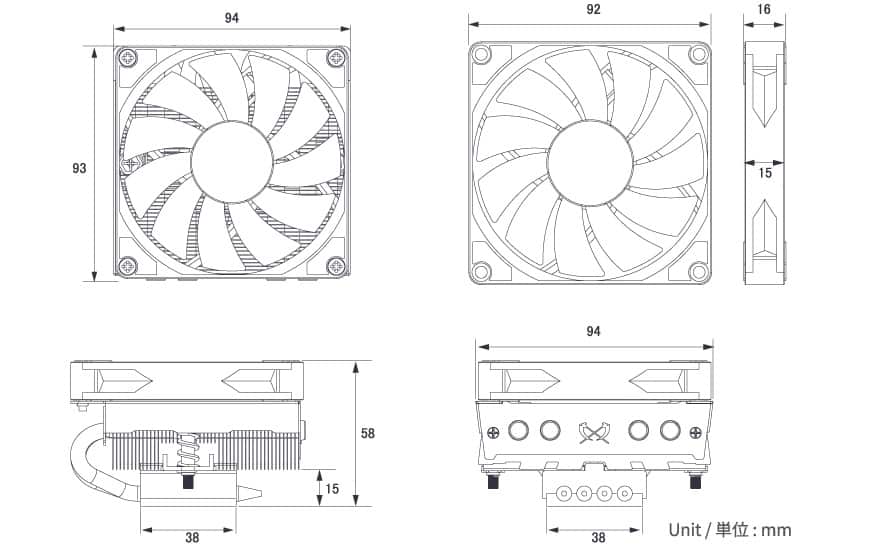 What Scythe Had to Say
"Thanks to its compact dimensions and low height of only 58 mm, the Shuriken 2 is ideally suited for ITX systems and other confined applications. A remarkable cooling capacity is achieved for its size. Four heat pipes transfer the heat from the CPU to the compact heat sink, which is only slightly larger than the decoupled 92 mm fan.

The PWM controlled fan comes from the Kaze Flex series and, despite the reduced height of only 16mm, is equipped with a Fluid Dynamic Bearing (FDB) archieving an average lifespan of 100,000 hours. The assembly is as easy as usual by utilizing the proven HPMS III Mounting System and a pre-installed mounting bar with spring-loaded screws. The Shuriken 2 combines the advantages of Scythe coolers in a space-saving and compact solution."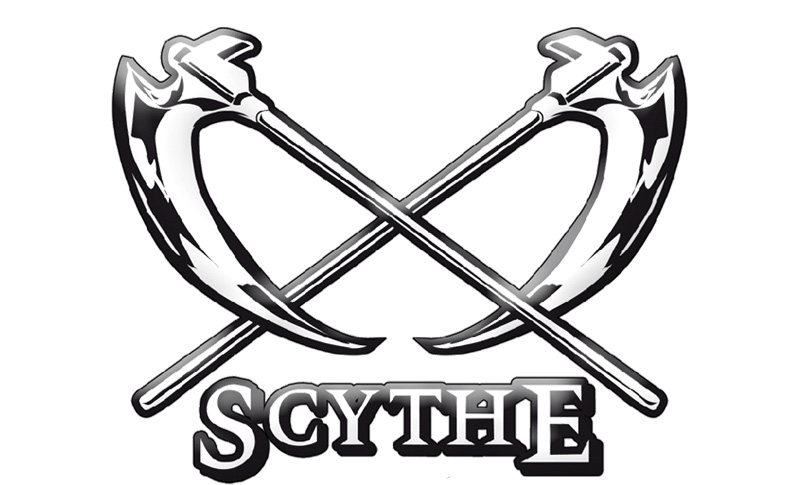 ———————–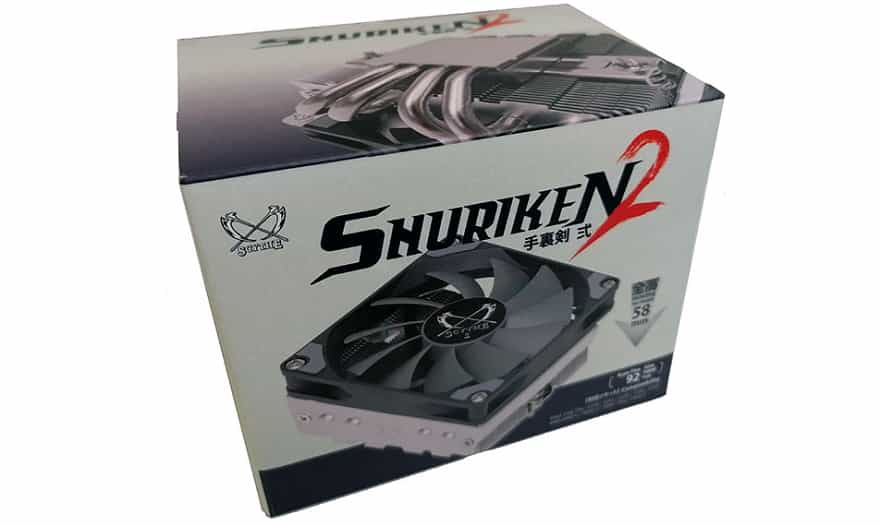 Exterior Packaging
For the sake of balance, we should note that we've had this review sample in our possession for a few months now. Due to the COVID-19 situation, however, Scythe delayed the overall launch. That being said, however, we can confirm that this is now available to buy!
With such an amount of time passing, however, while we can show you the packaging, there's a strong possibility that aspects of its presentation may have changed between then and the final retail launch. In other words, the box work may look different in the final retail product!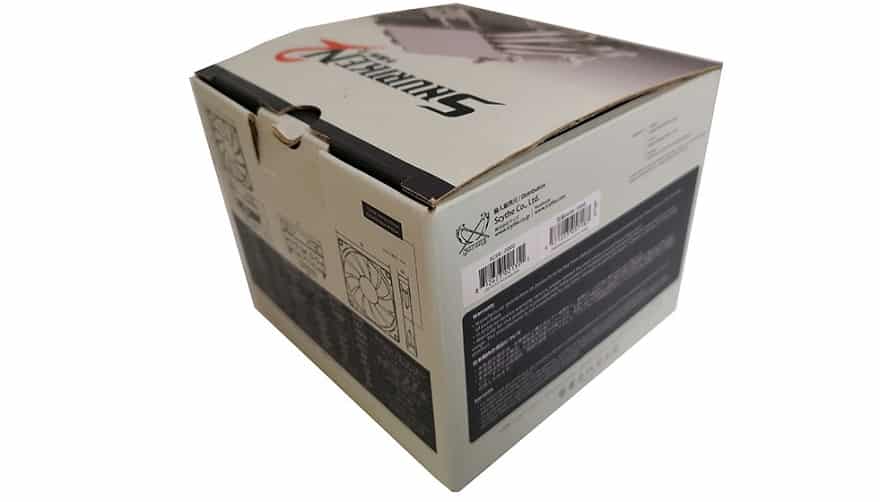 So, getting that out the way, the fact that this is a low-profile cooler is certainly not disguised in the packaging. It's remarkably small and Scythe has done everything possible to attempt to accommodate as much information on the limited space as possible. You even get a couple of decent images of the cooler itself there which, although not full, do give you a good idea.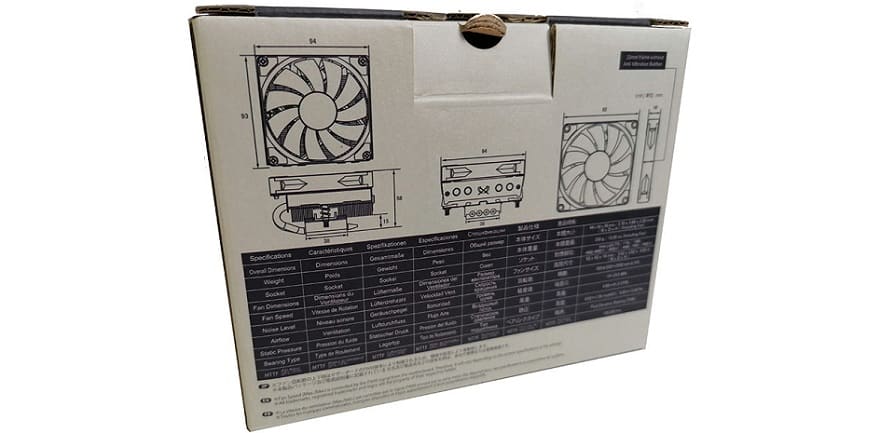 While the information is somewhat cramped (and hard work on the eyes) it does tell you everything you need to know which is important if you plan to purchase this design. Particularly since it is a low-profile cooler and, as such, will largely only be purchased by people looking for very specific features!
Accessories!
In terms of accessories, the limited packaging size does mean that things are rather economical, and, prior to installation, you will need to sort out the particular parts you need.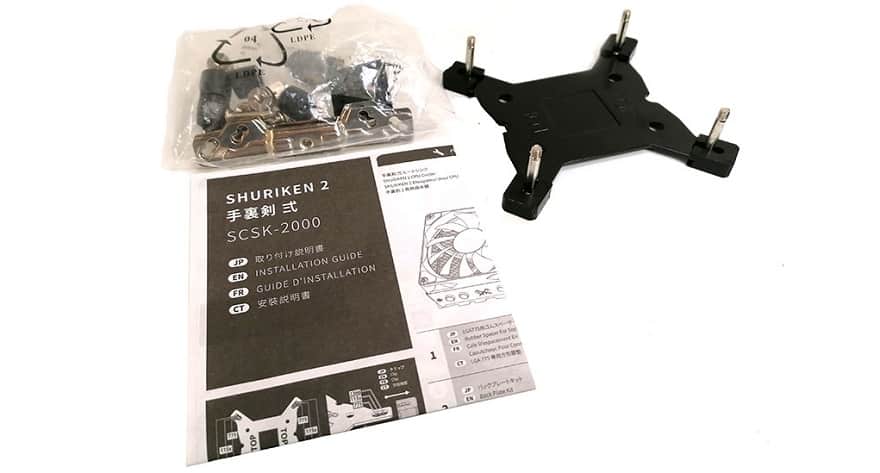 The good news is though that despite the masses of socket compatibility, you don't actually have that many separate components to sort through here so finding the right parts you need is no chore!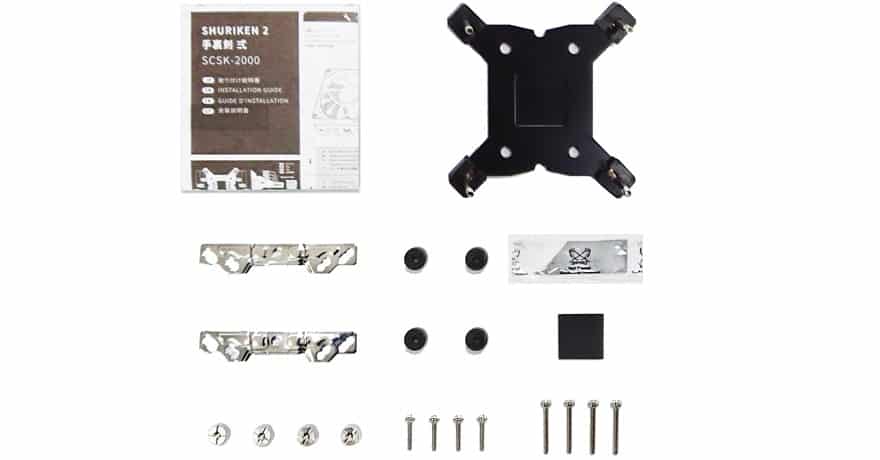 ———————–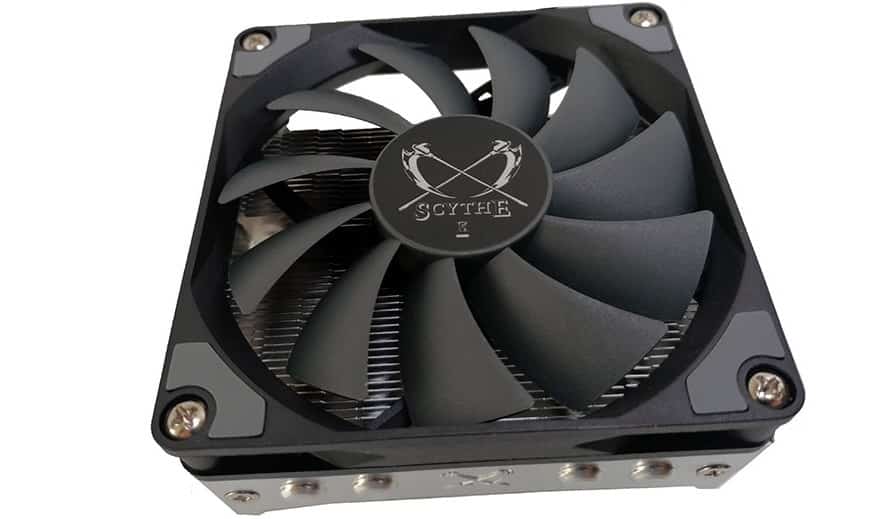 A Closer Look
Based on the low-profile design, it's actually somewhat difficult to look at the specific individual components that make up the overall design. Why? Well, because like most low-profile cooler designs, the fan is pre-installed to the radiator.
That doesn't, however, mean to say that we can't break this down into individual aspects. So, let's take a closer look!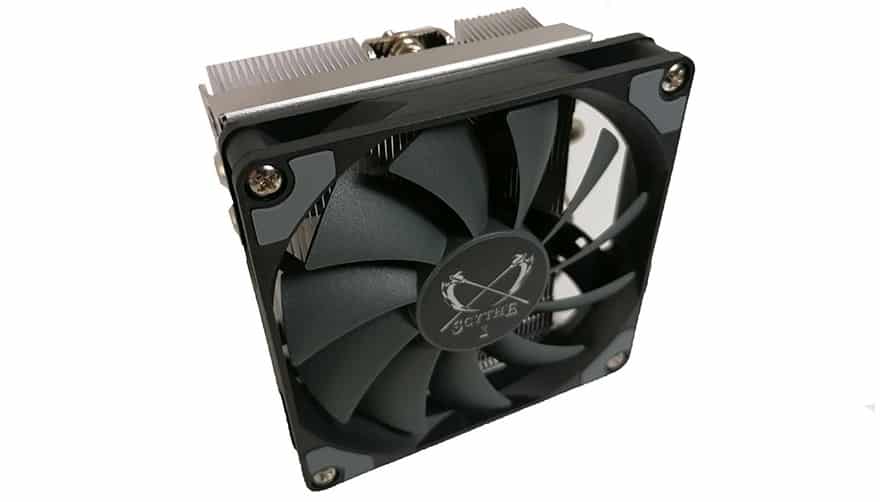 Contact Plate
The contact place is nice and large and as part of reducing the overall size only sees heat pipes coming from one side of it. With four of them (in a nice and large diameter), however, this should provide the best potential cooling solution from the overall dimensions of this design.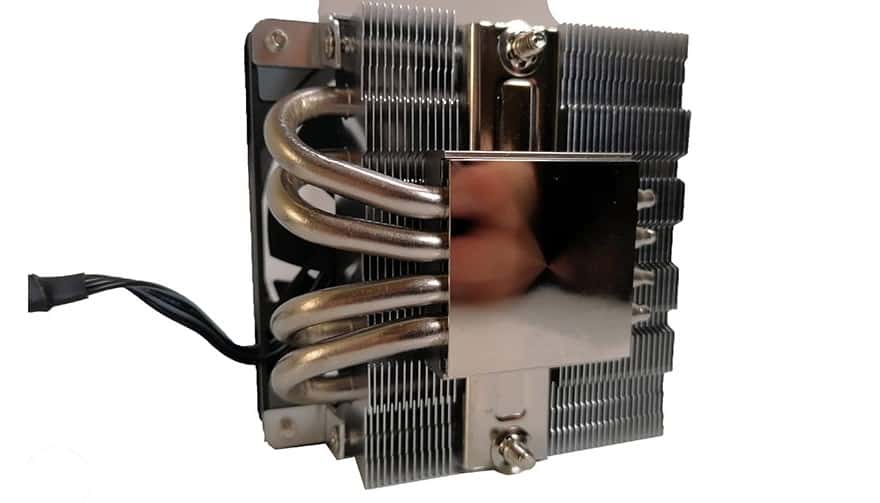 A closer look at the contact plate reveals an amazing polished surface and, presuming some solid thermal paste application, should provide some excellent heat dissipation. The cooler might be small, but that contact plate isn't skimpy!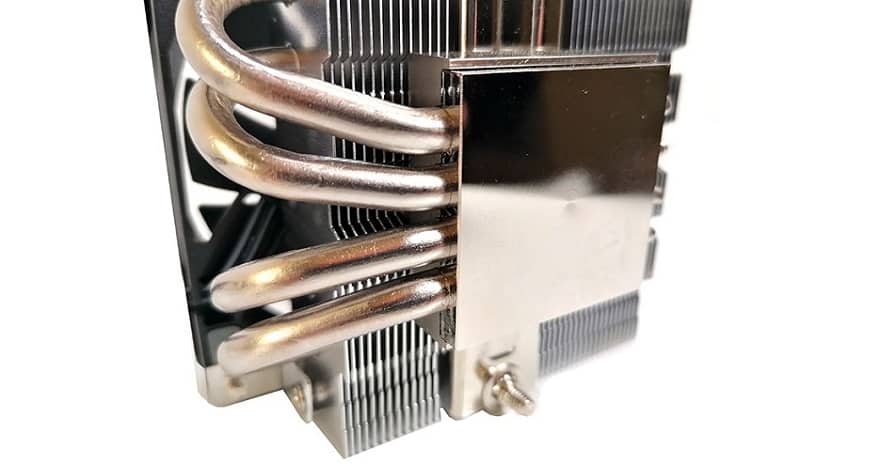 Radiator
The radiator incorporates a slightly interwoven pattern to the fins that has clearly been applied to give the maximum coverage area possible. Being a low-profile design, however, the main key focus is on the size which is, even with the fan installed, remarkably slim!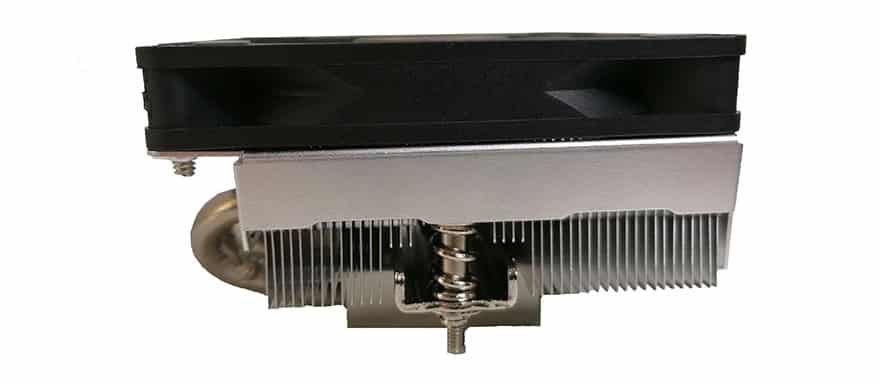 In one of the few aesthetic touches, however, you will note the 'Scythe' logo to the top of the cooler as well as the nice overall stainless steel aesthetic. Combined with the black fan design, this is an excellent combination.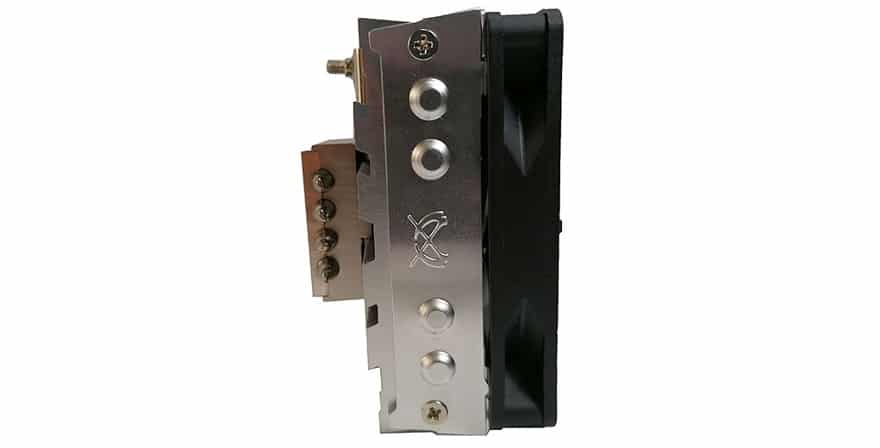 Fan
Featuring one of Scythe's own Faze Flex fans, we know these to be an excellent design. While this cooler doesn't come with any RGB bells and whistles, the 16mm fan has been built to provide excellent airflow and, in addition, with an operating time of up to 100,000 hours, should certainly last you the long haul! (It's just under 12 years in case you were wondering).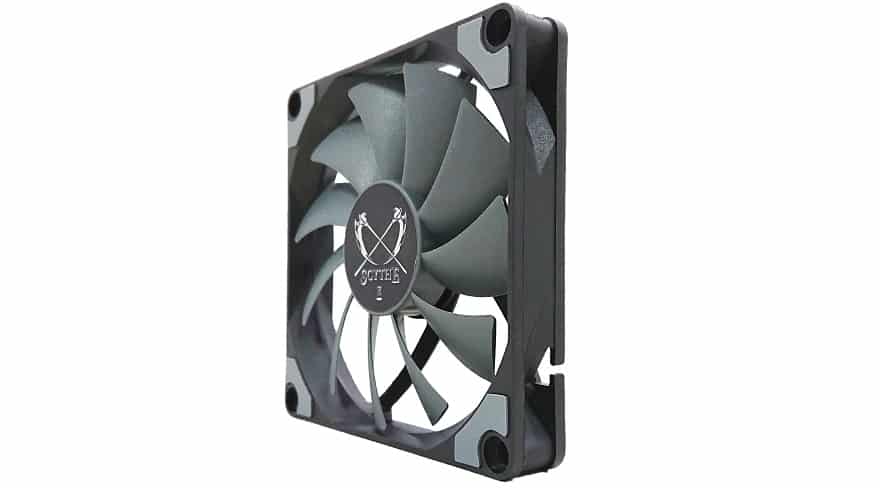 Overall
In terms of a low-profile cooling solution, the Scythe Shuriken 2 certainly seems to tick all of the right boxes! It looks good (without any reliance on RGB lighting) and has clearly been designed to a very high-specification. The aesthetics are, however, just one aspect of the overall product. We also need to find out how easy this is to install and, most importantly, how it performs in our testing!
Let us, therefore, kick this review into the next gear!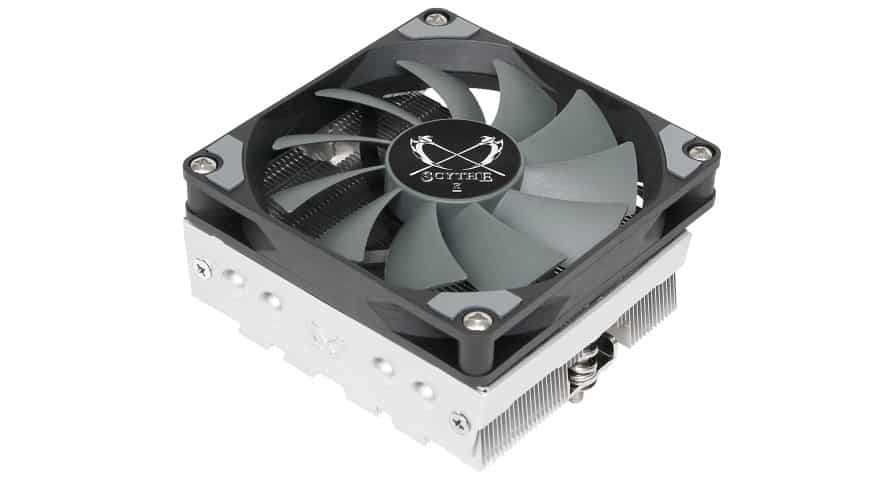 ———————–
Installation
Low-profiles coolers can often throw up a mixed bag of results in terms of how easy they are to install. Put simply, we've encountered some very straight forward designs, but we've also come across some over-complicated monstrosities.
So, how does the Scythe Shuriken 2 fare? Well, quite honestly, it's pretty easy to work with. Albeit, does require a little more legwork than your standard 'push-pin' coolers.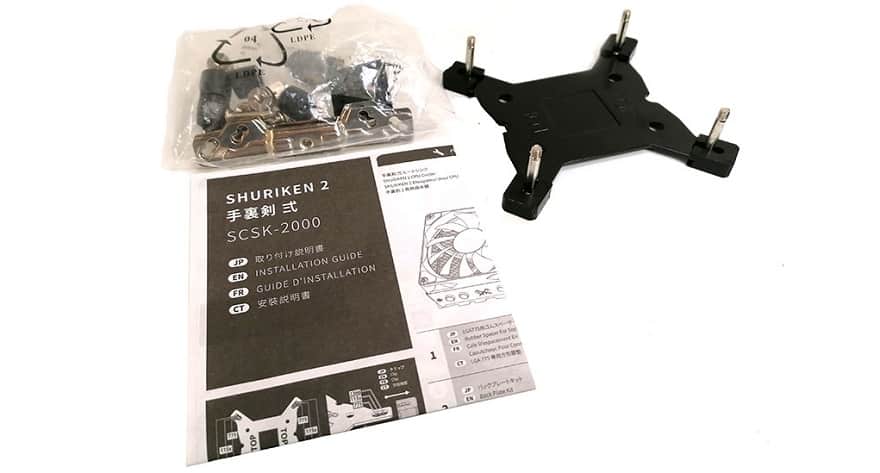 While the manual isn't of particularly fantastic quality, the diagrams and written information is clear enough to make it easily understandable and, presuming you're paying attention to the moderately small print, it shouldn't give you any problems!

Mounting
Like many low-profile designs, mounting this to your motherboard is achieved via a basic bracket attachment. From there, you physically mount the cooler itself via two screws that you access through the fan blades. While not an entirely simple task (as getting a screwdriver between the blades isn't always ideal based on the limited room), it's not overly difficult either.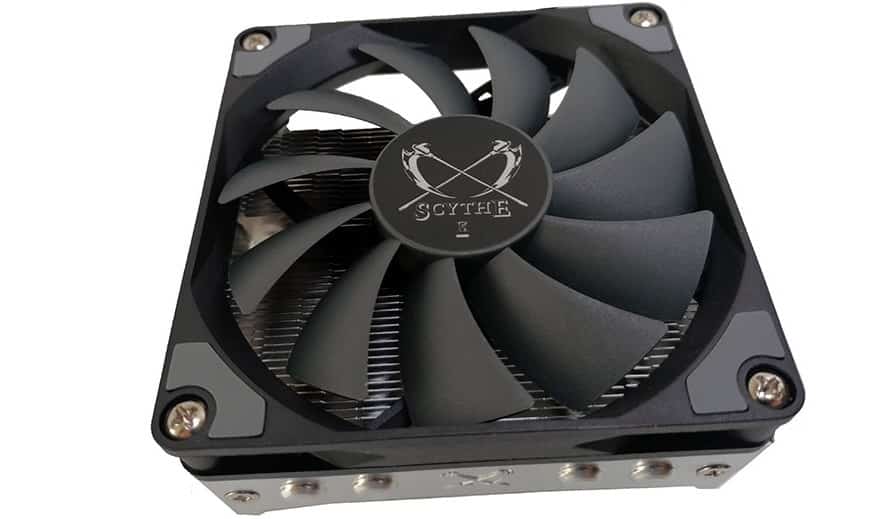 Overall Thoughts
From out of the box and onto our test system, it only took us around 5-10 minutes to install the Scythe Shuriken 2. A time factor which, if you have any experience with coolers, you'll know is not bad at all.
Of course, there are some advantages with this design and the biggest notable time saver is not having to fiddle around with fans. In terms of difficulty, however, this will pose no problems for new or experienced hands!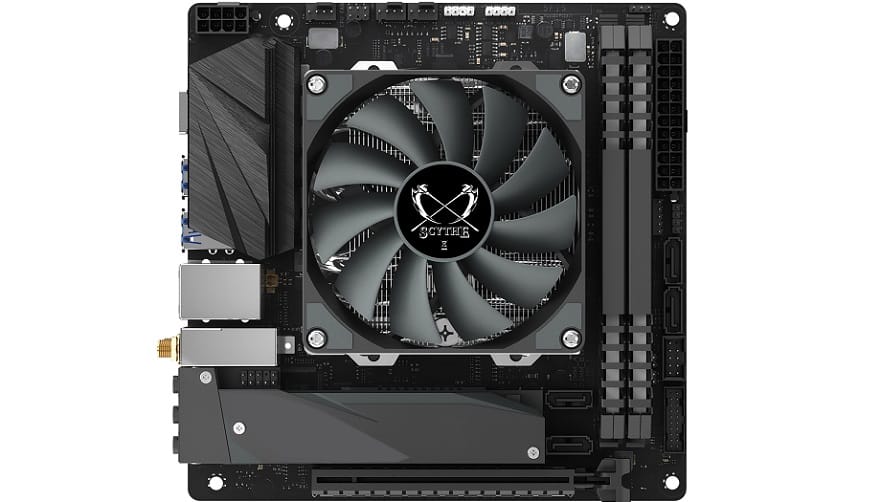 ———————–
Test System & Methodology
As you may appreciate, we review a lot of coolers here at eTeknix. As such, our prior results sheet was getting more than a little crowded. We have, therefore, applied a new system in which we have picked those coolers we consider most popular or most relevant to this design. Please note that we re-tested the Noctua NH-D15S as our base benchmark for cooling results.
Test system:
Gigabyte Aorus Gaming 9 Z270
Intel Core i7-7700K Delidded w/ NT-H1 under IHS
Radeon R7 Passive GPU with 2GB VRAM
16GB Crucial DDR4 2400 MHz (only swapped to 8GB in the unlikely event of RAM compatibility issues)
512GB OCZ SSD
be quiet! Dark Power Pro 800W
Lian Li T80 Test Bench
All testing conducted using NT-H1 thermal paste
We'd like to say a big thank you to Gigabyte, Noctua, Crucial, Intel, OCZ, be quiet!, and Lian Li for providing us with the above testing equipment and their on-going support.
Testing Methodology
We always use Noctua Noctua NT-H1 thermal paste to make sure testing reveals the efficiency of the tested coolers not the efficiency of the bundled thermal paste
Prime 95 is run for 10 minutes to calculate "load" results
Unigine Superposition is run for 10 minutes to calculate "gaming" results
The average temperature across all cores is taken
Fans are left to operate at default PWM profile speeds unless otherwise stated
For water cooling tests, all pumps have been operated at 12 volts unless otherwise stated
Ambient temperatures should be between 21-23 degrees in all our tests unless otherwise stated
Acoustic measurements are taken 10cm horizontally and 10cm vertically away from the CPU cooler with the VGA fan disabled
Stock tests are performed using "out of the box" settings for the CPU
Overclocking tests are performed with the CPU set to 5 GHz and 1.345v
All coolers were tested under identical settings unless otherwise stated.
There is approximately a 1-degree Celsius margin of error in our temperature recording software CPUID HW Monitor
There is approximately a 1.5dBA margin of error with our Benetech GM1351 decibel meter
In all these graphs we may have a few "reference" results of particular products that do not fit within that category for comparative purposes.
Software Used
———————–
Performance
So, being a cooler primarily designed as a low-profile solution, this clearly was never going to top our test charts and, as you can see below, at a glance the performance figures do look mildly disappointing. Remember though, this is an amazingly slim low-profile cooler. It's designed to be small, not high-performance! As such, you do have to adjust your expectations accordingly. Suggesting this should top our charts would be like saying a Fiat Panda should win a monster truck derby!
So, with that out of the way, how did it do? Well, in the grand scheme of things, surprisingly well. While it does top most of our result charts, you will see that the overall results are close to a certain beige associated manufacturers design. Not quite as good, but (let's be honest) damn close!
It should, however, be noted that the Scythe Shuriken 2 does have an ace up its sleeve. Namely, that you can 'upgrade' that fan (if you wish). Specifically, with the supply of additional screws, you can remove the existing 'slim' fan and replace it with a larger version if you wish. While we didn't, of course, do that in our testing, if enough people ask in the comments, we could be tempted into exploring this possibility.
So, what are our overall thoughts? Well, at the glance, the results don't 'look' great, but for a cooler this small, trust us, they are!
Stock Temperatures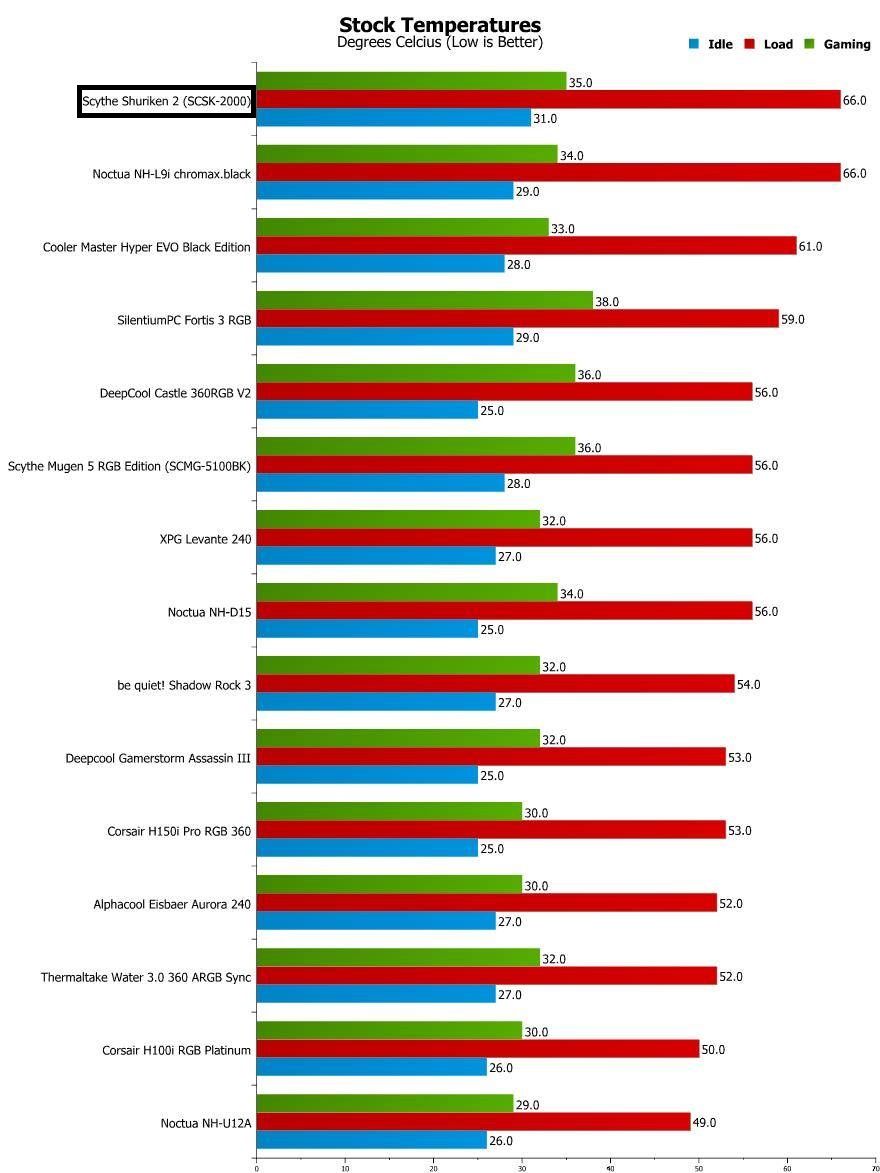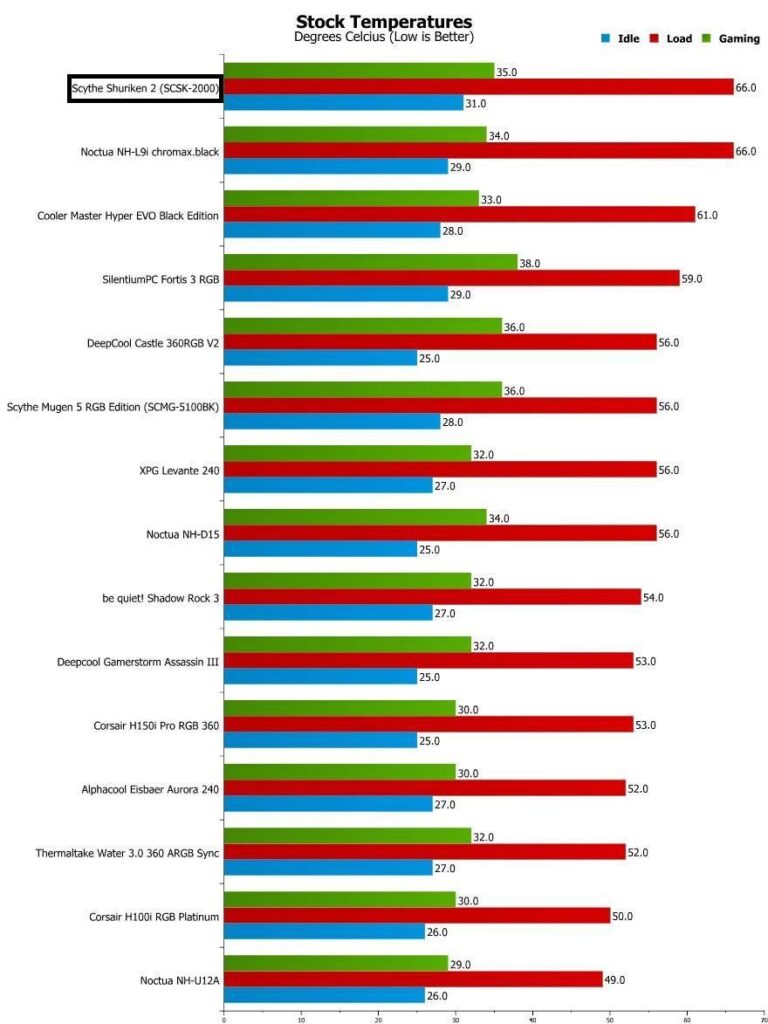 Stock Acoustics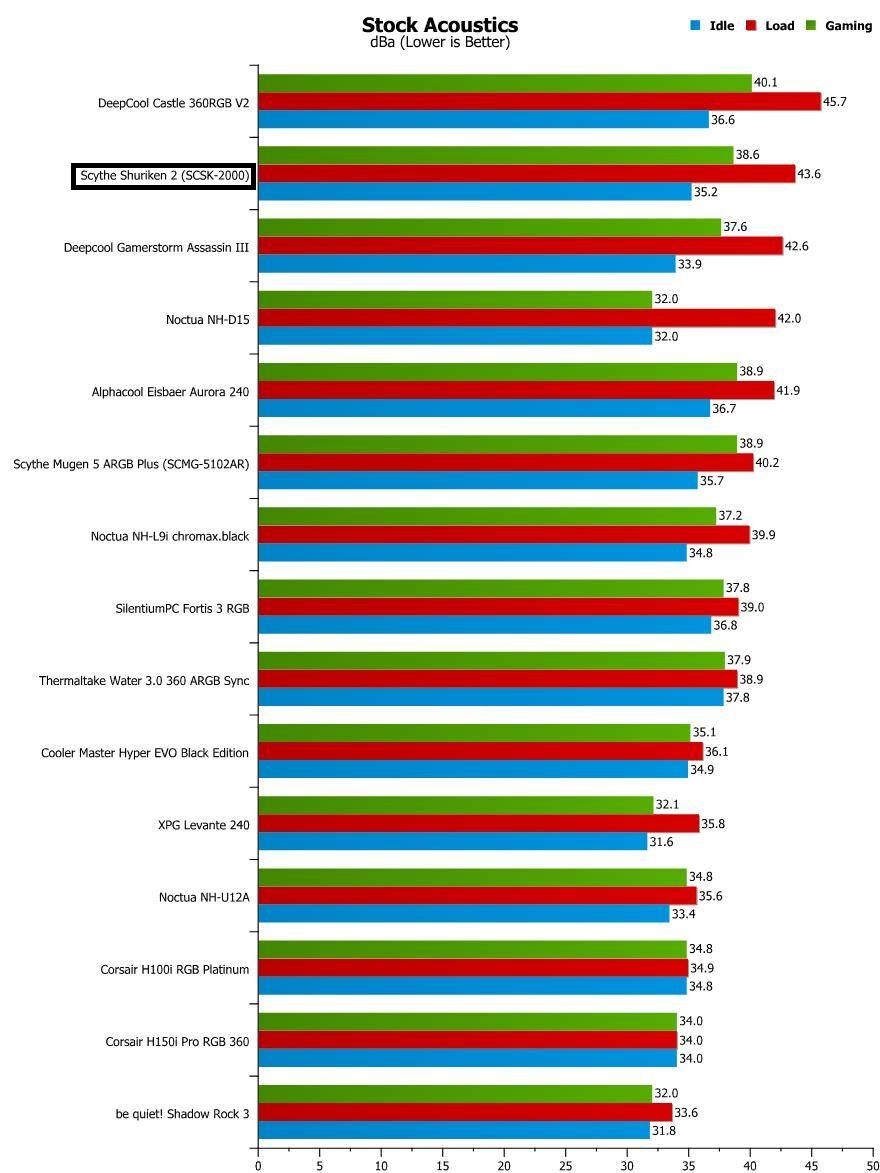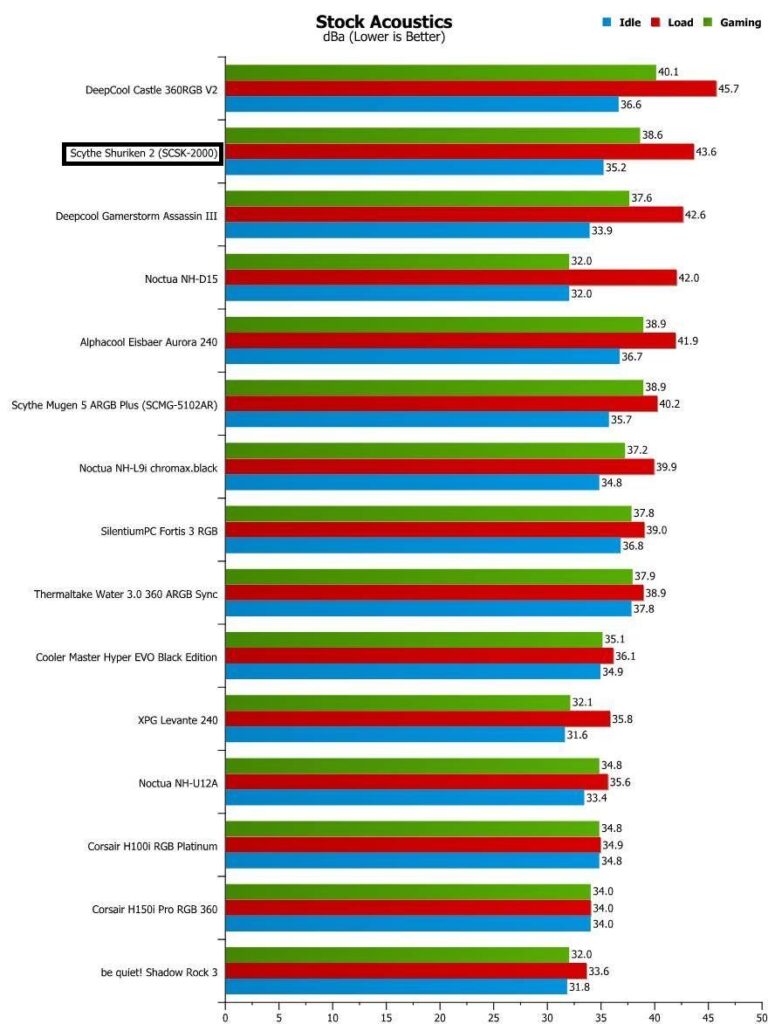 Overclocked Temperatures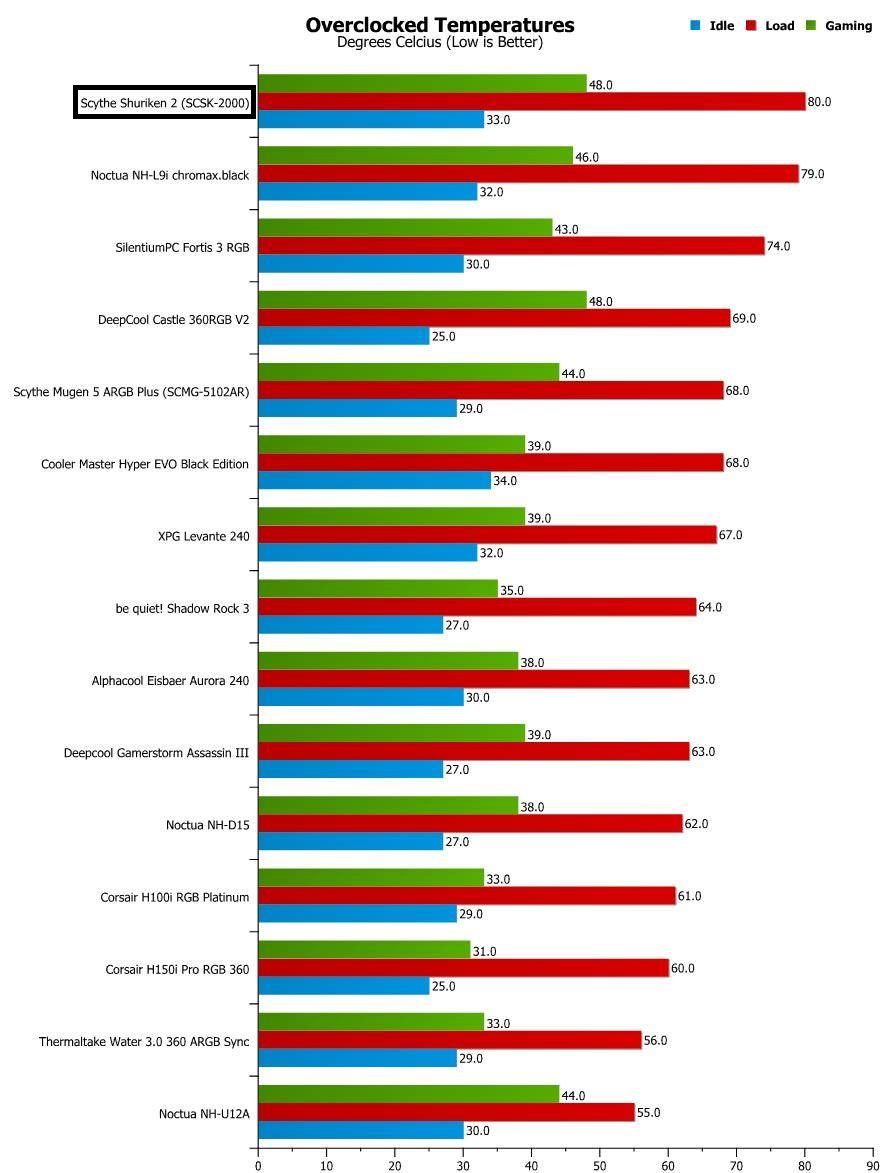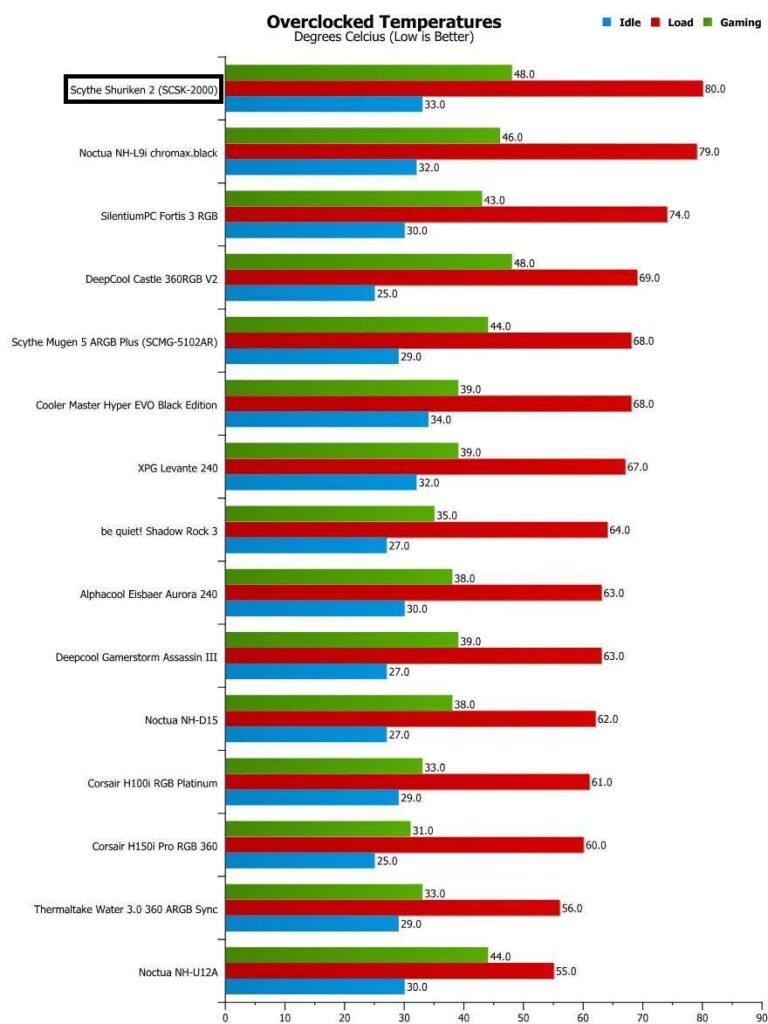 Overclocked Acoustics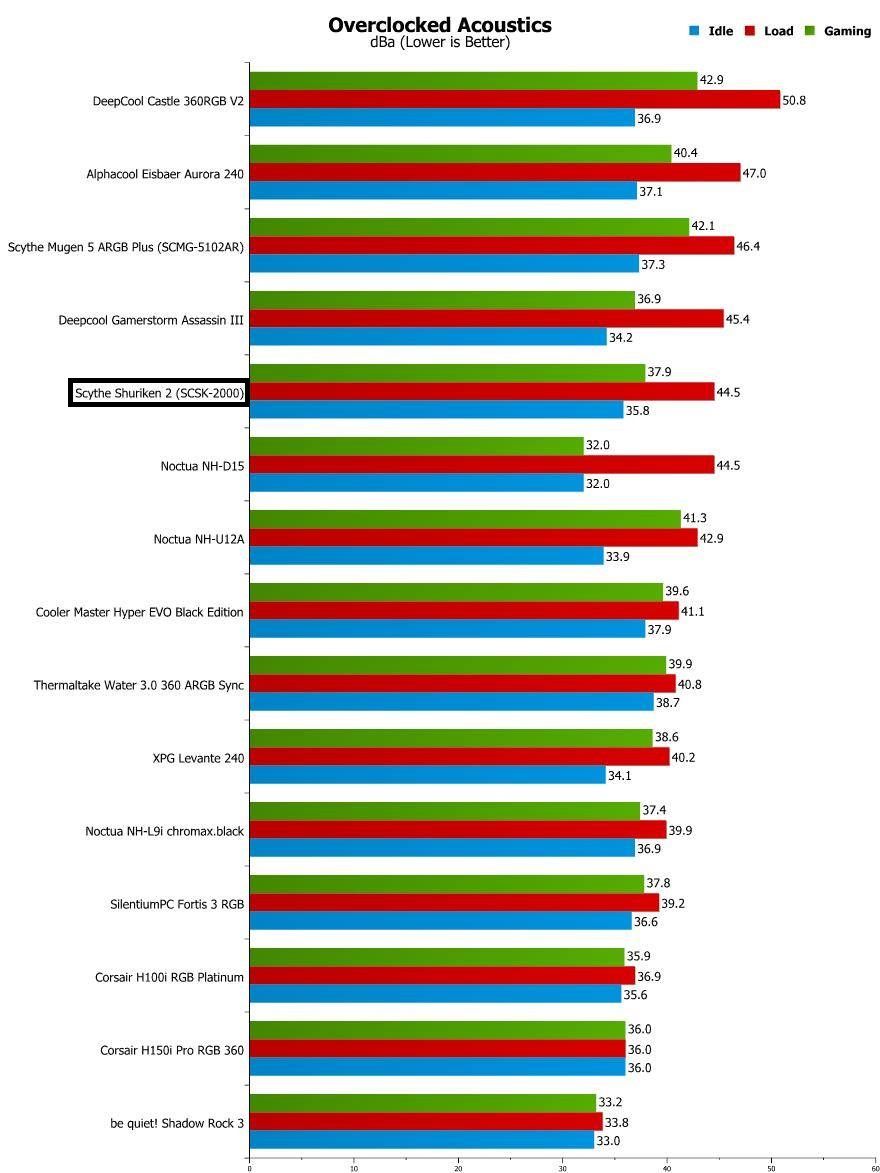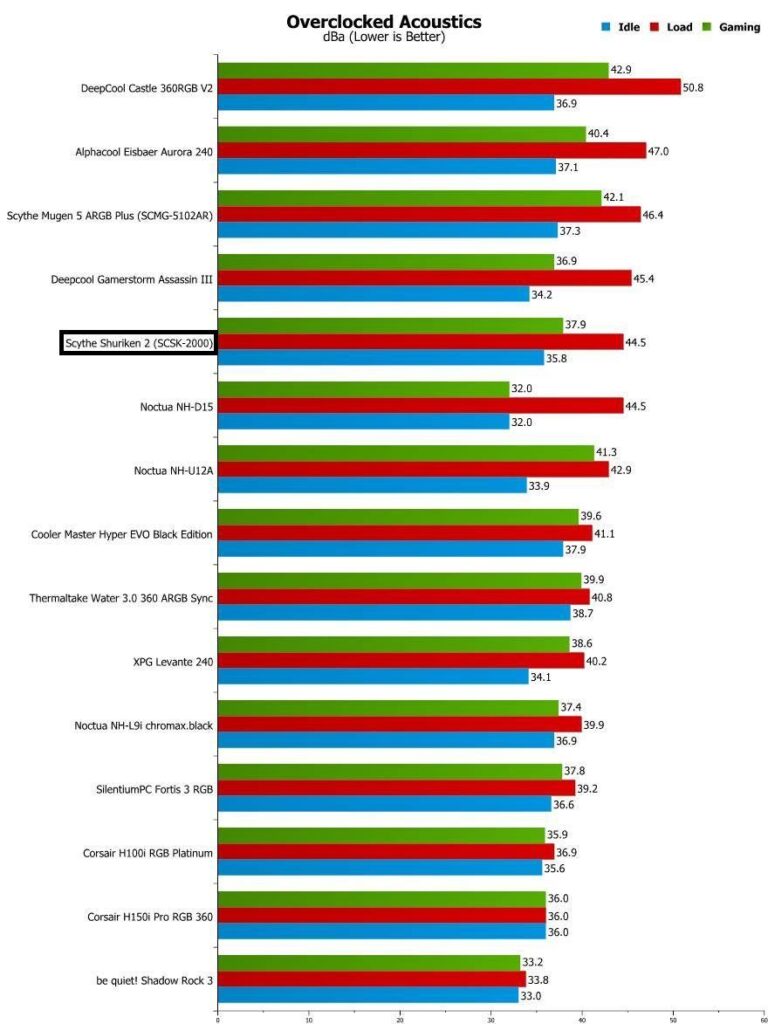 ———————–
How Much Does it Cost?
With an MSRP in the region of £35, the Scythe Shuriken 2 represents some excellent value for money. Not only based upon its performance, but also the fact that in terms of low-profile cooling designs, it's definitely got a lot of advantages over much of its competition.
It's a better product, and while it might be comparatively slightly more expensive, the additional build quality is evident throughout!
Overview
While not providing any (apparent) stunning levels of performance in our testing, we do again have to highlight exactly what this model finds itself competing against in our charts. In a more ideal world, we'd have a seperate set just for low-profile designs (note to self for future reference) just to make this more comparably fair.
Even among those larger coolers, however, (which in terms of size alone should have an advantage) the Scythe Shuriken 2 makes no poor account of itself. In fact, in terms of stock performance, it's clearly an excellent cooler and would be well suited to most processor designs! Better still, while performing well, it actually looks really nice and, on an aesthetic level, again would be more than excellent for the vast majority of PC builds!
The only real question mark is the lack of RGB lighting. Are coolers better for having it? Well, it's a matter of debate that we're not going to be settling here today. Without the lighting though, we still think the Shuriken 2 looks fantastic!
Is it as good as the Noctua low-profile cooler we recently reviewed? No. Then again, this both looks and performs nearly as well and for (around) half the money! It's your choice, but these factors do make the Shuriken 2 a very tempting proposition!
Should I Buy One?
In terms of a quality, well-designed cooler, the Scythe Shuriken 2 is truly excellent. As it is a low-profile design, however, it is clearly a product that's going to be better suited to small-factor/m-ITX builds than full-sized desktop systems.
Put simply, it's faultless within its own remit, but it is limited both in terms of its suitability and audience who'll be looking for a cooling solution like this. If you are, however, looking for the perfect cooling solution to your little PC build, the Scythe Shuriken 2 is a truly fantastic proposition. Not only in terms of performance but in the simple fact that this design just speaks volumes of a truly quality product!
Scythe has, quite frankly, done it again with the Shuriken 2 and we thoroughly look forward to whatever cooling solution they next bring to the market!
Pros
Excellent performance from such a small cooler
Amazingly well designed – For such a low price it just breathes quality!
Easy to install with no RAM compatibility issues
You can (if you wish) upgrade the fan to a 'thicker' 120mm design
A true value for money product!
Cons
Neutral
Limited practicality for full-sized systems – More suited to small factor/m-ITX designs
No RGB – Make of that what you will!
Not suitable for overclocking
Better performing alternatives are available, but mostly at a substantially higher price!