Seagate 6TB IronWolf PRO NAS 7200RPM HDD
---
---
---
James Cusworth / 1 week ago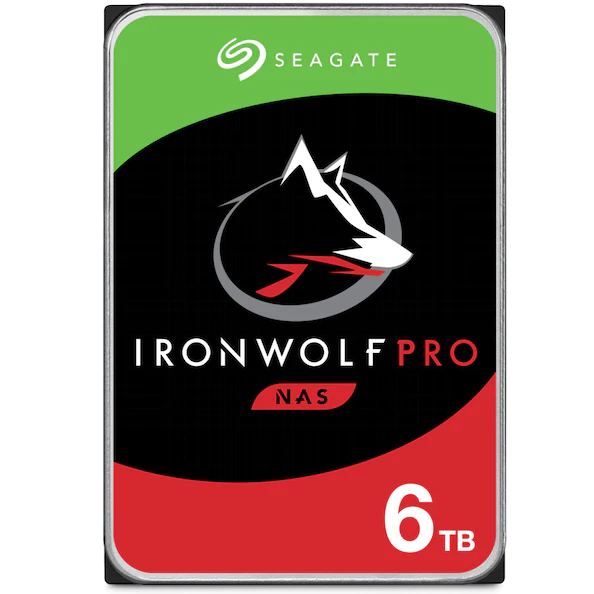 The Seagate IronWolf Pro 6TB NAS HDD at a glance:
– 6TB data storage capacity / for NAS devices
– High reliability with 5 years manufacturer's warranty
– Suitable for continuous use + 3 years Seagate Rescue Plan
– 3.5-inch format with 256 MB cache buffer
– Max. 214 MB / s data transfer rate & SATA 6G interface
– Ideal for private cloud, RAID & backup systems
Reliable data storage with incredible versatility
Seagate presents the IronWolf Pro 6TB NAS-HDD, an extremely versatile and reliable HDD storage device that offers plenty of room for all types of files. For this example, Seagate relies on a block size of 4 KB sectors (Advanced Format), which, thanks to 512e emulation, also enables compatibility with older operating systems and PC systems (legacy mode). In addition, the SATA 6G interface in particular ensures a consistently high transmission rate of up to 214 MB / s at a speed of 7,200 rpm .
Highest data integrity even in NAS continuous use
The IronWolf series NAS hard drives feature Seagate's AgileArray technology . This brings improved disk balance, RAID optimization and reduced power consumption. Advanced troubleshooting ensures that your hard drive complies with NAS system requirements to reliably protect all stored data. Reducing the vibration effects typically associated with multi-disk solutions improves reliability. This is made possible by integrated sensors for measuring rotational vibrations (RV).
Soothing 5-year manufacturer's warranty
With an MTBF time of 1,200,000 hours and supported workloads of 300 TB per year, the IronWolf Pro 6 TB hard drive offers world- class data integrity , backed by Seagate with a 5- year lifelong warranty and 2-year Seagate Rescue Plan data recovery service (Registration required) garnished in case of mechanical failure. The Seagate Rescue Plan has a 90% success rate in the event of data loss. Optimized power profiles also enable low power consumption for NAS applications with continuous operation.
Was £189.95 Now £172.99

---
eTeknix use affiliate links, which means we may earn commission from our links.