Seagate Announces Three New 8TB Hard Disk Drives
---
---
---
Bohs Hansen / 8 years ago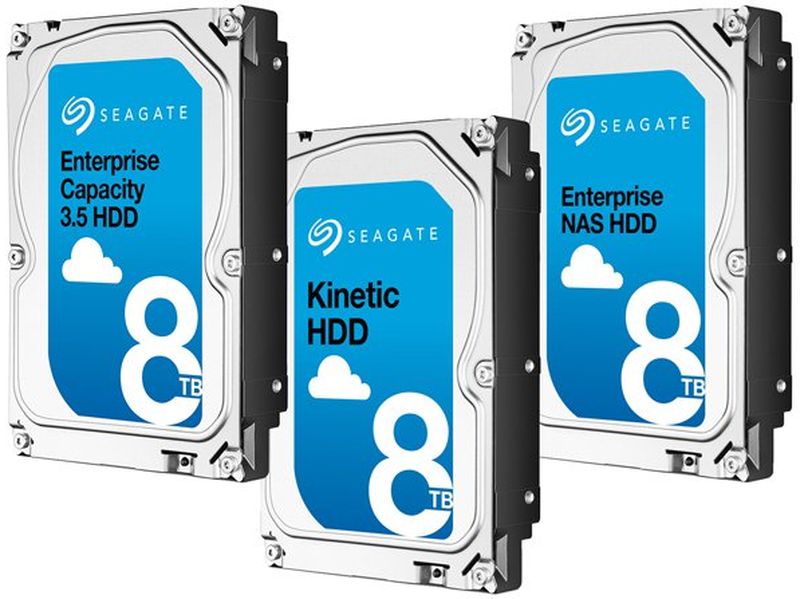 Seagate announced that not one but three new 8TB hard disk drives have been added to their portfolio. The three new drives are from the Seagate Enterprise Capacity, Seagate Enterprise NAS, and Seagate Kinetic HDD series and all got the 8TB upgrade. While these aren't the first 8TB drives, they are worth a closer look as they're a force in themselves.
The first new 8TB drive comes from the Enterprise Capacity 3.5 HDD series and this is where reliability meets high-capacity. The drive is aimed at the cloud markets where I'm sure that it will be welcome with open arms. The drive performs with a 100 percent increase in random read and write performance compared to its previous generation. That is quite an accomplishment and impressive.
Moving on to the small and medium-sized business oriented drives and we find the new Seagate Enterprise NAS HDD. There isn't the big performance improvement here like there was in the Capacity line, but the new 8TB drives do allow companies to reduce the amount of drives they need and thereby the server sizes as well power consumption. An overall saving on the running costs and less hardware to worry about, that sounds like a good deal.
The Seagate Kinetic HDD series is the most interesting of the new 8TB options, but it is also the one that isn't for home users at all, at least not yet. The Seagate Kinetic HDDs take a new approach on storage infrastructure as it is based on the Kinetic Open Storage Platform. The open source object storage protocol combined with Ethernet connectivity allows the Kinetic HDD to eliminate multiple layers of legacy hardware and software infrastructure with a simple Key/Value interface. This in return dramatically reduces the need for traditional storage servers. The reduction in equipment, power consumption, and human expenses results in a total cost of ownership saving of up to 70 percent. The LHC in Cern is one of the places where the Kinetic HDDs are being used to store and analyze the many petabytes of data collected.