Seagate Gaming FireCuda 16TB Gaming Hub Review
---
---
---
Peter Donnell / 2 years ago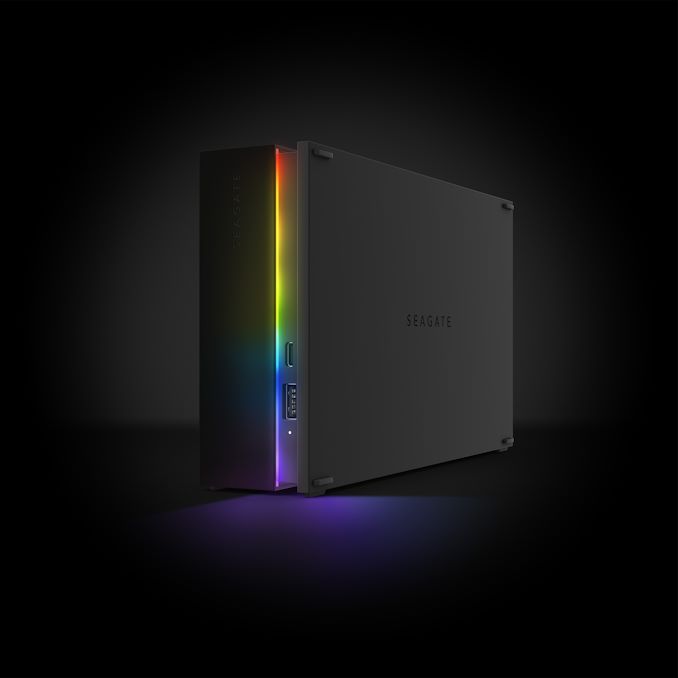 If you follow eTeknix regularly, you'll know that Seagate Gaming recently refreshed and released their new FireCuda Hard Drives and FireCuda Gaming Hub! The Gaming Hard Drive is something I actually reviewed a short while ago, and I was impressed with what it had to offer. It wasn't designed to be a blazing fast drive, but the price, build quality, and performance struck a good balance for those looking to expand the storage of their PC or consoles. But what if you simply need more, a LOT more, actually?! Then you need to forget the gaming Hard Drive and step into Gaming Hub territory. This absolute unit comes in two sizes, 8TB and 16TB, which is pretty hefty for an external hard drive, and should offer you more than enough options for backing up lots of games or at least a years worth of Call of Duty DLC.
FireCuda 16TB Gaming Hub
If you're rocking a slick NVMe drive as your main boot drive and gaming drive, it's likely under constant threat of being filled by the latest games. AAA titles easily break 100GB these days, and some of them even get to around 200GB; Call of Duty, Mass Effect Trilogy, Flight Simulator 2020, etc. Having all of your games backed up isn't something everyone needs, I'll admit. If you have a decent-sized SSD, a modest games library and super fast internet with no caps, then the external drive solution likely isn't one you need. But, of course, backing up other important information is still a good idea too.
Of course, if you have modest internet, and you like to have a huge amount of game data readily available without having to redownload it all each time, then an external drive certainly makes sense. I play a lot of older games myself, so having games (if I'm honest, ROMs and ISOs) on hand is important. A full collection of PS2 games can consumer around 3-4TB easily enough and you're pushing 8TB by the time you throw in all the retro consoles that came before it. Then 16TB is quickly dealt with going for newer generation stuff too.
Perhaps you want to download all of the available Games Pass titles to your Xbox One? That'll eat through a good few terabytes easily enough too, and then some! Not to mention how much storage you could eat trying to download your entire Steam library… I think you get the idea. 16TB sounds like a lot, but backing up that level of data means you only have to download it once; handy if you have more than one PC in the house too.
Features
Create an epic gaming atmosphere with customisable RGB LED lighting
A bold and refined design, crafted to complement gaming Battlestations
Customisable RGB with full colour and pattern control with free Seagate Toolkit software
Works with Razer Chroma™ RGB to sync all your Battlestations compatible peripherals
Up to 16TB of capacity builds the ultimate gaming library without sacrificing titles
Simple plug-and-play compatibility with USB 3.2 Gen 1
USB bus-powered for quick function and less clutter
Horizontal and vertical mounting
Rescue Data Recovery Services (more info)
What Seagate Had to Say
"Light up your gaming experience with the Seagate FireCuda Gaming Hub. Featuring up to 16 TB of capacity, create an immersive atmosphere with customisable RGB LED lighting. Plus, dual front-facing USB-C and USB-A ports enable you to connect and power all your peripherals in one place." – Seagate
Gaming in a Redesigned Light
FireCuda gaming drives upgrade your whole gaming atmosphere with customizable RGB LED lighting and a sleek design.
One Battlestation, Customized Your Way
Explore the full, customizable RGB color and pattern control that's at your fingertips. You can even sync up all your FireCuda RGB products with help from the free Seagate Toolkit software. Plus, the FireCuda Gaming Hub works with Razer Chroma RGB, so you can sync all your Chroma-enabled peripherals and dive deep into your gaming.
However You Want It
Designed to bolster your battlestation's look, the FireCuda Gaming Dock works both vertically and horizontally.
Load Up Your Game Vault
Built a capacity of 8TB, the FireCuda Gaming Hub gives you the space to build up your library of games, applications, and media without fear of limits.
Go Gaming Go
5 Gb/s USB 3.2 Gen 1 bus powered and a lightweight design gives the Gaming Hub easy plug-and-play functionality so you can grab it and take it to take to a friend's place.
Charged Up and Ready
Connect and power your peripherals to the Gaming Hub's dual front-facing USB Type-C and USB Type-A ports.
Rescue Data Recovery Services
When the unexpected happens, like water damage or natural disaster, Rescue Services help you defend against data loss and retrieval costs so you can rest easier. Coverage is provided for three years