Seagate IronWolf 10TB NAS HDD Review
---
---
---
Bohs Hansen / 5 years ago
Introduction
---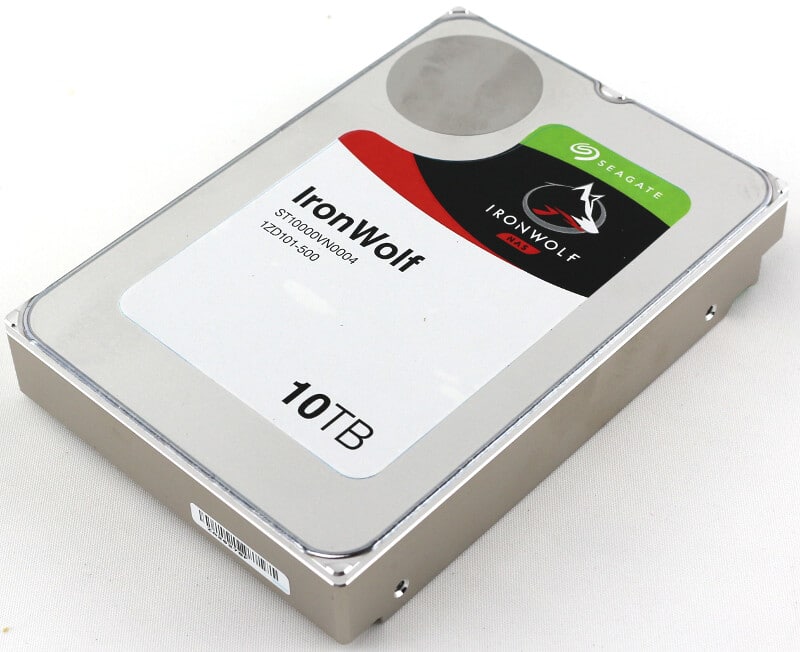 With Seagate's latest offensive on the storage market, we now have a wide variety of 10 TB drives for all sort of operations and in a market segment that is available for consumers. While SSDs have the speed advantage, HDDs are still the only way to go when you need a large capacity and only have a normal budget. Today I'm taking a closer look at the new Seagate IronWolf 10 TB NAS HDD and will put it through the paces in my testing area.
With 10 TB capacity, we have entered the era where you can have 20 TB raw capacity in a 2-bay NAS. That is an impressive capacity option for such a tiny footprint and when you couple that with the fact that a unit like that would consume about 20-25W, then it is even more impressive.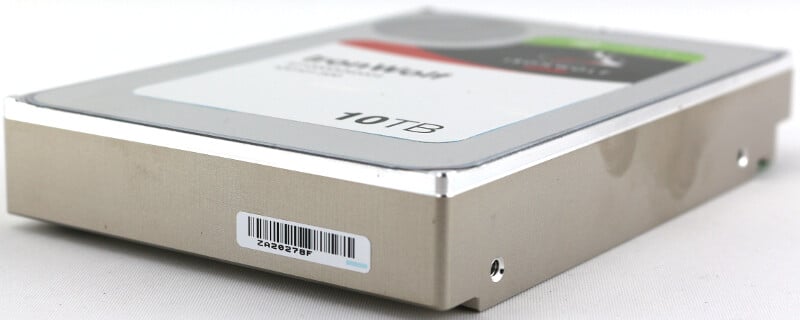 I like the branding theme from Seagate, it highlights the drives more than the previous naming where they just were called NAS drives. While it was simple, an eye-catching branding can't hurt. But all that aside, let us have a look at the numbers and specifications of this drive.
The IronWolf drives are rated for usage in systems with up to eight drives, that's up to 80TB raw capacity. Wow. To make sure that the drives perform optimally in such environments, they are equipped with dual-plane balance systems and rotational vibration sensors which are part of the AgileArray system. Naturally, the drives have also been optimized for usage in RAID setups and it comes with error recovery control.


Performance wise, the IronWolf 10 TB drive isn't without either. It isn't just large, it's also fast. It is rated for a sustained data transfer rate of 210 MB/s which is thanks to the 7200 RPM disk speed and the 256 MB cache.
Endurance is another vital part of your storage setup and we aren't being let down here either with 600K load/unload cycles and an 180 TB workload rating per year. With that kind of endurance, multiple users can work their butts off on these drives and it will still run as smooth as ever, whether you're a creative pro, a small business, or just a power user.
The drive is backed by a 3-year warranty and you can also get the additional rescue service plan from Seagate with these drives. It doesn't cost much more and it is definitely something that is worth considering for professionals and businesses where every byte of data could mean a lot of money or in the worst case scenario, lost profit. Seagate has a great recovery rate with failed drives and it doesn't matter in what kind of setup they were used.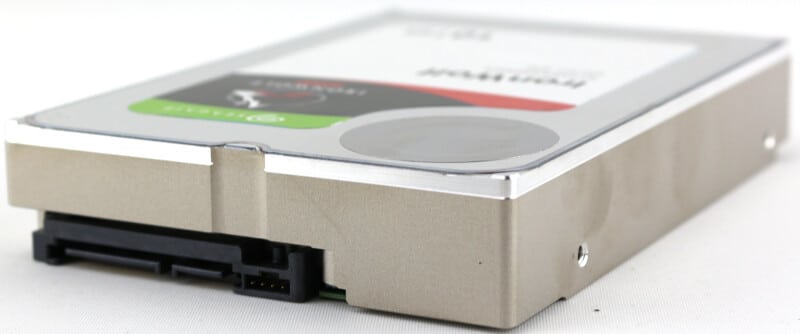 NAS drives are designed to run around the clock and every day and it is no different with the Seagate Ironwolf. Else there wouldn't be much point in the entire type of systems. The need to serve files all the time and it doesn't matter whether it is your movie and show library, music collection, digital photos, or your companies databases and sale charts – the IronWolf will be a great companion.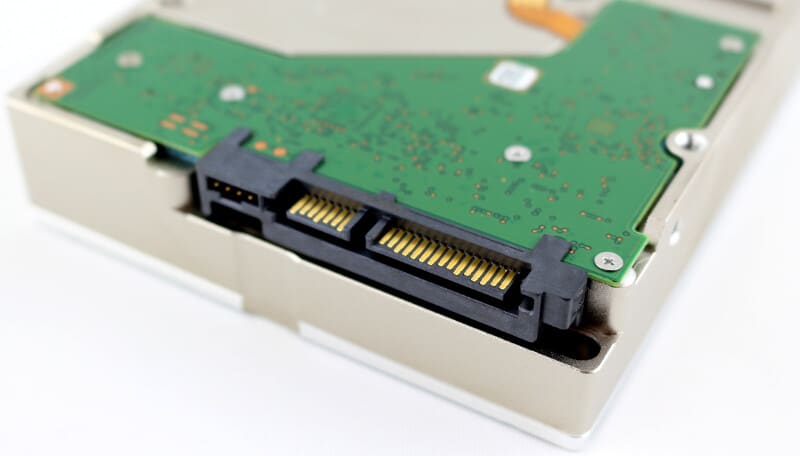 The IronWolf Pro drive for larger drive arrays than 8 drives is also on the way and is scheduled to be released this fall. If you actually need more than 80TB raw capacity, then you might want to hold off until they arrive. I'm sure it'll be worth it.
The IronWolf isn't a loud drive either with just 2.8 bels when idle and 3.2 bels in operation. That should leave you with a nice and silent running server for all your data.
Specifications
The specifications are taken directly from the manufacturer's site and might as such be subject to possible future changes.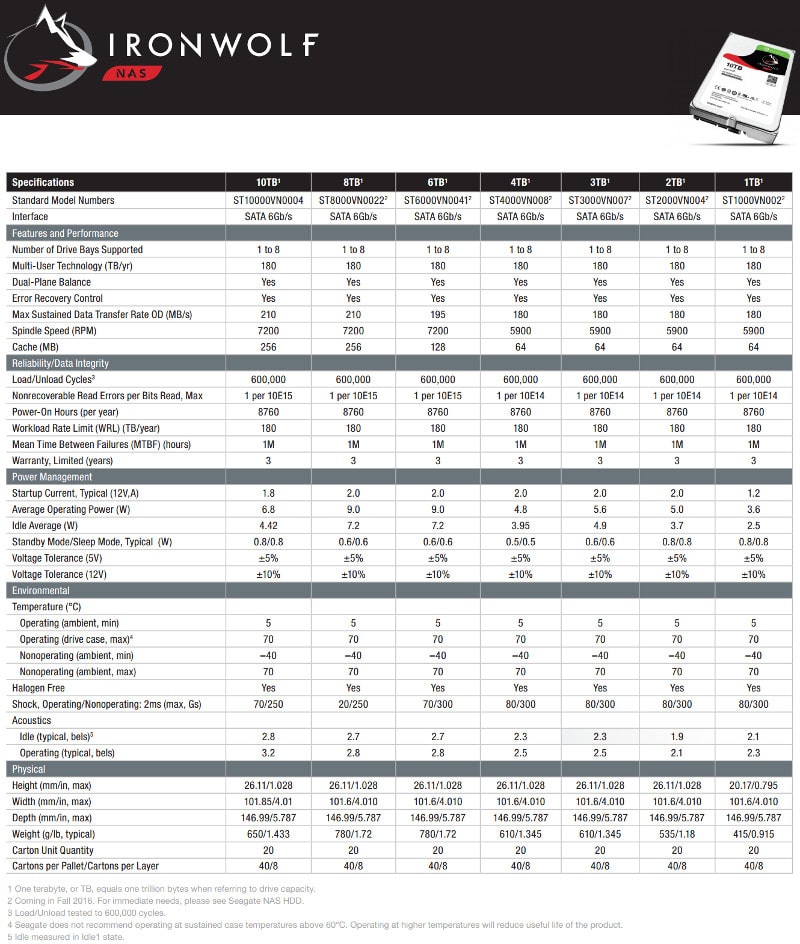 Package and Accessories
An OEM drive doesn't come with much on the side and it's no different here. The drive will come in a protective cover for the transport, but that's it. Then again, what more do you need? I'm sure that there also will be some retail packages for the shop shelves as well, but most people will opt for the cheaper OEM option.