Seagate IronWolf Pro 14TB NAS HDD Review
---
---
---
Bohs Hansen / 4 years ago
---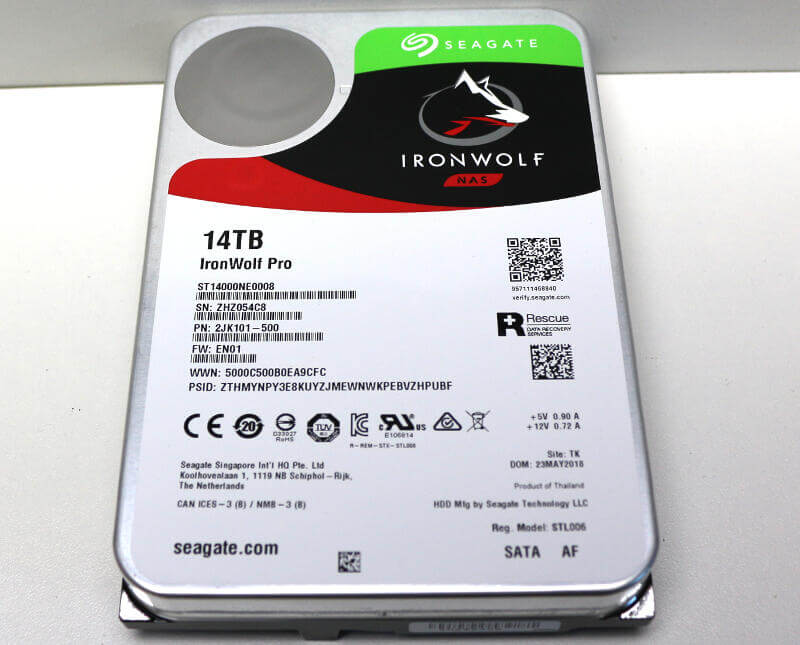 Seagate IronWolf Pro 14TB NAS HDD Review
Seagate has their Guardian series on the market for some time now and today I'm taking a closer look at one of the newest family members: The IronWolf Pro HDD with 14TB capacity (product flyer). That's a lot of storage in a traditional form factor, ready to plug into your NAS or another system.
Seagate Guardian Series
It has only been about 2 years since Seagate introduced the world to their Guardian series which consists of three different HDDs. There's the SkyHawk for NVR/DVR usage, the Barracuda for desktop usage, and the IronWolf for NAS usage.
In those two years which have passed, Seagate has managed to increase the capacity by 40% and we now have 14TB versions in all three types. There are Pro drives too which come with better warranty and endurance over the none-pro versions. We've previously had a look at all types, so check out our reviews on them if you'd like. Today we focus on the IronWolf NAS drive.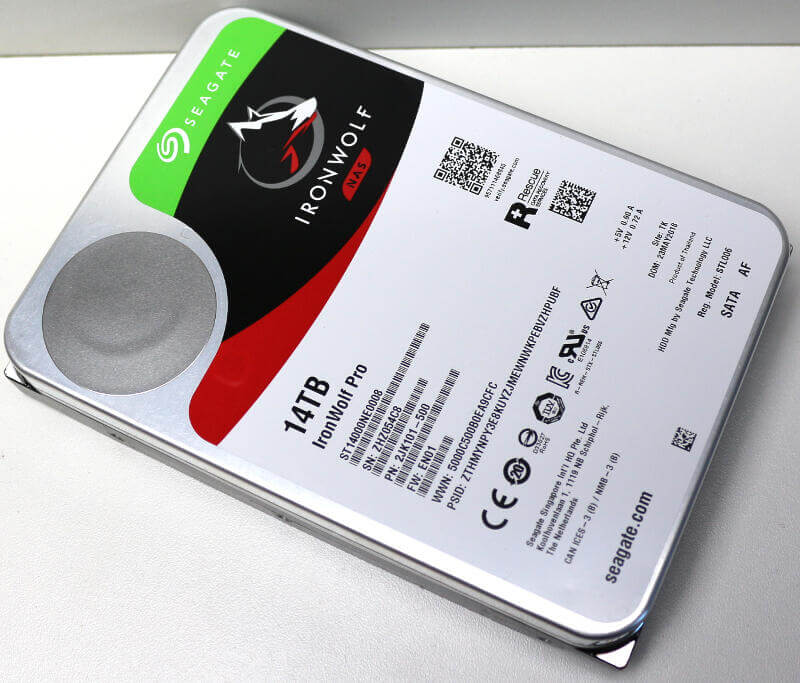 IronWolf Pro NAS Hard Disk
Seagate created the IronWolf series with multi-user environments in mind. NAS (Network Attached Storage) is such an environment and they're perfect here. The series allows a workload rating of up to 300TB per year, just to name one great aspect.
The intelligent power behind the scenes is the AgileArray firmware. That isn't just a fancy name, there are a lot of useful features hidden behind it. Those include improved RAID performance, dual-plane balance, rotational vibration (RV) sensors, advanced power management, and error recovery control.
On top of that, Seagate also came up with their IHM. IHM stands for IronWolf Health Management and it is an addition on top of the default SMART functions. The system will need to support it in order to work, but most NAS devices do these days. Where SMART just collects data and reports trouble once it happened, IHM can predict errors before they happen. After all, wouldn't you rather replace a drive before it fails and save your data than trying to recover it after a drive failed?
Performance and Endurance
Let us get to the official figures. The rated sustained transfer rate if 250MB/s which is up from 210MB/s for the non-pro version. It is rated for enclosures up to 24-bays, allowing you to build incredible systems. As a comparison, the non-pro version can only handle the vibrations from an 8-bay enclosure. Right from the start, it's clear that I have a great HDD in my hands.
The Seagate IronWolf Pro has a spindle speed of 7200RPM and features a 256MB cache which makes sure that you get a sustained performance.
The endurance is another impressive point to the Seagate IronWolf Pro. It has a workload rating of up to 300TB a year. That is a lot. For comparison reasons, the 14TB IronWolf only has 180TB a year. The mean time before failure is rated at 1.2 million hours. 200K above the IronWolf.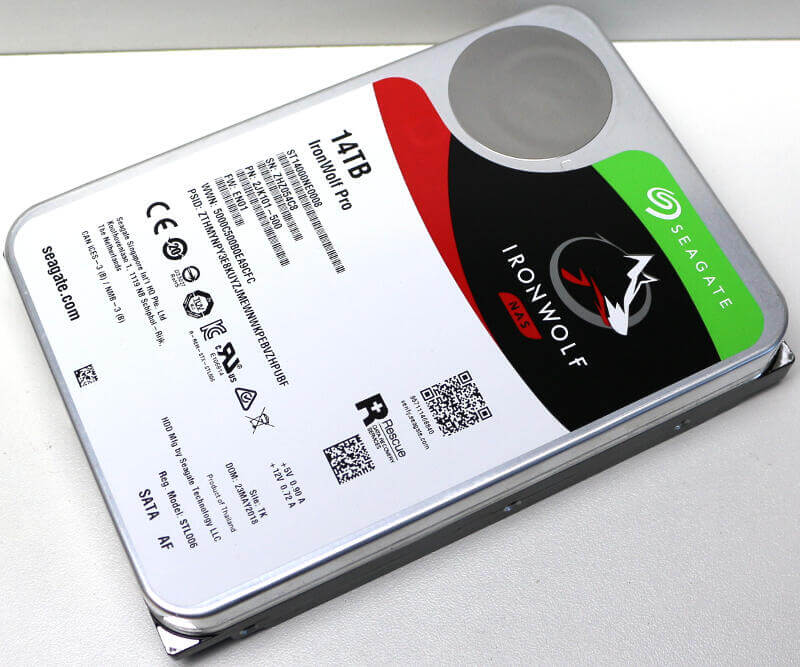 Warranty, and Recovery service
The warranty and security you get with an IronWolf Pro are as pro as the name suggests. To start with, you get a 5-year warranty on the drive. But it doesn't stop there. On top of that, you also get a 2-year subscription to Seagate Rescue Data Recovery Services. With them, you have an impressive chance of recovering all your lost data from a broken-down drive.
Let's Talk AgileArray and NAS Usage For a Minute
Seagate IronWolf drives are built and optimised for NAS usage with AgileArray. The HDD is built with dual-plane balancing and RAID optimization in multi-bay environments with the most advanced power
management. The rotational vibration sensors allow the HDD to perform consistently in multi-drive NAS enclosures. That is also one of the reasons you should pick a NAS drive for a NAS setup and not opt for a cheaper desktop drive.
NAS' are usually accessed by a lot of people at the same time, which the drive is designed to handle. On top of that, it can withstand a workload of 300TB a year. You need a lot of users doing a lot of work to pass that marker. The drive is also designed to run in a 24/7 always-on setup. Another important point for NAS drives.
Another benefit for NAS users is the IronWolf Health Management system. It is very similar to SMART, just a lot better. Most NAS devices support IHM, including Synology and QNAP. Where SMART only records data as it happens, IHM is able to predict what's going to happen and warn you in advance. That way, you have the ability to back up your data before a possible drive failure. That's a lot better than trying to recover data from a broken drive.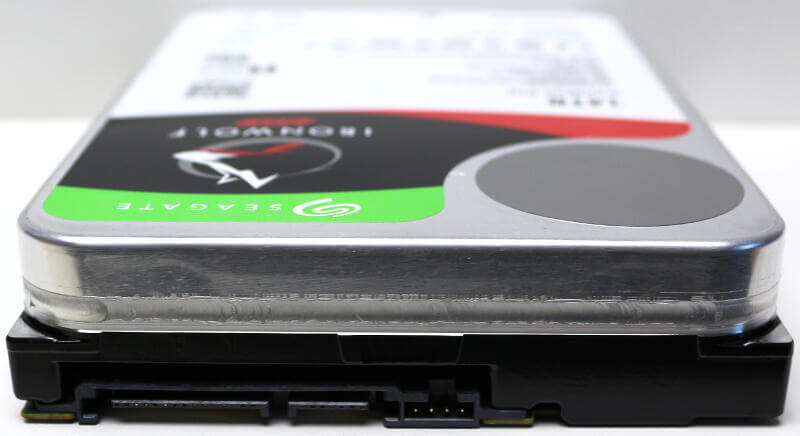 Feature Highlights
7200 RPM Spindle-speed and 256MB cache
300TB a Year workload rating
Optimised for multi-user environments with up to 24 drive-bays
5-Year Warranty and 2-year Seagate Recovery Service
IronWolf Health Management
14TB capacity choice
Specifications
These are the specifications as they are available at the time of this review. Please note that they might be subject to change if the manufacturer updates the products with new revisions. Full specifications sheet is available by clicking here.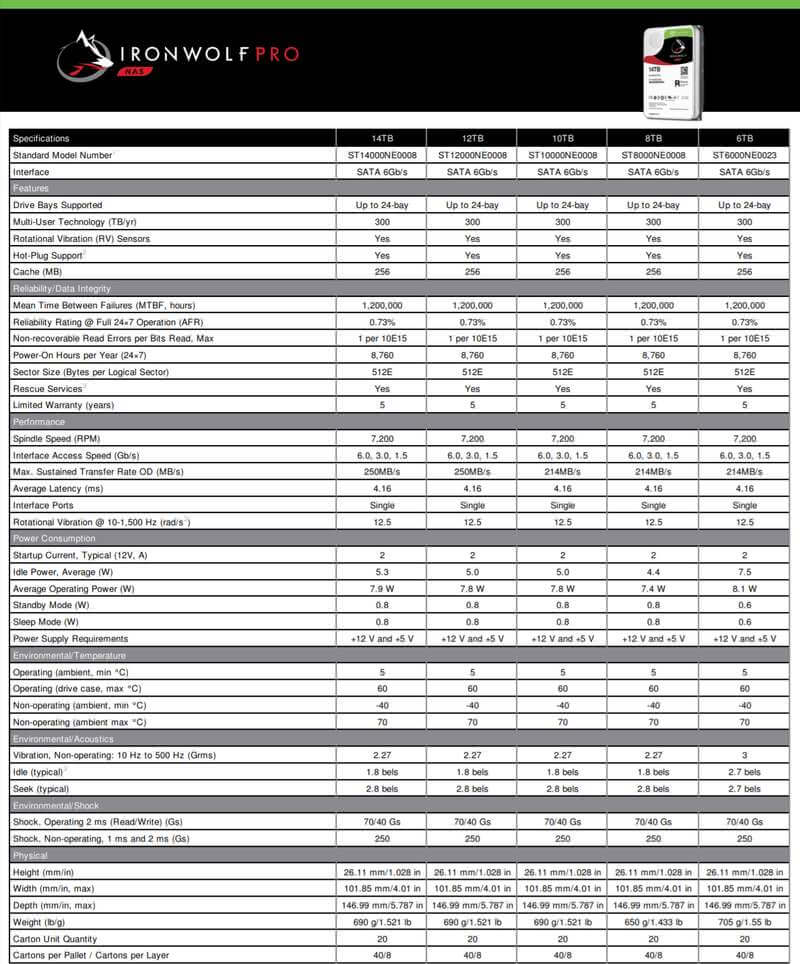 Package and Accessories
I got the IronWolf Pro 14TB in a simple OEM package, being an anti-static bag. There aren't any accessories bundled either, but then again, what would you need? Unpack the drive, plug it into your NAS, and enjoy the immense capacity of 14TB in a single drive.