Seagate Roadmap Reveals 100TB HAMR HDDs by 2025
---
---
---
Ron Perillo / 2 years ago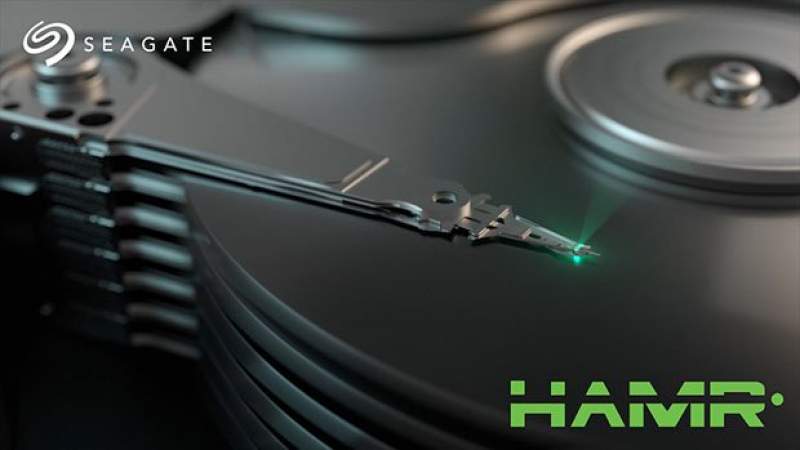 The Future of Storage Through HAMR
Seagate has revealed a new roadmap (via The Register) for their hard disc drive line, aiming for up to a 100TB drive by 2025. This is of course, much larger than what they announced last year. HAMR stands for Heat Assisted Magnetic Recording technology and it uses tiny lasers to increase storage density. Using this technology, Seagate also intends to release 20+ TB drives by 2019 and 40+ TB drives by 2023.
These of course are used in conjunction with their latest generation "Mach.2" actuators. This has two read/write heads per platter. The result is 480 MB/s of sequential throughput, which is more than twice the standard 235 MB/s of the speediest 7,200-RPM enterprise HDDs.
Why is Seagate Using HAMR Instead of PMR?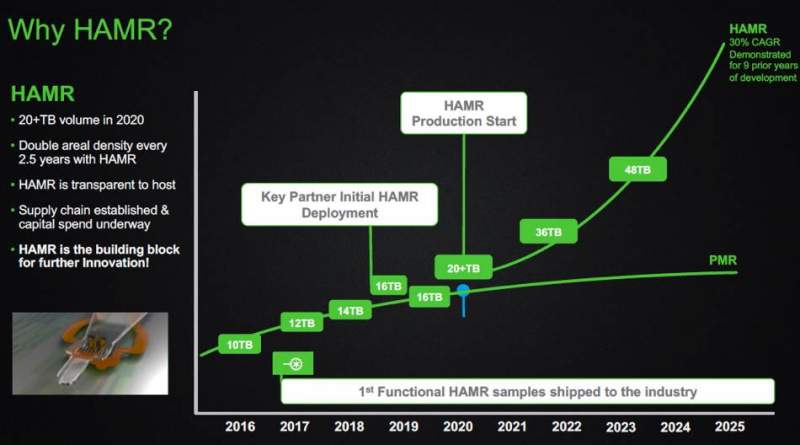 HAMR was developed to overcome the issues hampering Perpendicular Magnetic Recording (PMR) drives. It can overcome the tendency of smaller magnetized areas to flip their polarity and binary bit value. Seagate eventually intends to retire PMR soon by 2020, with the last version topping out at 16TB capacity.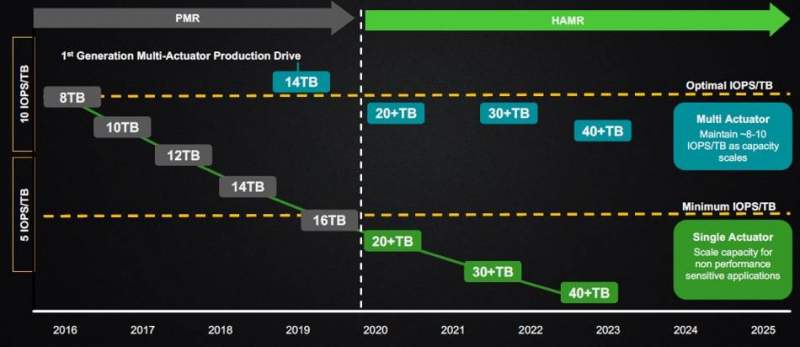 Meanwhile, HAMR production starts at 20+ TB, with a forecast of areal density doubling every 2.5 years. The company even has notable drive capacity points pegged at 36TB sometime in 2021 and 2022, and 48TB drives around 2023 and 2024. Eventually continuing on with 100TB likely around 2025.
What About Western Digital?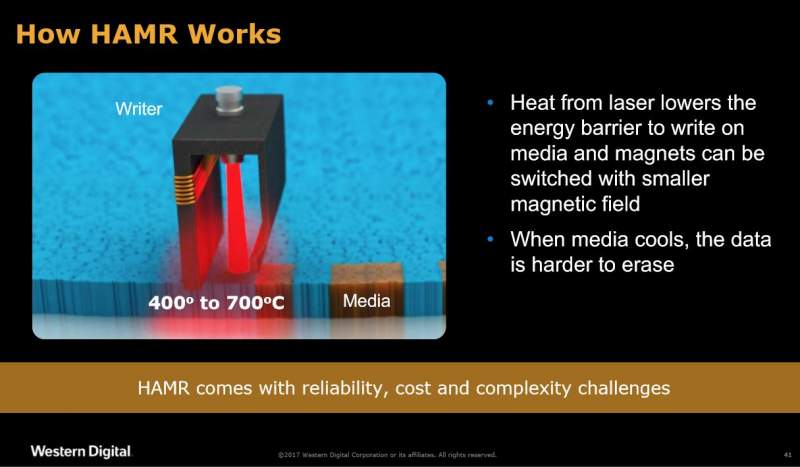 Seagate's competitor Western Digital of course has their own similar solution. They are calling their technology MAMR (Microwave Assisted Magnetic Recording) which the company claims is more reliable than Seagate's solution. So far, the company has announced up to 40TB HDDs by 2025, with their first commercial MAMR drives arriving in 2019.