Seagate's 5U84 Packs 1PB Storage in a 5U Enclosure
---
---
---
Bohs Hansen / 3 years ago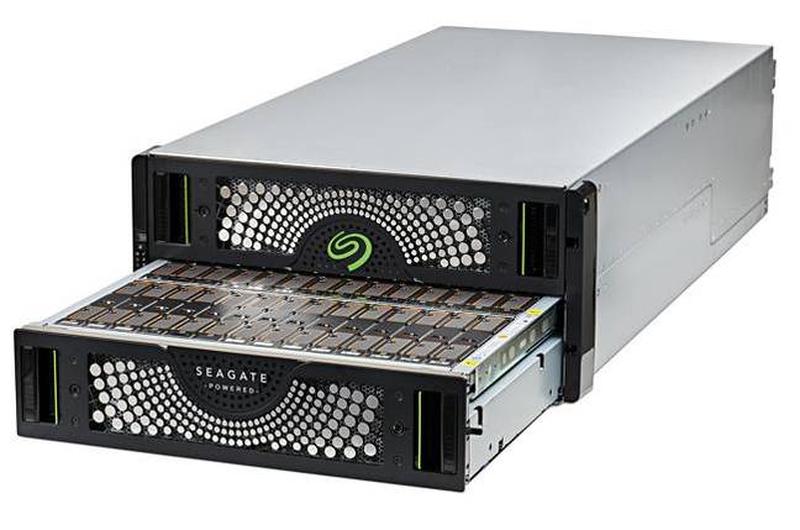 Seagate announced the launch of their new 5U84 high-density enclosure (link). The system doesn't just offer plenty of storage capabilities, it also utilizes a next-generation operating system. Together, the 5U84 delivers performance, capacity and reliability.
The 5U84 system delivers a space-conscious storage model that packs up to 1.0 PB of raw storage capacity into a single 5U chassis. That setup is then able to return 600K IOPS at 1ms latency!
Ken Claffey, vice president of Seagate Systems says: "Increasingly, our customers are focused on maximizing uptime and minimizing the cost of service. Businesses need storage with all the performance, security, and management features technology can offer. With this next-generation operating system, businesses are provided with multi-core functionality. Meaning every resource is used to its maximum potential. Seagate is committed to creating innovations that meet the complicated needs of today's businesses."
Seagate 5U84 Enclosure
The 5U84 enclosure and firmware technology will enable businesses to store massive quantities of data in a high-availability enclosure. Not only that, they also get high-performance access to the data at the same time. Seagate Systems' operating system powers the 5U84 where it dramatically improves the system's performance and reliability.
When it comes to storage, we need layers upon layers of protection. Markets such as video surveillance, for example, are places where data-integrity is critical. The 5U84 utilizes Seagate's Advanced Distributed Autonomic Protection Technology (ADAPT) to make sure everything is as it should be. It can eliminate up to 95% of performance degradation during a disk drive rebuild when compared to traditional RAID solutions.
The technology disperses data across multiple drives and allocates more resources to rebuilds. Thereby it reduces the time needed which minimizes the risk of a data unavailability issue. The end result is an end-user with uninterrupted access.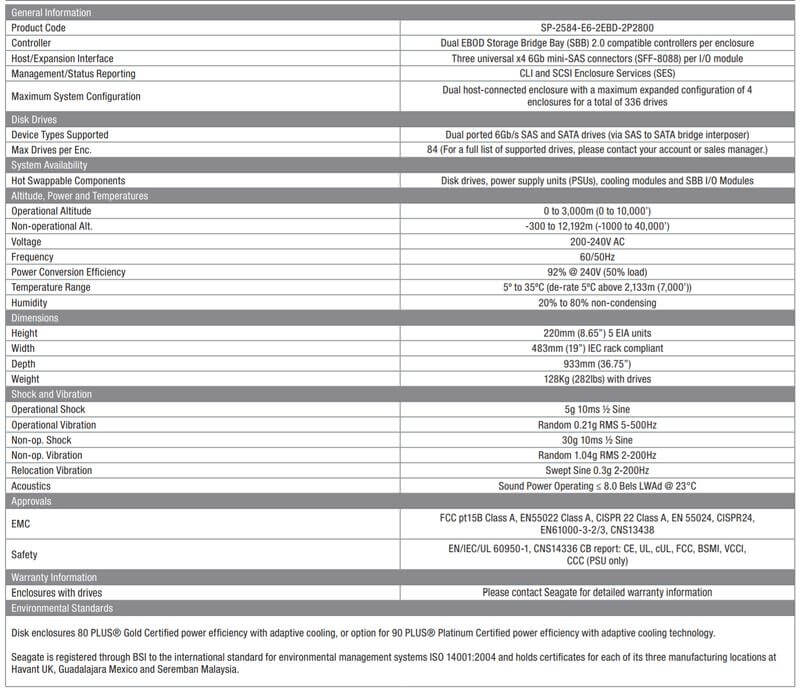 Key Features
5U rack-mount enclosure stores up to 8 petabytes of data per rack
Efficient power conversion
Up to 84 3.5" SAS hard disk drives or solid state drives per 5U enclosure
Drawer design provides extremely high density per rack unit
Easy access to hot-swap drives
Expansion capability up to 336 drives
Dual 12Gb SAS I/O modules with integral data path redundancy for high-availability
Dual controller configuration which supports multiple chassis, which lowers SKUs and complex configuration issues
Unparalleled optimization and reliability
Ultra high performance of 600K IOPS at 1ms latency for 2U24
AFA configurations at 1ms latency for nearly instantaneous access to data