Second The Last Jedi Trailer Arrives
---
---
---
Ashley Allen / 6 years ago
We're only about six weeks away from the release of Star Wars: The Last Jedi, which feels so close but so far away. In the meantime, though, we've another trailer to whet our appetites. The second The Last Jedi trailer – a mere 45 seconds of footage – shows us little the first trailer didn't. However, we do get a glimpse of Luke Skywalker revisiting a very familiar environment.
Second The Last Jedi Trailer
First of all – and most notably – Luke sets foot on the Millennium Falcon for the first time in what must be a long time. He appears mournful; not surprising since (SPOILERS FOR THE FORCE AWAKENS) he's no doubt aware his friend Han Solo, previous owner of the Falcon, is now dead. Slain, in fact, by Han's son and Luke's former student, Kylo Ren (aka Ben Solo).
In addition, we see gorilla-handed iterations on the classic AT-AT walker; a showdown between Finn and the silver-clad Stormtrooper Captain Phasma; plenty of pew-pew space battles; and loads of red, echoing the film's logo (above). Most important of all, though, is another cameo by the legendary Porg, who is surely set to be The Last Jedi's breakout character: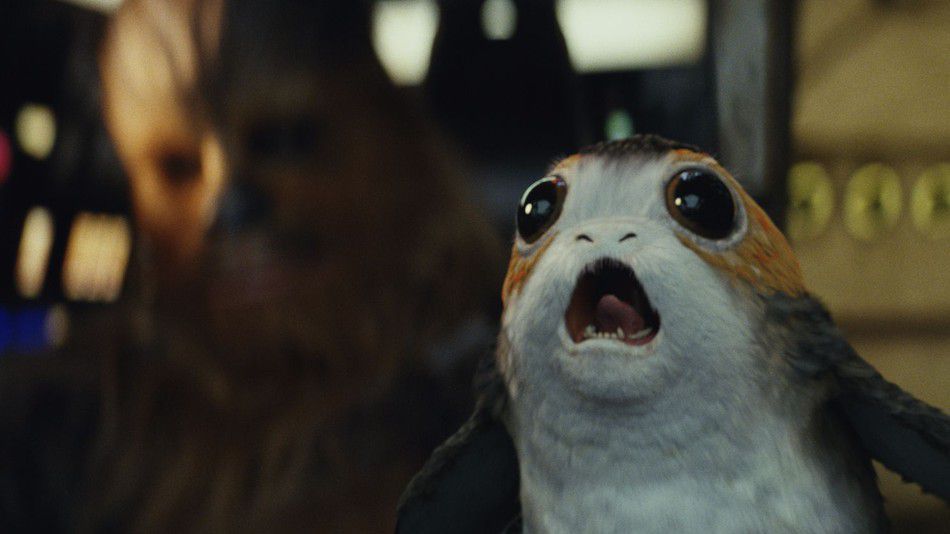 Release
Star Wars: The Last Jedi – the eighth episode in the Star Wars series, directed by Rian Johnson – hits cinemas on 15th December.