Silicon Power Blaze B50 128GB USB 3.0 Flash Drive Review
---
---
---
Bohs Hansen / 6 years ago
Introduction
---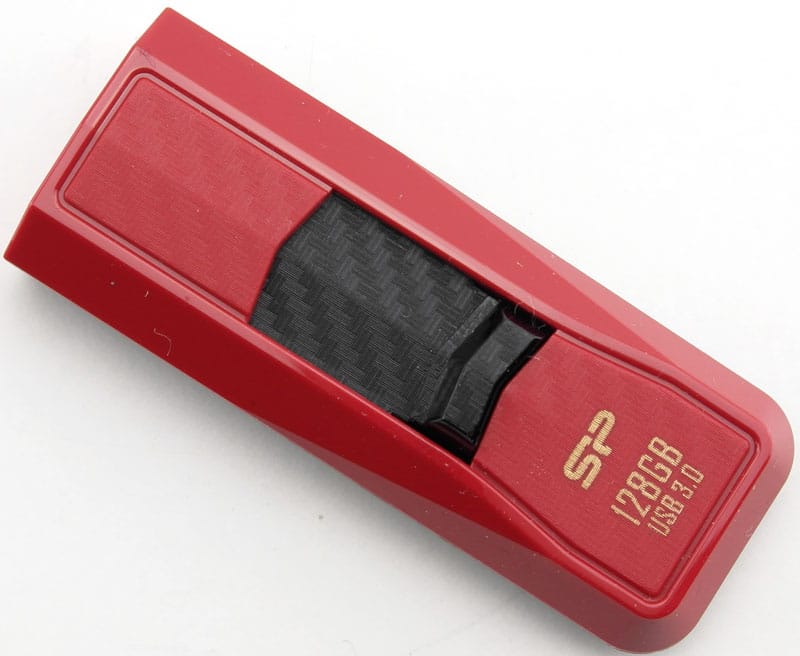 Silicon Power has been in the storage business for quite a while and I've already reviewed SSDs and HDDs from them. Today it's time to take a closer look at what their flash drives have to offer and for that we got the SP Blaze B50 128GB USB 3.0 Flash drive on the test bench.
Now, there absolutely isn't any shortage of flash drives on the market and which one to pick usually comes down to current sales and personal preference, may it be the design or the brand. When it comes to preference, then the Blaze B50 might be a hit on both fronts as it promises a good performance and looks pretty sleek.

While a flash drive is just that, a flash drive, it doesn't hurt when it also looks great. The Blaze B50 has been created with inspiration from the muscular's curving and general dynamic spirit of sports cars. It is tailored to look great with its sculpted lines and supposed to represent the speed that this drive can achieve. I'd say that the accomplished that very well. It looks great.
Silicon Power applied a special surface treatment with a carbon fiber pattern that lends the Blaze B50 drive an exceptionally energetic gesture. The whole design gets its finish thanks to the V-shaped LED indicator for connection and activity indication. The gold printed SP logo, capacity, and connection bus also show that this is a great drive.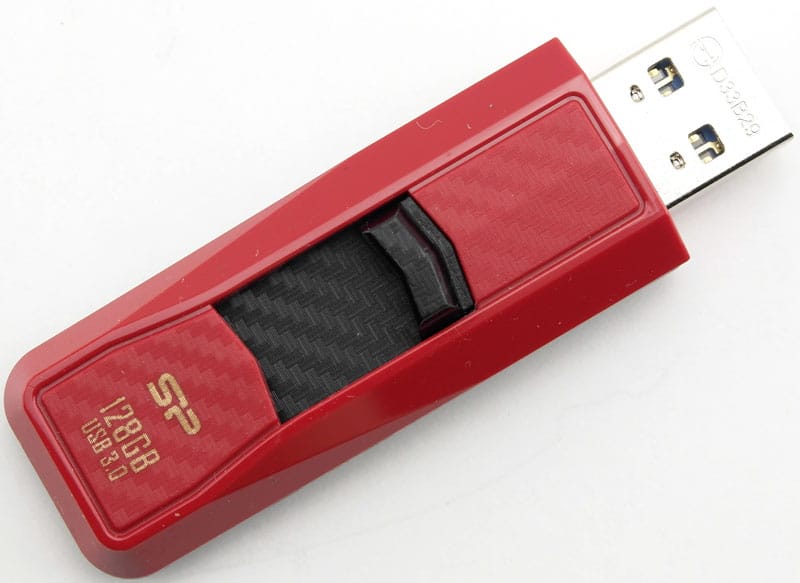 The connector on the Blaze B50 of the retractable kind and allows you to hide it with a push operation of the thumb. You don't need to worry where you put that cap for the drive because that's always the first thing that one looses. Even when it's just temporarily and you've only just put it down 2 seconds before. It's gone and doesn't show up until weeks later at a totally different location. We've all been there. The downside to this principle is that you don't have any dirt protection for the plug and it could fill with pocket lint and similar dirt.
A fast looking drive like this also has to perform great and deliver a fast performance. And it does that thanks to the USB 3.0 interface that allows for much better speeds and access times than the older USB 2.0 did. This 128GB capacity model can perform sequential operations with up to 90MB/s reading and 45MB/s writing according to the specifications page. The package tells us about speeds up to 200MB/s, so it will be interesting to see how good it actually is. There are also 16GB, 32GB and 64GB versions available, but they perform a little lower when writing. While these aren't groundbreaking speeds, they're more than enough for normal day to day activity.
There's also a piece of software that comes along with most drives and Silicon power has the SP Widget available for free download. It is compatible with pretty much any of their drives and provides seven major backup and security functions. There is also the Recuva File Recovery software that can help you recover erased files such as photos, documents, and media files; if you ever change you mind or deleted the wrong files.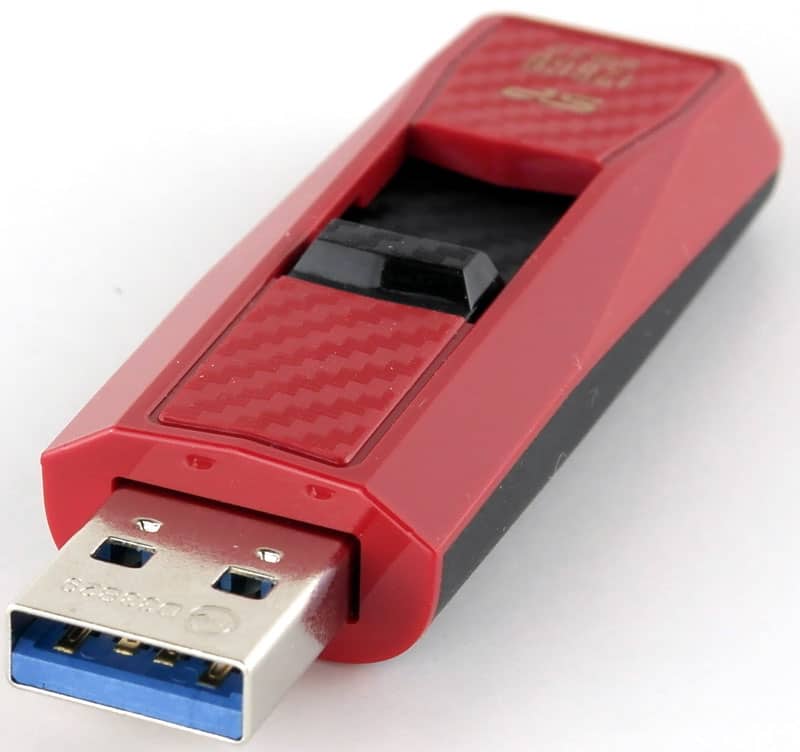 The SP Blaze B50 drive is highly portable. It is small enough to fit into any pocket, yet not so small that you'll easily lose it like you could with a nano drive. You can also attach it to your keyring or other places with the opening at the end of the drive. The casing is made of plastic and it only weights 8.3 g, further adding to the portability.
The SP Blaze B50 is backed by a lifetime warranty and it is compatible with Windows XP and newer, Mac OS 10.3.x, and Linux 2.6.x.
Packaging
The packaging is simple but colourful and displays all the relevant information right on the front. On the rear you'll also find the details in multiple languages if the front shouldn't be something that you can understand.