Silicon Power S56 240GB Solid State Drive Review
---
---
---
Bohs Hansen / 6 years ago
Introduction
---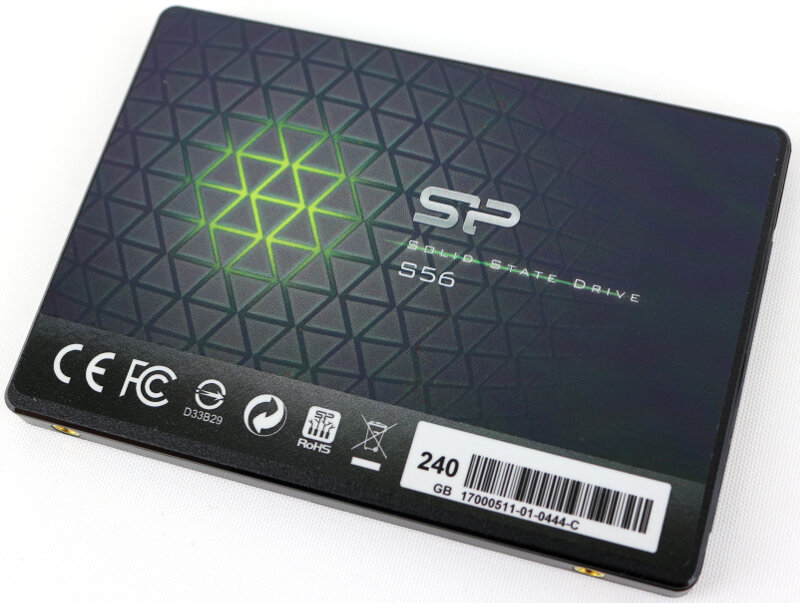 The Silicon Power S56 is a whole new drive series that comes with a fresh design on the outside and great hardware on the inside. The S56 is categorised as an entry grade solid state drive and is as such meant as HDD replacement.
Replacing your old mechanical hard disk drive with a new and modern solid state drive can boost a lot of life into old systems that still rely on the old technology. As long as they have an SATA port available, an SSD will greatly benefit your performance, and it is the cheapest upgrade you can do. You'll get increased boot-up times as well as, faster program loading, and quicker access times.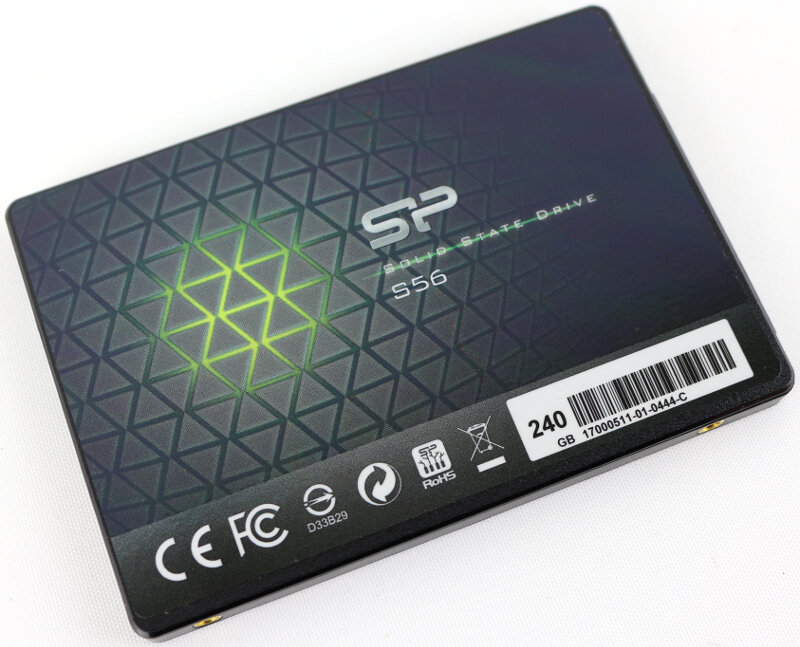 Silicon Power rates the S56 for a sequential performance up to 560MB/s when reading and up to 530MB/s when writing. This performance is thanks to the combination of SLC cache with TLC NAND memory. The cache will give great burst speeds while the TLC NAND keeps the costs down. The Internal Auto-copy technology also helps boost the performance. It allows automatic copy operation from SLC cache to TLC blocks inside the NAND without using the controller or DDR.
While SSDs last for a long time, every drive will start to generate bad blocks at some point. We don't want that as we don't want to lose our precious data. The S56 employs Bad Block Management too, which continuously monitors and replaces bad blocks to keep your system in good condition and prolong the lifespan of the drive.
Naturally, it also features the standards such as the S.M.A.R.T. monitoring system as well as Error Correction Code (ECC) technology thanks to the Phison controller.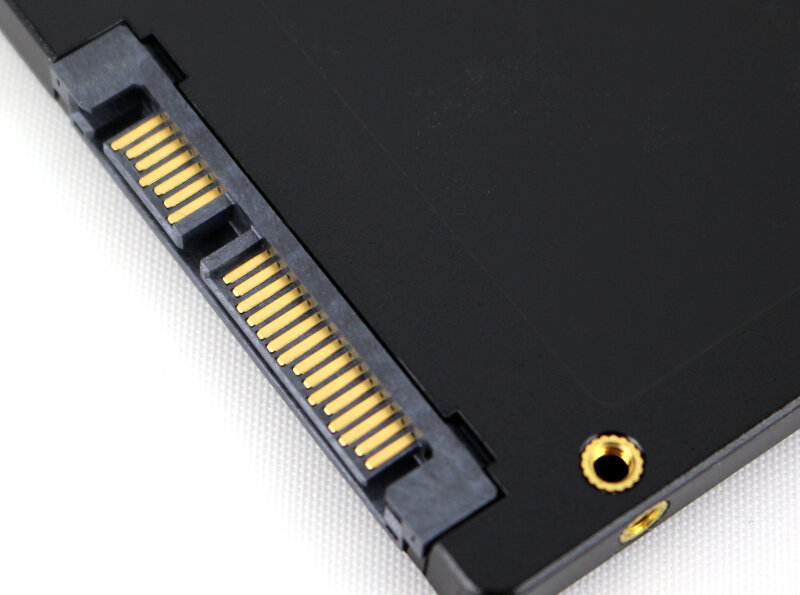 Silicon Power offers the drive in capacities from 120GB and all the way up to 960GB. That kind of capacity also makes it a good secondary drive for your game library. The mean time before failure (MTBF) rating is 1.5 million hours, and the drive features a 3-year warranty.
You can also add extra value to your Silicon Power S56 drive by downloading the SP Toolbox. This handy little SSD toolbox app can help you monitor and maintain your Silicon Power SSD with its features.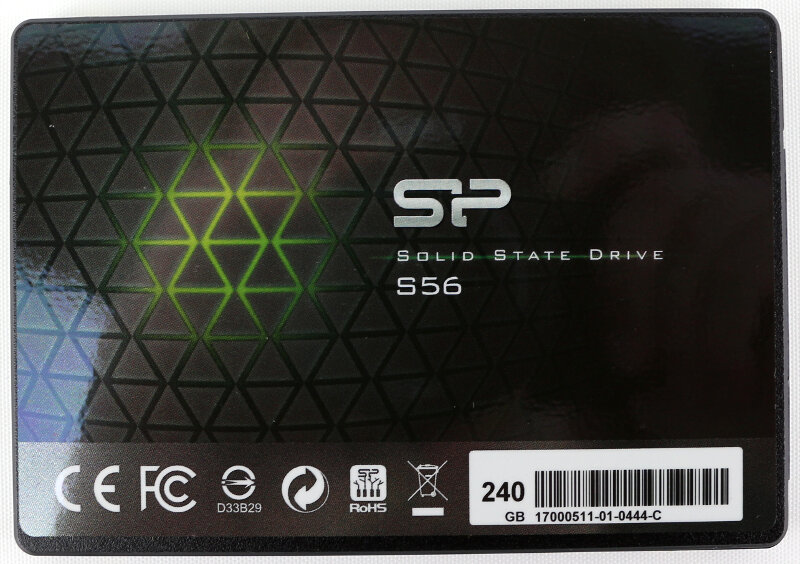 Usually, I would open up the drive and have a look at the internals. In this case, it doesn't seem to be possible without destroying the drive. I couldn't find any screw holes, and it appears that it's glued together. While this sucks a bit for this review, it could be beneficial. It does remove the last moveable parts from the drive, and as such, it could make it more vibration proof.
Feature Highlights
Adopt TLC NAND flash and the "SLC Cache Technology" to improve overall performance
15 x faster than a standard 5400 HDD
7mm slim design suitable for Ultrabooks and Ultra-slim notebooks
Supports TRIM command and garbage collection technology
NCQ and RAID ready
Equipped with ECC technology to guarantee reliable data transmission
Built-in S.M.A.R.T. monitoring system
Low power consumption, shock and vibration-proof, noiseless and low latency
Free SP ToolBox software download which provides multiple ways to obtain disk information such as self-monitoring analysis report, extent of consumption and SSD diagnostics
Package and Content
The SP56 comes in a simple package, but also one that is more than sufficient. The included drive is shown off through the plastic part while the cardboard presents you with all the vital information.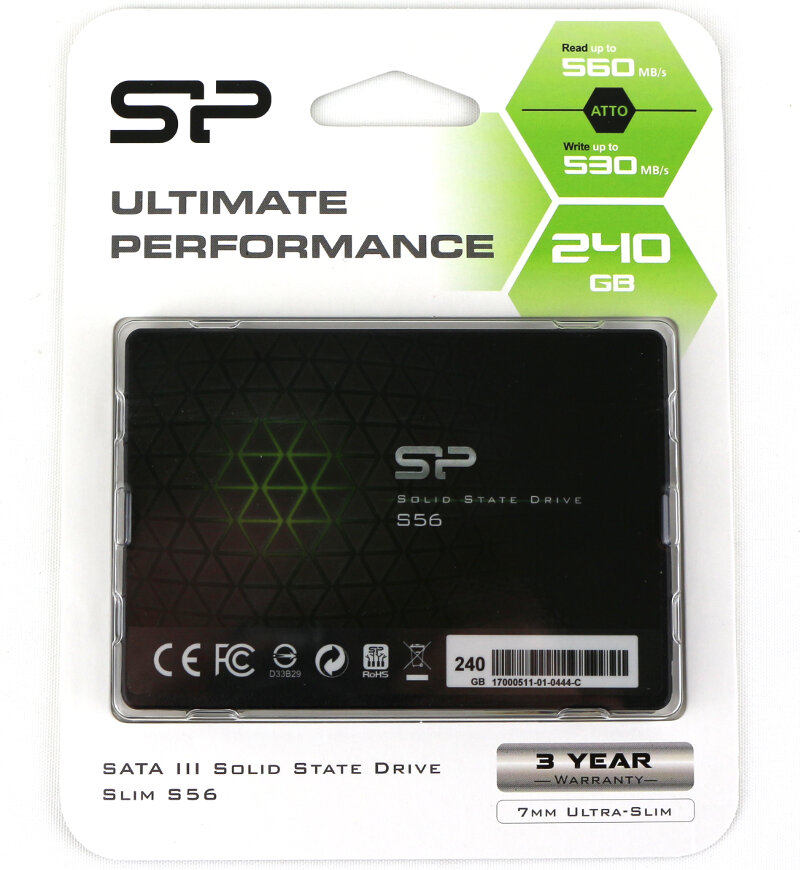 The rear side has a few more detail on the features and the performance.