Silverstone Milo SST-ML08B Mini-ITX Gaming Chassis Review
---
---
---
Peter Donnell / 8 years ago
Introduction
---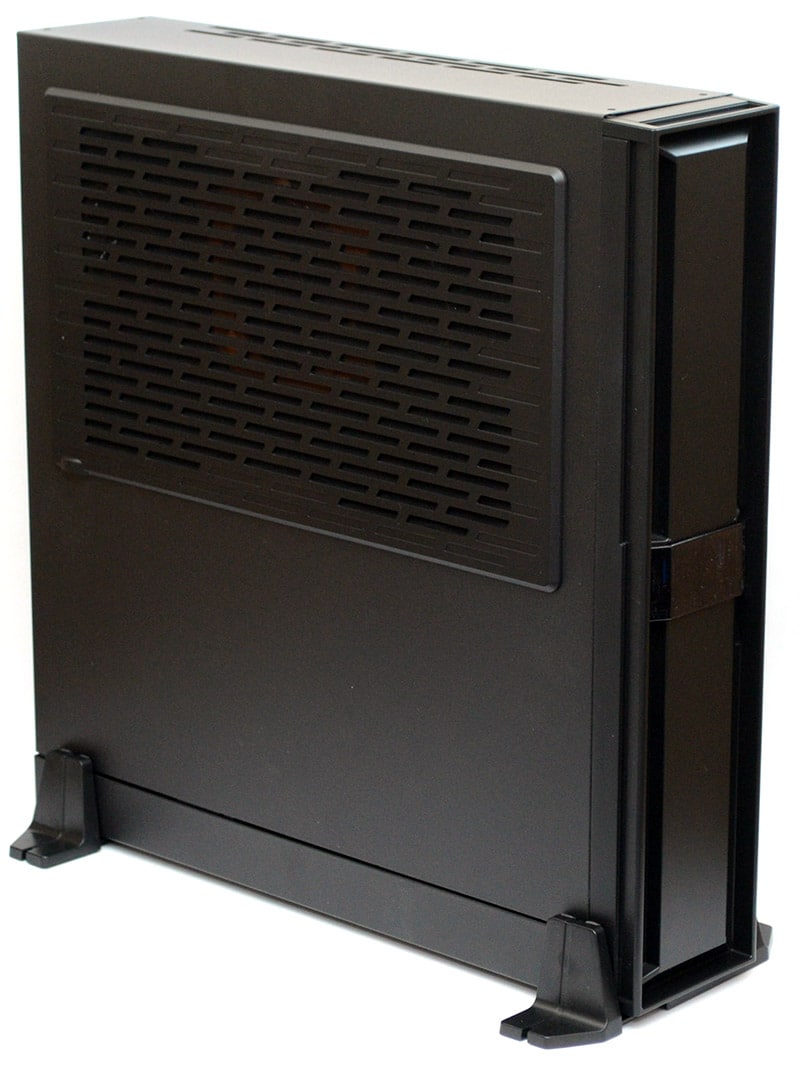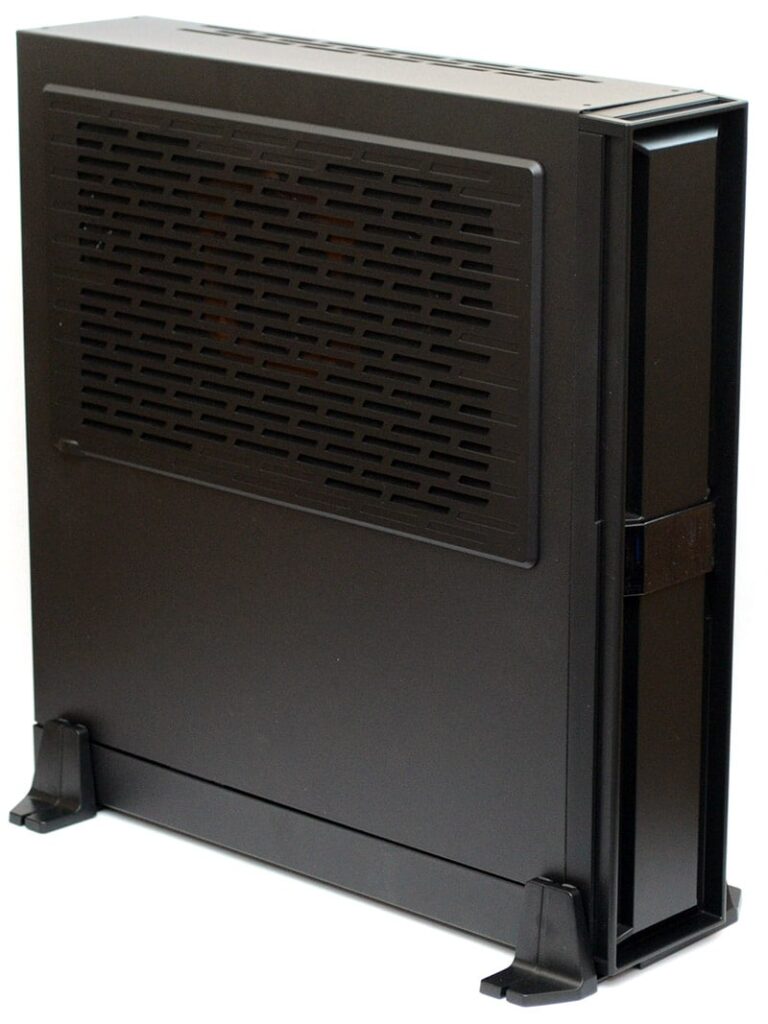 Are you ready to take your big screen gaming to the next level? The desktop gaming market may be booming, but there's a big demand for the something small, systems that is. Having a high-end gaming PC under your TV is very much a possibility, but few make compact cases as well as Silverstone and their new Milo ML08 looks set to dominate those smaller spaces. Under your TV, perhaps you're limited on desktop space, or you want something portable for LAN gaming, this chassis is just the right size for all of them, but more importantly, it doesn't compromise on the size of the GPU.
"Based on the excellent RAVEN Z RVZ02 chassis, the Milo ML08 is a super slim Mini-ITX console case with highly capable accommodations. With a volume of only 12 liters, this case is small yet easy to assemble when compared to other slim cases in the same class. There is plenty of room for a powerful graphics card up to 13 inches in length while tool-less drive cages make assembly quicker than ever." says Silverstone.
As you can see, it's pretty well equipped, but the most important aspect is the fact that despite only being 87mm deep, this chassis can house a full-size graphics card of up to 13″ long, which is pretty amazing; you'll see how it does that in a moment.
We've seen impressive mini-ITX chassis from Silverstone in the past, and it's no secret that the Milo is based around a very similar interior design as their popular RVZ02, but with a much less aggressive exterior design.
"With clever space utilization and engineering, two major heat sources are separated via the chassis' main chamber so CPU and graphics card can each have their own airflow path. Despite its diminutive size, the ML08 is a remarkably versatile case that can be used anywhere from being a compact desktop workstation (in vertical orientation) to a living console or HTPC (in horizontal orientation). There are even optional models of ML08 with integrated handle, making them effortlessly portable and perfect for any slim PC build." says Silverstone.
In the box, you'll find a nice selection of bits and bobs, such as the user manual, fitting components, vertical stand and the riser cards.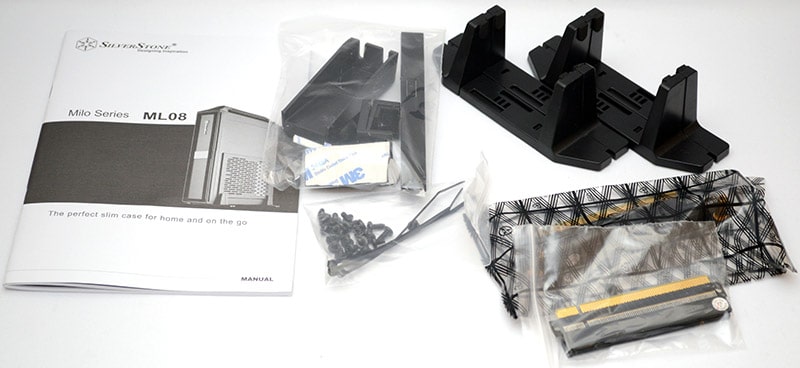 There two adaptors are what allow the GPU to fit in such a slim chassis, by allowing the GPU to lay parallel to the motherboard, helping save a huge amount of space.

First impressions of the Milo are very promising, a powder black finish gives it an almost stealthy quality, which is good when you've got it sitting under your TV, as a bright chassis could be visually distracting. There's a huge ventilation panel on the left side, with a clip-on cover/dust filter for easy maintenance.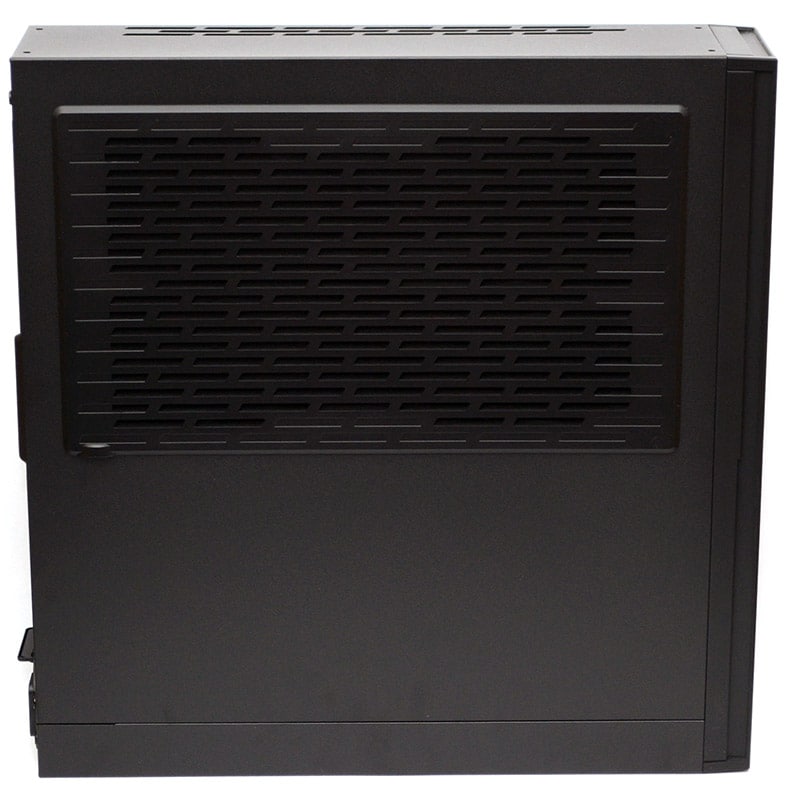 A similar story on the other side, with another large cover for ventilation. This is a slim chassis for high-end hardware, so airflow is very important.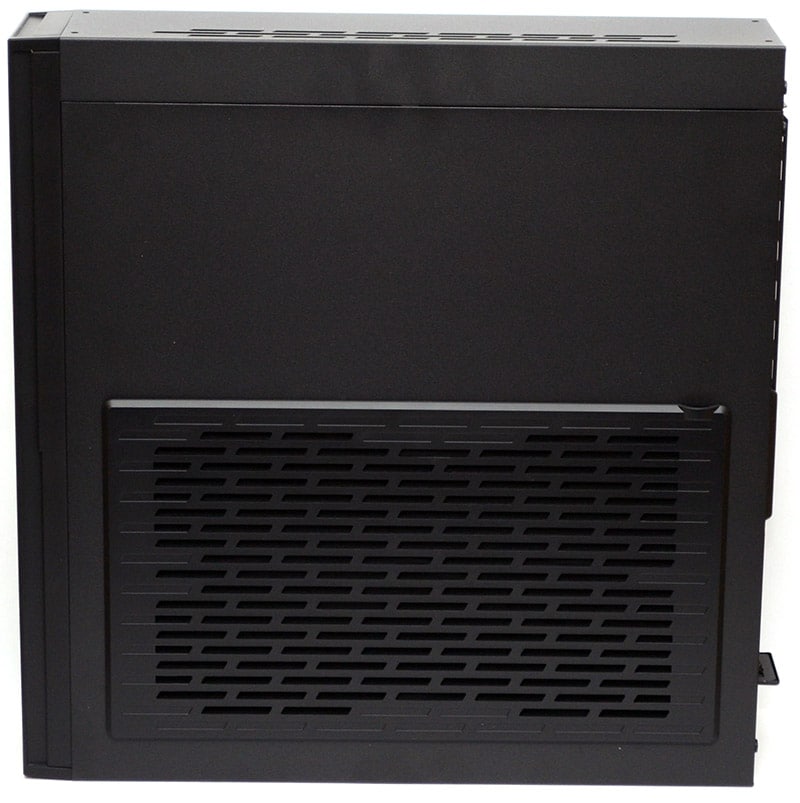 The covers pop off easily enough, giving you a quick and easy way to clean the filters.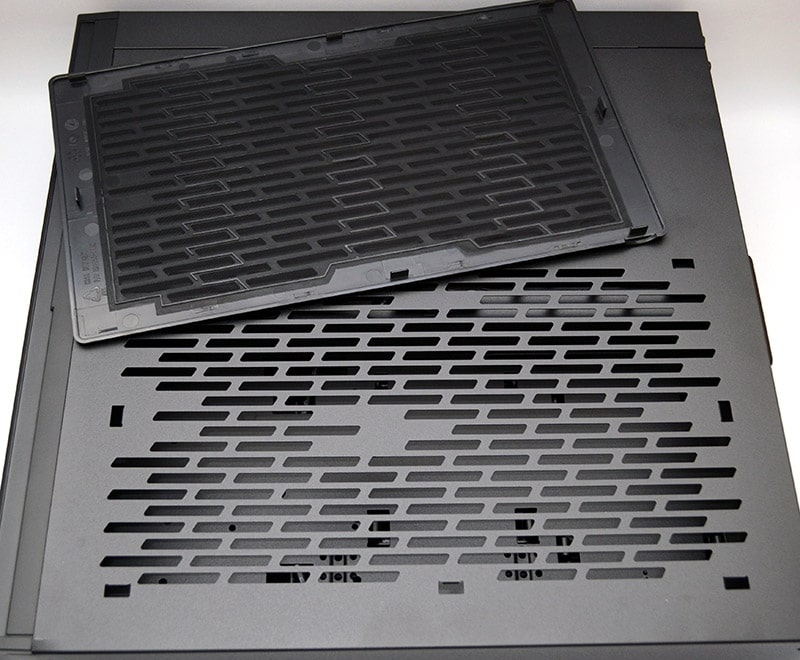 There's extra ventilation on the narrow side of the chassis.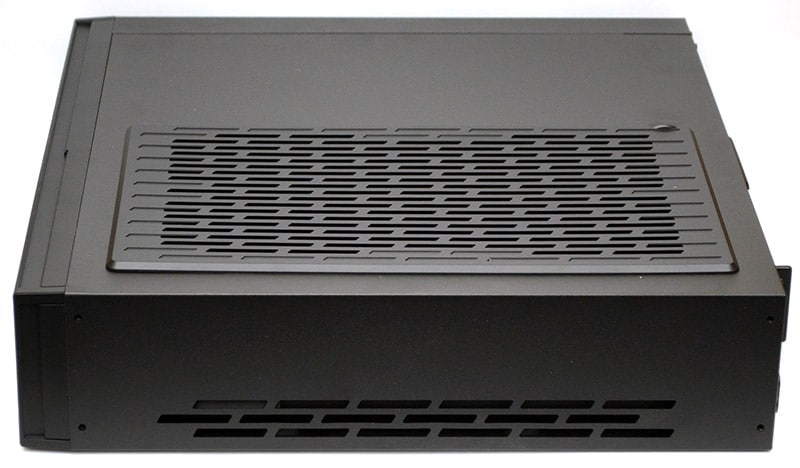 And there's even more around the other side.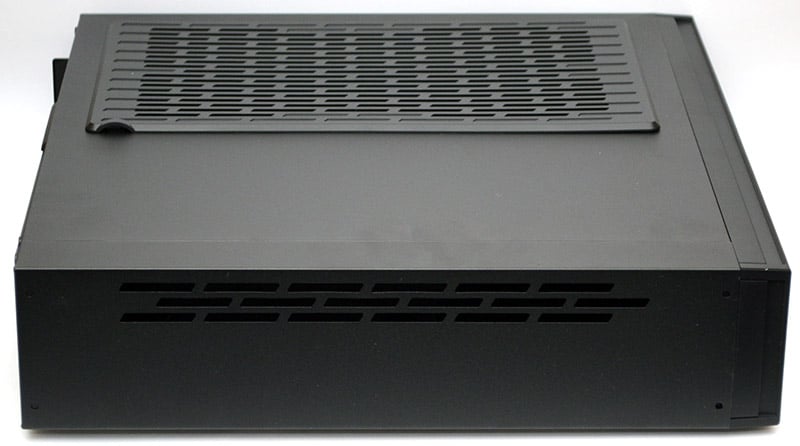 The front panel is nicely designed with a subtle, yet rather stylish cover and a sliding port cover in the center.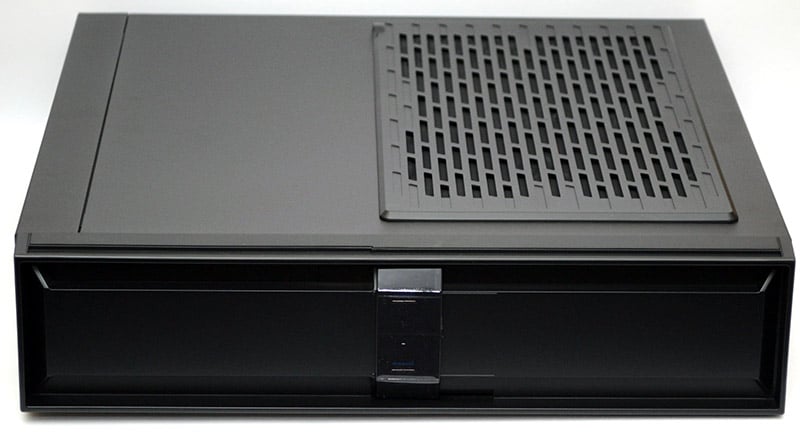 Slide the cover over and you'll find a pair of USB 3.0 ports, HD audio jacks, as well as the power and reset buttons.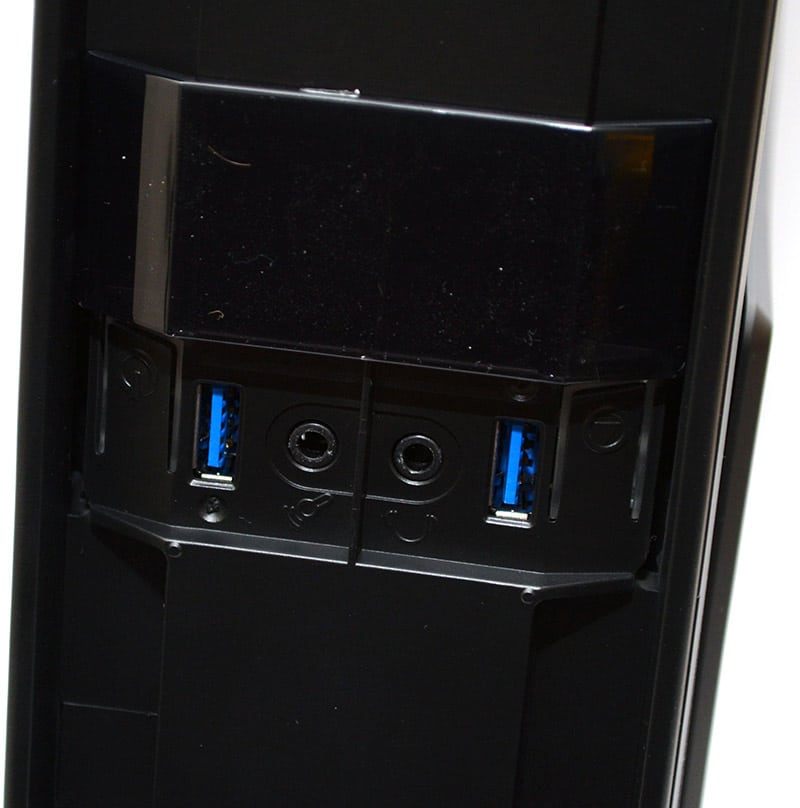 Around the back, you'll find even more ventilation on the top edge, as well as a little more below the AC power pass-through connector. There's the usual motherboard I/O cut-out, but you can now also see how the GPU is going to be situated next to the motherboard.