Silverstone NB04 Notebook Cooler Review
---
---
---
Peter Donnell / 7 years ago
Introduction
---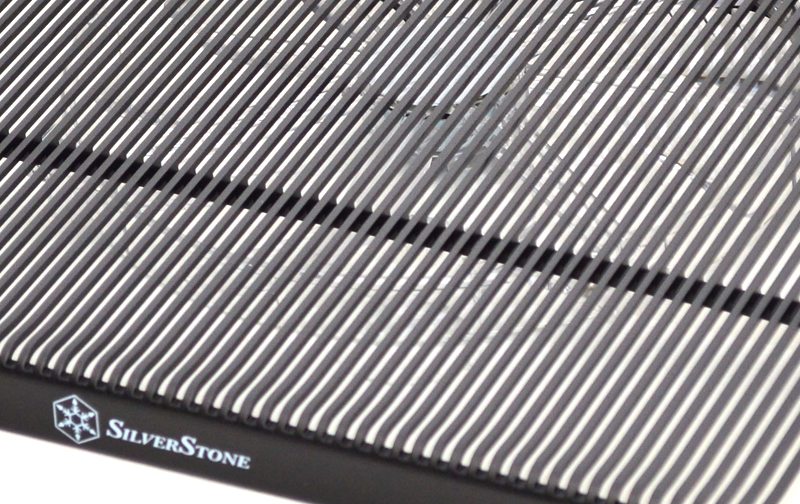 Notebook coolers are a product that I know end users don't often get excited about, and that is pretty understandable given that they serve a more practical purpose, rather than a function that you can enjoy. They do however provide a vital role when it comes to mobile computing and with more and more people using an ultra book, gaming notebook or similar style system as their main computer, there are one or two shortfalls that need to be navigated to fully enjoy them.
When you're out and about, your system is in a low power state and you're just doing some web browsing, then things are typically nice and cool inside your system, it doesn't have to work too hard. When you're at home with your rig, or perhaps you have a high-end laptop instead of a desktop that you only use at home or in the office, then there is a good chance that you'll be running it from mains power, with all the settings dialled up to 11, playing games and plenty of other high-end tasks, this is when your system starts to break a sweat. Having some extra cooling under your system can have a massive impact on the overall system temperature and lower temps can often translate to better performance, as well as improve the lifespan of various components. Let's not forget noise, laptop fans are often small with ultra high RPM, so offloading much of the work to a larger and quieter fan in a notebook cooler can bring benefits to your ears too.
The NB04 doesn't sound especially cheap £28 for the black and £33 for the silver coloured model from Scan.co.uk, and it is about 20% more expensive than many competing products so it will be interesting to see what it has to offer to help justify the extra investment. Taking a look at the specifications below gives me an impression that much of the cost is due to the aluminium construction, as many competing brands often favour a plastic chassis design. The cooler includes a single 200mm fan that can run up to 800 RPM.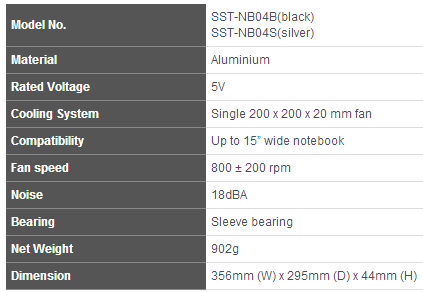 It comes nicely packaged in a white box which is nothing too fancy, but it does come with a clear image of both the black and silver models on the front as well as a run down of the major features and specifications.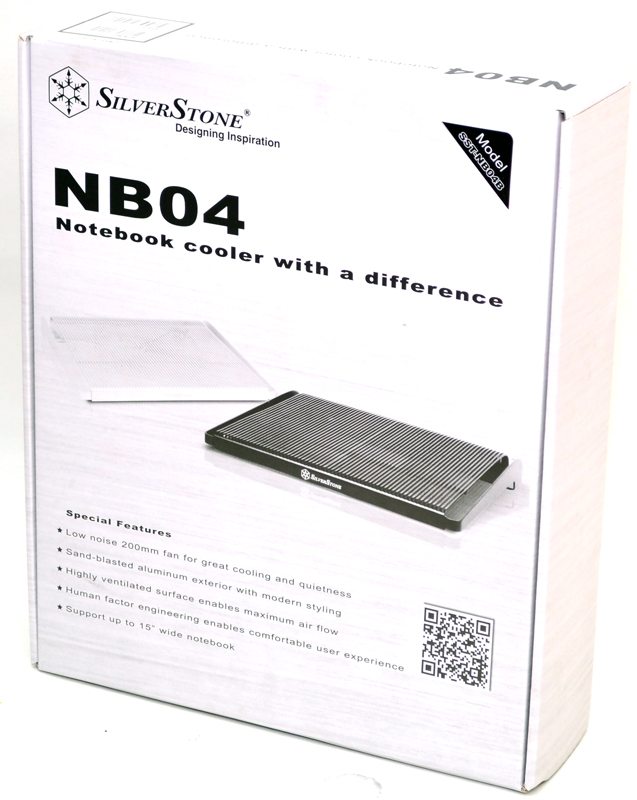 Around the back you'll find international translations for the features, as well as a more details specifications list (see above).