Silverstone SST-EB03 Amp & SST-EB01-E DAC Review
---
---
---
Peter Donnell / 8 years ago
Introduction
---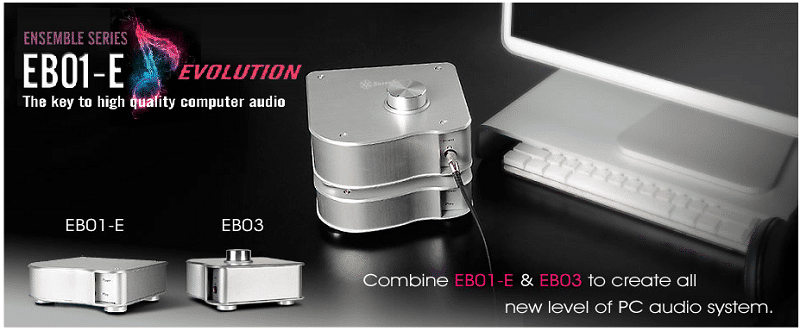 When it comes to kicking back and enjoying your favourite albums, having a great set of speakers or a set of high-end headphones can really make or break the experience. Of course for many people out there, the £20 set of headphones they got from their local electronics store will be more than enough, offering them many hours of happiness when needed, but there are certain people, myself included, that demand a lot more from their audio equipment. While some like to use the term Audiophile to describe those who love premium grade sound components, I don't think you have to take it that seriously just to want the best quality from your music, much in the same way you don't have to be a complete TV nerd just to want a quality HDTV.
Desktop PC audio has certainly improved over the last few years, many motherboard manufacturers are including higher quality audio components directly onto their motherboards; sure there are some lovely sound cards out there, but with GPU's often dominating the PCIe slots in our systems, it's getting difficult to find the room for a large sound card. The devices we're looking at today offer two solutions to improve your audio, the first would be the EB01E, a powerful XMOS XS1 TQ128 DAC which supports Asynchronous USB 24bit / 192 kHz audio. If all of that was nonsense to you, let me put this as simple as possible; you connect the EB01-E to your PC via a digital connection (USB, Optical or Coaxial) and then connect your speakers to the EB01-E and it will provide you with improved audio quality.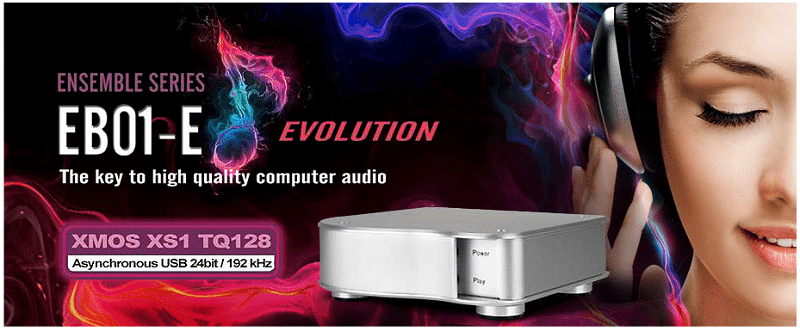 The EBo1-e uses the TI PCM1798 Digital Audio Converter (DAC), this is the part that takes your digital signal and converts it to analogue. It supports a maximum resolution of 24-bits, with USB, optical and coaxial line in and RCA out for easy compatibility with most speaker and headphone systems.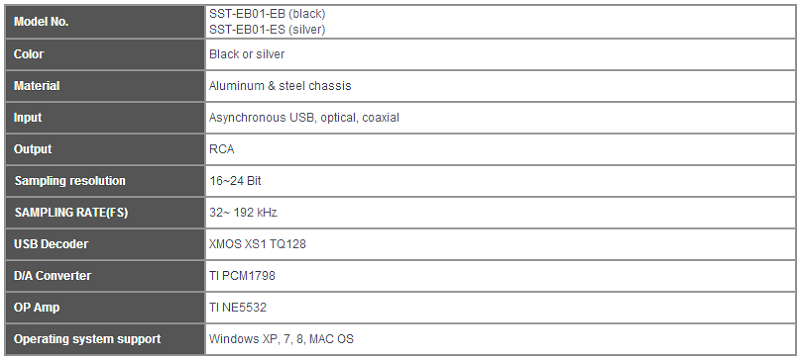 A high quality audio decoder such as this is ideal for bringing new life to the humble MP3's you may have in your collection, but they'll really pull their weight when you're listening to something such as FLAC and other lossless audio formats.
High quality DAC with improved performance
Classic SilverStone Ensemble exterior design
Easy one touch button for USB, optical or coaxial input
Support highest format of up to 24-bit/192kHz
Utilizes premium XMOS XS1 TQ128 USB decoder for accurate sound reproduction
Includes TI PCM1798 D/A converter for producing high quality analog signal
Includes TI NE5532 OP amp for optimal analog output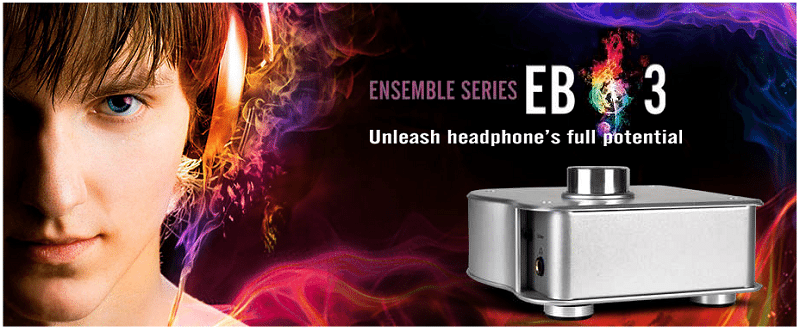 The EB03 is a headphone amp, it provides an extra powerful punch to drive your headphones way beyond the limits of what your on-board audio and even most soundcards could do; the EB03 can easily run any set of headphones from 16-600 ohm. It features a standard 6.3mm stereo jack on the front and an RCA bypass connection on the back, so you can still run your speakers without having to disconnect the device.

It features two chip sets that process the signal to provide a powerful, distortion free signal for your headphones of choice, which can be controlled via a simple to use independent volume dial on the top of the unit.
Premium amplifier designed to deliver full sound to headphones
Classic SilverStone Ensemble exterior design
Extra RCA bypass connection included for easy pairing with additional device
Studio-quality IC with THAT 1646W16-U & 1512S14-U
Independent volume control knob
Both the EB01-E and the EB03 come really nicely packaged with a quick run-down of the major features on the box (see above) as well as a small image of each product.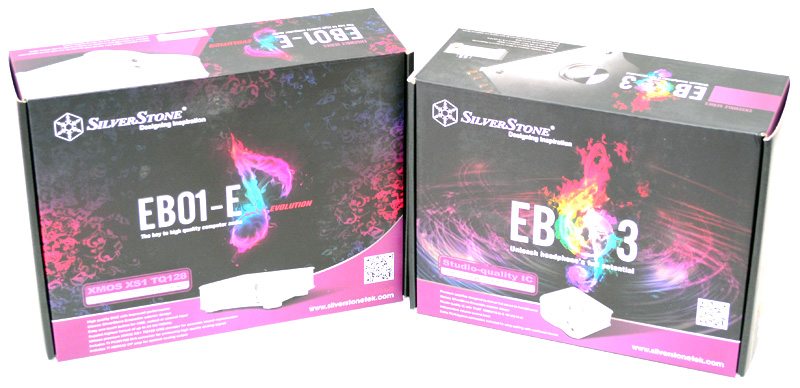 Both are really well packaged in soft foam blocks and plastic wraps, so the aluminium finish should reach you in perfect condition.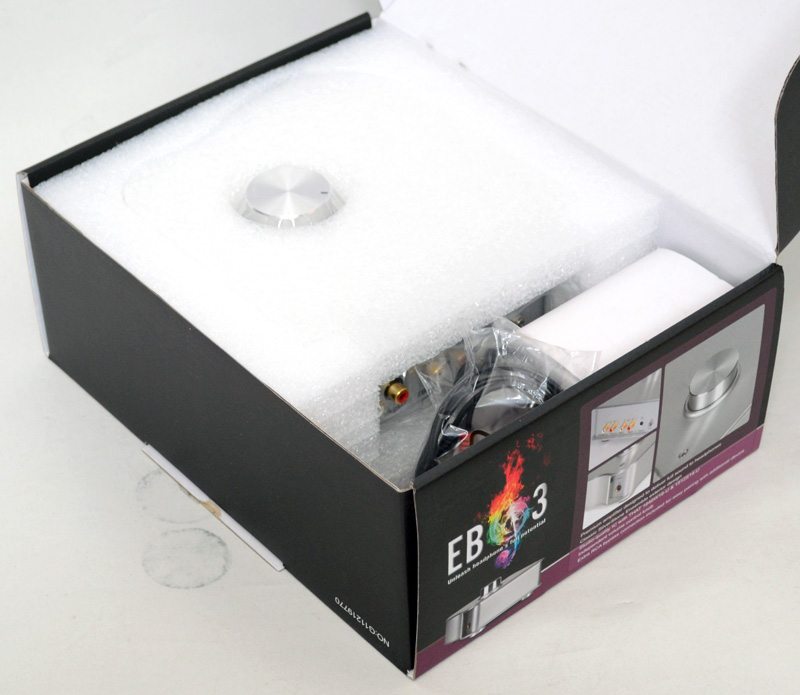 In the box with the EB03 you'll find a manual, RCA to RCA pass-through cable, RCA to 3.5mm cable and a power adaptor.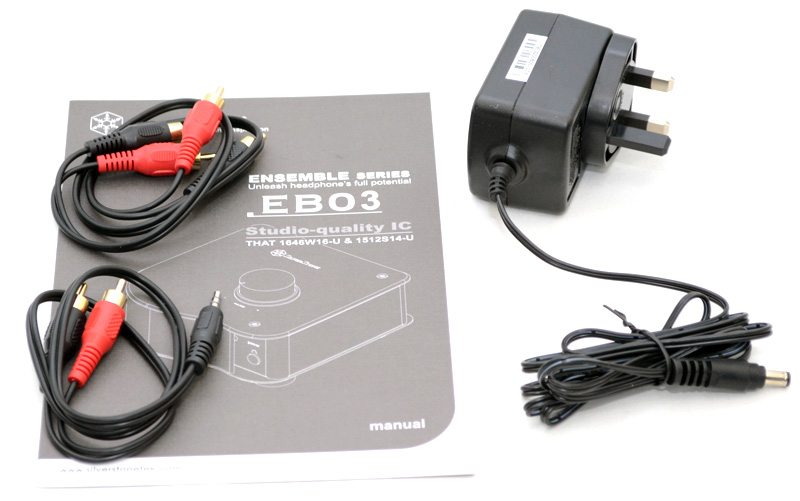 In the box with the EB01-E you'll find a manual, software install CD-Rom, RCA to female 3.5mm cable and a good quality USB cable.