Silverstone SST-PB03 AA Emergency Battery Pack Review
---
---
---
Chris Hadley / 10 years ago
Introduction
---

In our highly connected digital worlds, keeping on touch with everyone around us is virtually mandatory and as a result we find ourselves demanding more and more battery life from our mobile devices and smart phones. Naturally there is only so much power that can be crammed in to the shell of a smart phone and short of having a very bulky handset, the only real option for many of us is to stick near to a power source where we can give our phones a quick boost of power, although this is both inconvenient and unpractical. To keep us going, portable battery packs that allow us to charge our phones on the go have started cropping up through multiple vendors, making them a commodity for those of us that use our phones a lot whilst out on the go – myself being a prime example.
When it comes to selecting the right battery pack for your budget or needs, the number of options to choose from is huge and the vendors themselves know this. With the demand so high and the number of competing items growing at a rapid rate, every manufacturer is doing the best they can to set their products apart from the rest of the crowd, whether it be through design to suit a particular set of users, or through features and functionality by adding in additional features and accessories such as carry bags, torches, larger capacities and wireless charging capabilities. Whilst all off these products have a variety of designs and capacities, they all have internal batteries and when these come to the end of their working life, there is no option but to buy a new pack. Silverstone however believe they have to the solution to the problem of battery life, simply by removing the battery out of the equation, leaving the user the freedom to select their own batteries and thus the freedom to get a larger capacity of battery for a longer charge time,
Built into a metal casing with a plastic inside, Silverstone's PB03 barging pack features a small LED light and also doubles up as an AA battery charger. With the cost of portable battery packs spread out across a fairly wide range of budgets, the real question to ask is whether you are better off in getting the PB03 and your own set of batteries, or should we stick to the plug and play units that require no user interaction apart from charging?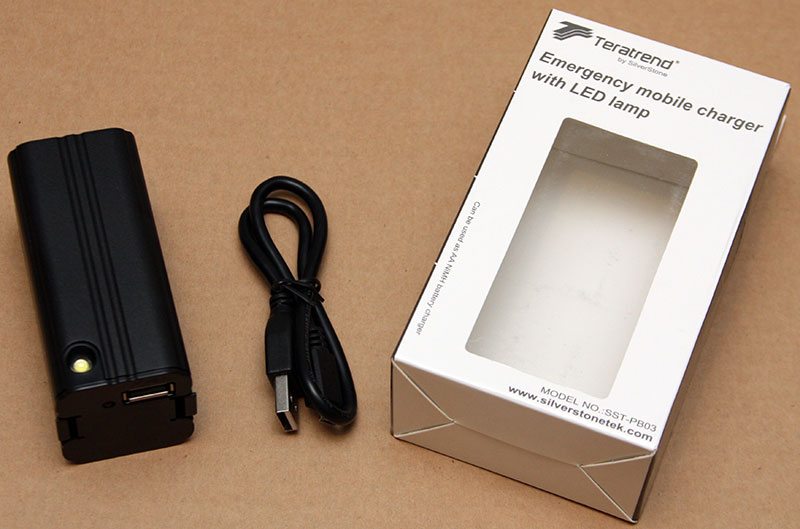 It goes without saying that we don't expect there to be much included in the box alongside the battery and this is just the case with a short USB cable included for charging the battery pack (when rechargeable batteries are used) or connecting a mobile device that has a microUSB port.