SilverStone Sugo SG07 Mini-ITX Case Review
---
---
---
Andy Ruffell / 10 years ago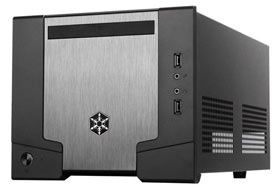 SilverStone have been a leading manufacturer of developing cases among other products for the PC market for almost 10 years and have a key focus in the majority of areas of their field. Over time, we've seen products ranging from home theatre cases in the form of the Lascala series which has been a huge seller for the Taiwanese based company, to tower cases and with small form factor getting increasingly popular as of late; we are seeing a large growth from the likes of SilverStone.
Also as technology moves forward, we see more features being included on smaller platforms, especially in the Micro-ATX and Mini-ITX sector with on-board graphics, Wi-Fi, Bluetooth and much more; SFF cases are getting more exposure than ever. Silverstone have taken note of the market place and have harnessed the need for these types of enclosures to offer as well as their top selling home theatre chassis range. That's where the Sugo range of small form factor cases comes into play with a tried and tested methodology.
Silverstone's range of small form factor cases began in 2005 when we saw the start of the Sugo series, with the original SG01 Micro-ATX case and as time passed, we saw the likes of the SG05 in 2009 using the Mini-ITX form factor and being the smallest case in the Sugo series. This range of cases gave the SG07 the blueprints for an improved product design, increased performance and better styling whilst offering functionality and enough space to work with, whilst keeping the overall product small enough for its market.
Has the SG07 kept its original influence from the Sugo series and invested an improved design, increased features and better performance or is it just a lot of hype?